Wonder Woman Transformation Troubles with Cali Logan and Sonia Harcourt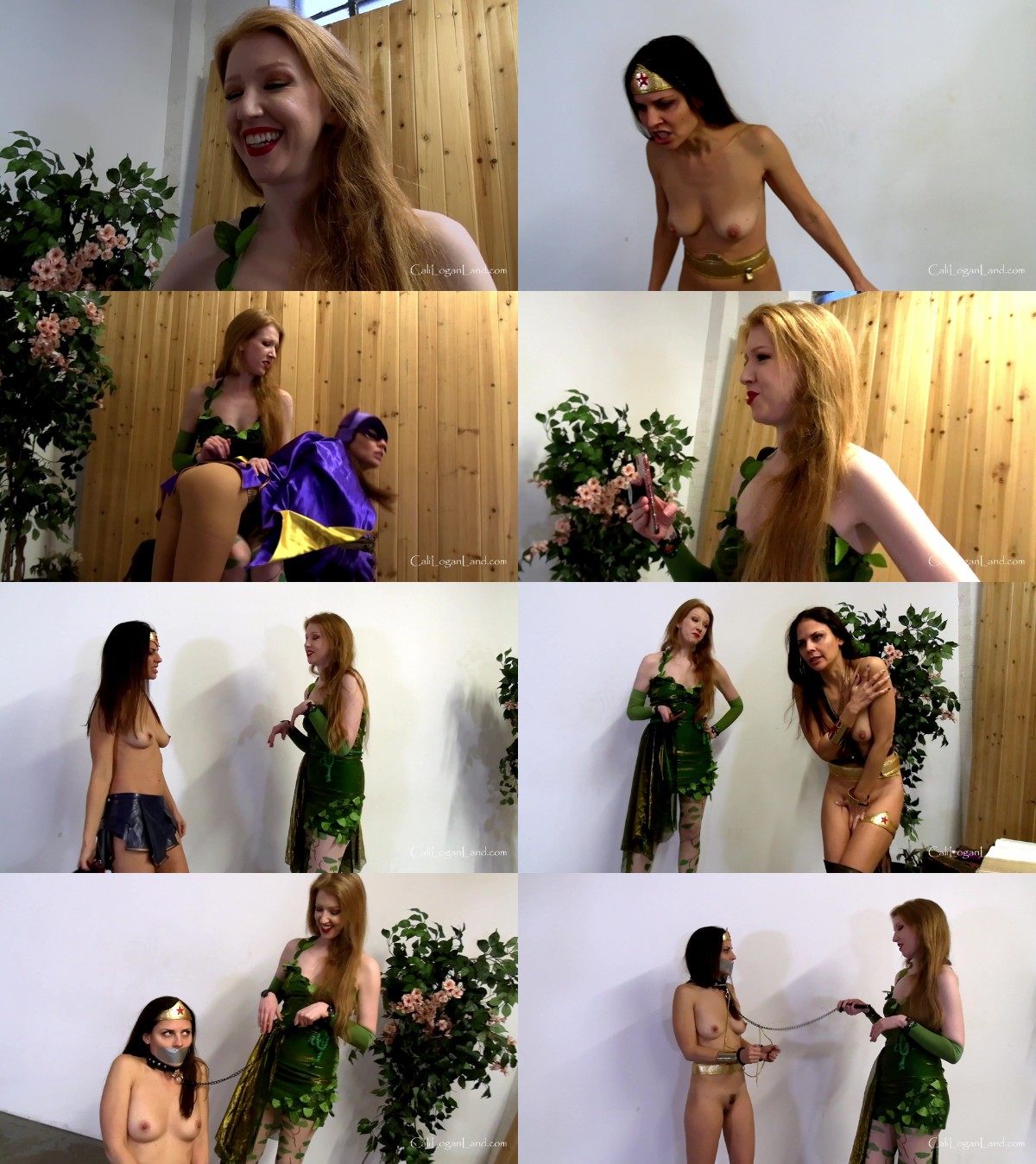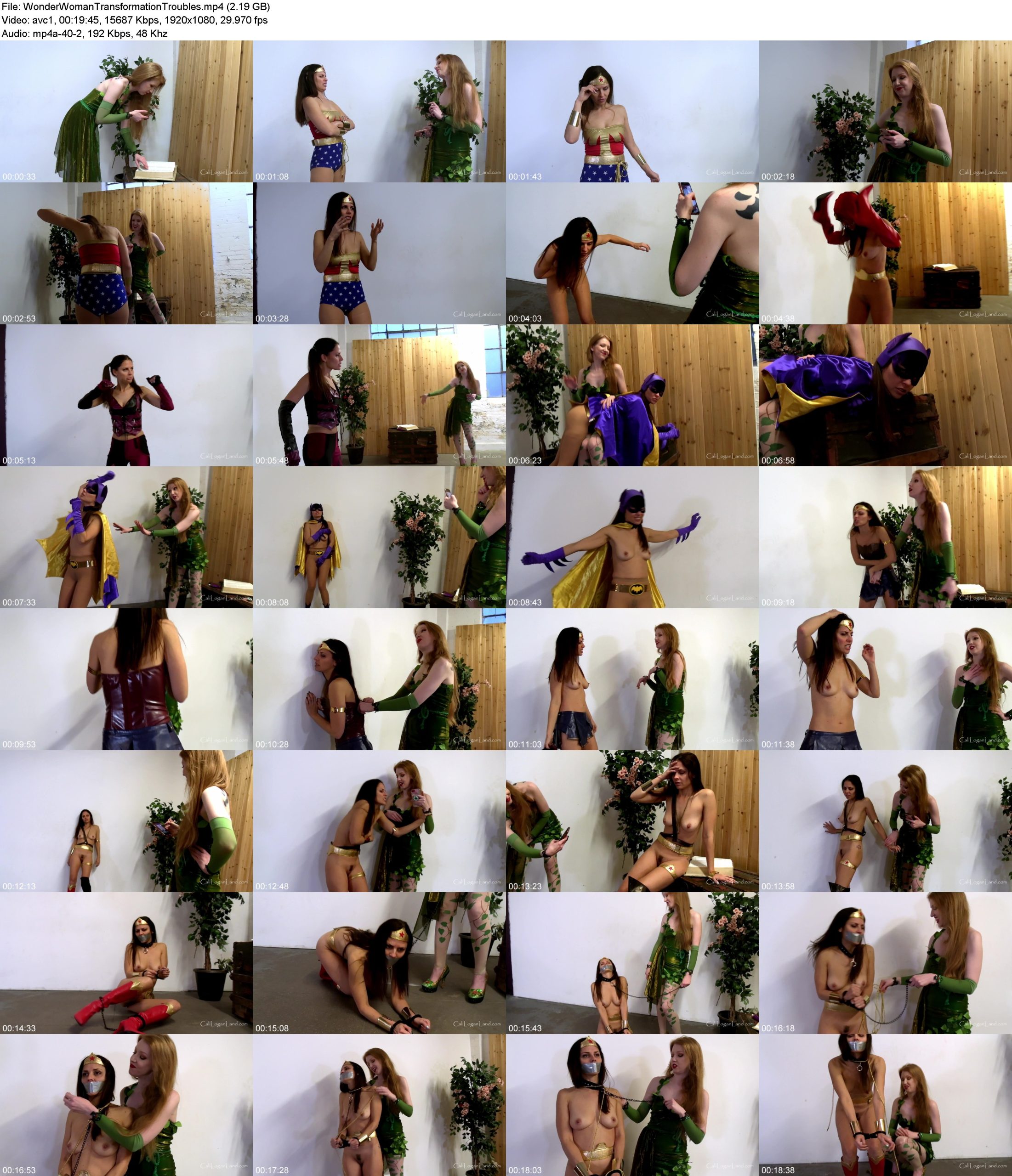 Wonder Woman Transformation Troubles with Cali Logan and Sonia Harcourt: Poison Ivy's magic spins this superheroine into an embarrassing frenzy in this cosplay fantasy (hd)
Poison Ivy (Sonia) is looking over developing her latest potion when Wonder Woman (Cali) comes sneaking into her lair and is surprised how easy it was to just waltz right in! As Wonder Woman is about to take Poison Ivy into custody, Poison Ivy just laughs as she sprays Wonder Woman in the face with the secret potion she's been working on! Wonder Woman is caught off guard and feels lightheaded as Poison Ivy congratulates her plants on how well they've done with their spores and creation of the potion while laughing at poor Wonder Woman who can't get her balance and bearings straight. Wonder Woman loses her truth rope and when she tries to call for her fellow Amazons to help her, she realizes her power bracelets are now missing!
While all of this is going on, Poison Ivy laughs and decides to share Wonder Woman's troubles to her live streams so that her followers can join in on the fun! Wonder Woman spins herself around to get her powers and tools back, but ends up being stark naked with her boots on her hands and only wearing her power belt! Frustrated at her inability to focus as well as Poison Ivy's taunting and live streaming, Wonder Woman tries again and again to spin herself around and change to normal. The next few times turn out way of control as first she transforms into Harley Quinn's attire and though Poison Ivy thinks its hot, she's not dating her so it can't be Harley. Then she transforms into a topless version of Batgirl and exposes herself more in complete and utter embarrassment wearing only the cape and mask.
Poison Ivy is getting a kick out of this and when BatGirl tries to throw a punch at her, she pushes BatGirl away and bends her over her knees to spank her! BatGirl is kicking and squirming as Poison Ivy enjoys the struggling and begs her to do it more, before pushing her away and daring her to transform again! BatGirl spins around and this time ends up being in 1984 Wonder Woman attire. Though Poison Ivy is enjoying the comments coming through her live stream of this going down, she can't help but take a few selfies with Wonder Woman in these messed up getups that Wonder Woman is turning herself into. All of Wonder Woman's power and logic is being sapped away and she can no longer focus. She tries one more time to transform, but the next transformation leaves her in only a black shoulder strap and nothing else.
Poison Ivy decides that the playtime is getting closer to ending so she shackles Wonder Woman and chains her to be her next submissive toy. Wonder Woman tries to squirm as Poison Ivy starts to grope her exposed perky tits and has her lie down on the floor and follow commands like the good submissive she now is. Wonder Woman is completely powerless as she tries just one more time to spin around while in shackles and bound to get transformed back to normal as the potion overcomes her completely. Her last transformation ends up turning her into a mini version of herself and Poison Ivy picks her up off the floor in glee as she puts her away in her bag along with the others for safe keeping before leaving her lair.
Categories: MAGIC CONTROL, TRANSFORMATION FANTASIES, EMBARRASSED NAKED FEMALE, EMBARRASSMENT, COSPLAY.
Keywords: cali logan, wonder woman, sonia harcourt, poison ivy, enf, costumes.
tags:superheroines fetish,superheroine porn,superheroines sex,humiliation,superheroines adult movies,fantasy,lezdom,lesbian domination,catfight,submission,humiliation,overpowered,batgirl,collar,leash
Duration: 00:19:45 Resolution: 1920×1080 Format: MPEG-4 Size: 2.19 GB
Download or WATCH ONLINE – WonderWomanTransformationTroubles.mp4