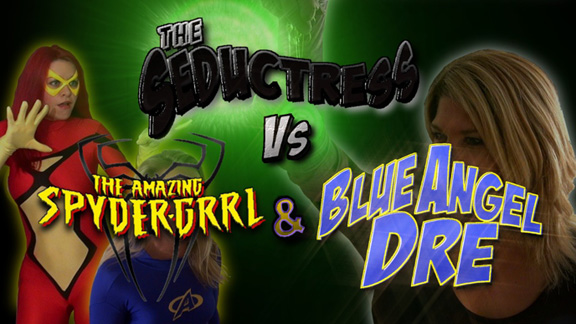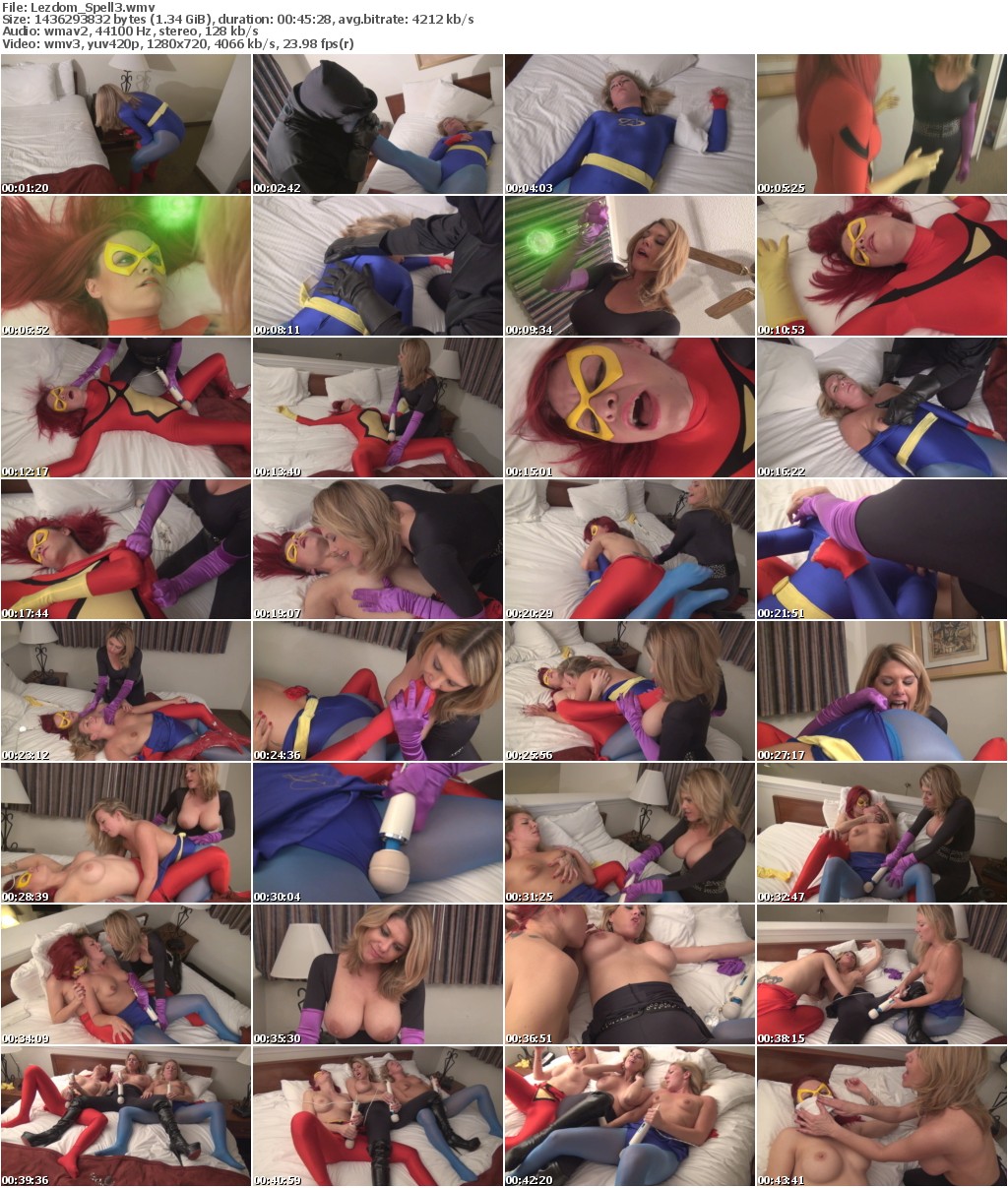 The Amazing Spyder-Grrl and Blue Angel Dre have teamed up to bring down the wicked Seductress for the last time. The dynamic duo traces her location to her secret Arkham Heights penthouse lair. Upon entering, the two crimefighters split up to search for the vile villainess…but don't realize that The Seductress and her minion are already expecting them!
Blue Angel Dre concentrates her search on the ground floor, and is surprised from behind by The Seductress's evil helper, Mesmer. Mesmer tries to grab the feisty heroine who responds with a fierce elbow to his chin. He uses his brutish strength to overpower Dre and she soon surrenders to his sleepy cloth. Mesmer takes this opportunity to explore the helpless Blue Angel's super body. He removes her red boots and begins worshipping her pretty feet and silky, shiny legs.
Meanwhile, Spyder-Grrl has made it up to the secret loft and is surprised by The Seductress who appears out of nowhere. Before Spyder can manage a defense, the spell casting vixen produces her entrancement crystal and soon has the wall crawler mesmerized. She successfully gets Spyder-Grrl to fall under her soothing entrancement spell and moves her over to the bed. Seductress then straddles the heroine and casts her mantra spell upon the groggy spandex clad Spyder… "Evil is Good… Evil is Sexy… Obedience is Pleasure". Spyder-Grrl is helpless but to repeat the mantra back to her new mistress.
Back downstairs, Mesmer is disobeying his orders to bring the fallen Angel upstairs as The Seductress requested. Instead, he takes these stolen moments to further explore Dre's sexy body. He rolls the slumbering superheroine over and begins rubbing her tight, firm nylon encased ass. He unzips her uniform and flips her back over.
Up in the loft, The Seductress inquires whether Spyder has come into her parlor alone… or with a sidekick. Spyder gives up her partner Dre, and The Seductress wills her to promise to defend her should Mesmer have any trouble with her. She then decides to test her new slave's obedience and further cement her entrancement spell. She brings out a vibrawand and begins teasing her now horny captive with it. With each touch, Spyder writhes and moans in ecstasy. The Seductress commands her to repeat her mantra over and over again as she grinds the vibrator against Spyder-Grrl's lycra covered labia. Finally, the web slinger can take no more pleasure and erupts in a screaming orgasm at the hands of her mistress. Seductress kisses her new plaything and excuses herself to go check on Mesmer's progress, leaving the Spyder slumbering in a post climactic haze.
Mesmer begins pulling down Dre's uniform and exposes her beautiful pierced tits. He begins rubbing them, when suddenly an angry Seductress bursts into the room catching him off guard. She orders Mesmer to stop what he's doing and bring Dre upstairs as he was told. She turns in a huff and hurries back upstairs. "Yes Mistress", Mesmer vows… but he can't seem to keep his hands from pawing the avenging Angel's sexy body. Dre begins to awake from her stupor…and attacks Mesmer with a crushing kick to the jaw. He is sent reeling backward…and she finishes him off with a wicked right hook. He slumps to the ground in a heap and Dre sets off to track down The Seductress and her partner.
Meanwhile, The Seductress has rejoined the Spyder in the loft and is undressing her… while licking and sucking on her perfect boobs. The Blue Angel treks up the stairs and finds The Seductress on top of her partner. She immediate rushes the villainess and pulls her off her friend. Seductress and Dre struggle and the Blue Angel pleads for her friend to get up and help her. Spyder leaps into action and grabs The Seductress, vowing to take her to jail. Dre tells Spyder about the creep downstairs and asks Spyder-Grrl's help to zip back up her uniform, and turns her back to her friend. Spyder gives The Seductress a knowing wink, and grabs Dre…tossing her onto the bed and pinning her down. Dre begs Spyder to snap out of her spell to no avail. Spyder flips her one time partner over and The Seductress brings out her entrancement crystal once again. She introduces Dre to her mantra and soon has the Angel under her evil spell. Seductress pulls down Dre's uniform and begins kissing and sucking her tits, as the Spyder caresses her. She orders the duo to get more acquainted and the two spellbound heroines begin making out. The Seductress removes Spyder-Grrl's boots and begins licking and kissing her delicious feet as the heroines are locked in a passionate embrace.
Seductress exposes her own perfect boobs and slides Spyder's silky foot between her breasts. She then turns her attention to Dre's sexy ass and begins licking and kissing it. Seductress asks the duo if they always secretly dreamed of doing this to which they reply "Yes, Mistress"…she then orders Spyder to get her playmate into position. Seductress readies the vibrawand and begins grinding it between Dre's spread legs, as Spyder caresses and makes out with her. Dre takes The Seductress's perfect tits into her mouth as the vibrawand does its thing… and soon the Blue Angel is forced to endure three mind numbing climaxes at the hands of The Seductress.
All those orgasms leave Seductress wanting one of her own…and she commands Dre to use the vibrator on her. The Blue Angel happily complies and presses the wand against Seductress's satin spandex crotch. Spyder and Seductress kiss madly as the wand vibrates her sweet spot. With Spyder licking and sucking her breasts, The Seductress can take no more and has a massive orgasm! Spent, but craving more…The Seductress now wants all three of them to cum together and produces two more Hitachi's!
She commands her sex slaves to let her know when they are cumming and the three topless vixens get right to work. With their silky thighs intertwined, they begin vibrating their sopping wet pussies with the wands at the same time. The trio writhes in pleasure together, each squealing and moaning with delight and The Seductress reminds the duo to announce when they are climaxing. "Yes Mistress" they both moan as their bodies rub against their mistress. This pleasure sends Seductress over the edge first, as she cries out she's cumming. Spyder-Grrl screams "I'm cumming!!" and has a bed shaking climax…which is soon followed by Dre's own "I'm gonna cum"…as she has her own ecstasy filled moment while grinding against her wand.
The defeated heroines are spent and groggy from a pleasure overload… but The Seductress sends them both off to dreamland for good with her special sleepy cloth. She thanks her new pets for the good time but excuses herself to go punish Mesmer for his failure. She leaves the sexy sleeping beauties as her glowing entrancement crystal continues to hold The Seductress's wicked spell in place.
Models: Carissa Montgomery, Catherine Foxx, Dre Hazel
tags:superheroine,superheroines,lesbian domination,lezdom,stroy line ,stroyline,froced orgasm,submission,humiliation,super hero, super heroines ,superheroines porn,superheroines adult movies,hypnosis,mind fuck,trance, Carissa Montgomery, Catherine Foxx, Dre Hazel
Info :
Size : 1.34 GiB
Duration : 00:45:28
Resolution : wmv3, yuv420p, 1280×720, 4066 kb/s, 23.98 fps(r)
Format : WMV