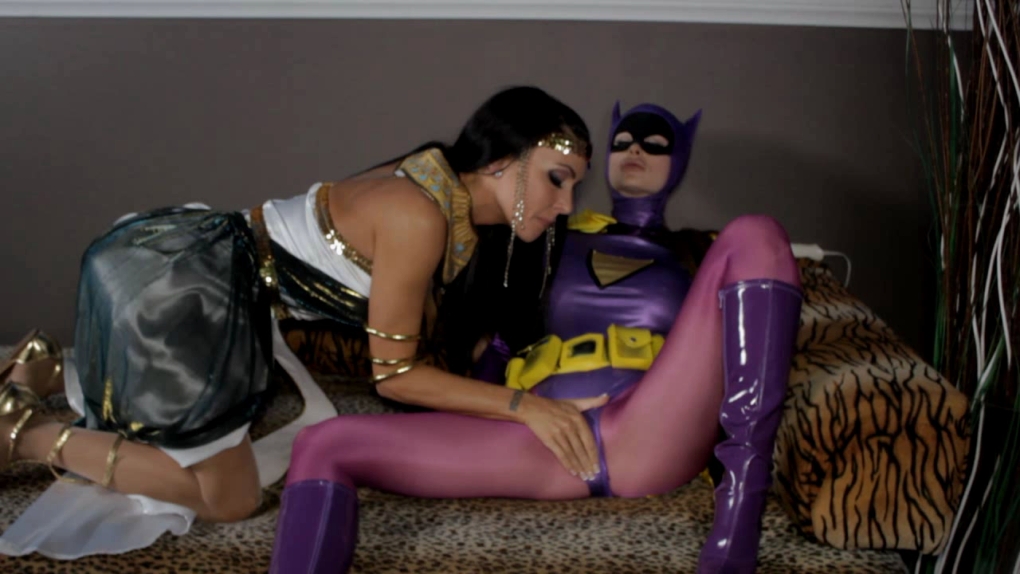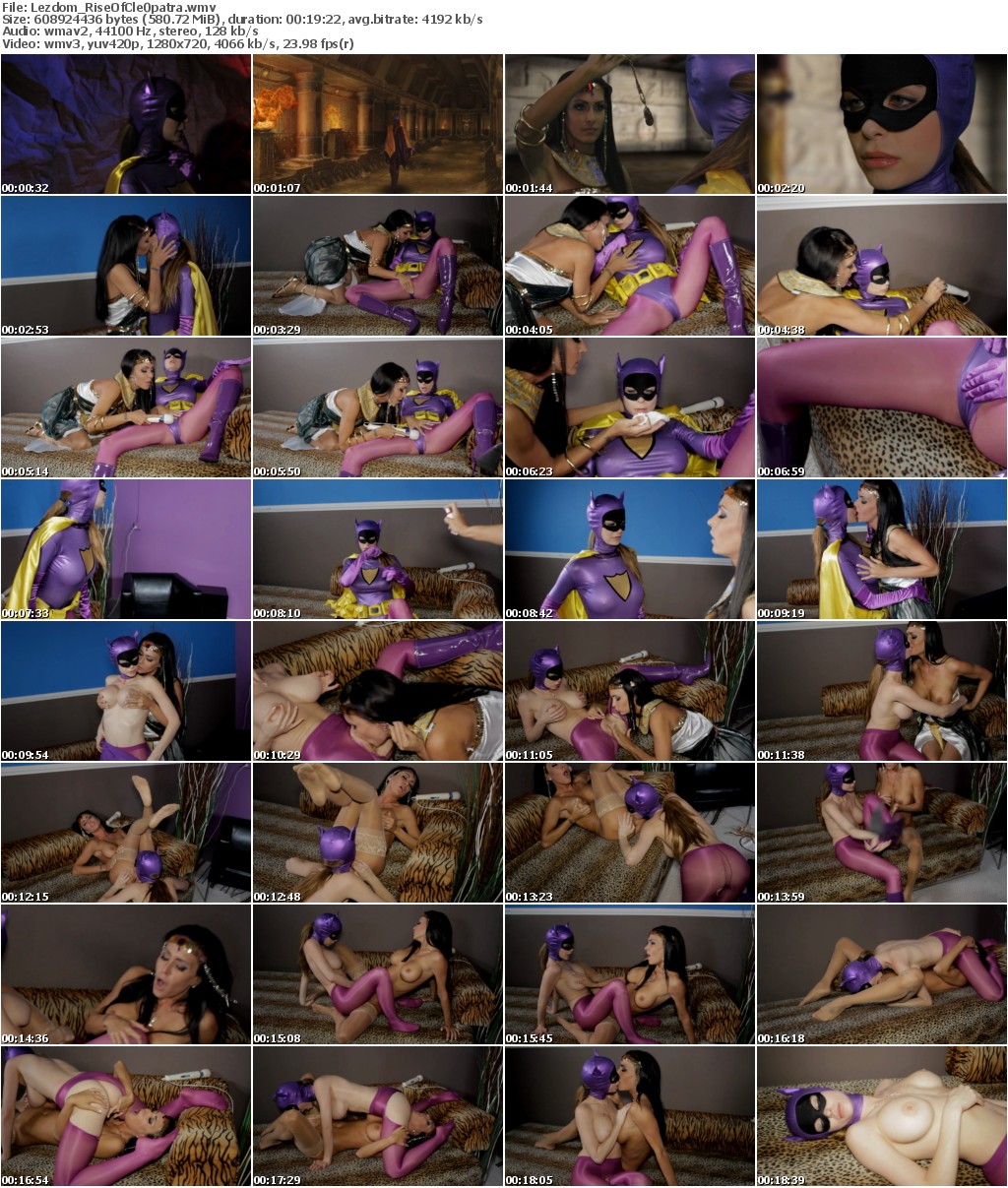 Deep below stately Jane Manor… Knightwoman ponders an ancient nemesis in the Knight Cave. The dreaded villainess Cleopatra was been awakened by an evil mummy's curse… and it's up to the caped crusader bring her down once and for all.
Meanwhile, across town and a mile beneath Arkham Heights… Cleopatra plots her next move in her heavily fortifide treasure vault. She needs to be rid of Knightwoman in order to enslave all of Arkham… and she has just stolen a weapon that may just help her finally defeat The Dark Knight. Cleopatra has gotten her hands on the OrgasmaGas formula… and she plans on using it! Knightwoman, following the Knight Computer's coordinates… navigates the danger filled catacombs buried deep beneath Arkham's surface… and soon finds the grand hallway that leads to Cleopatra's underground fortress. Little does she know… a dastardly trap has been set!
Knightwoman confronts the Egyptian Queen inside her lair… as the two super powered women face off. Cleopatra wastes no time, and springs an entrancement charm upon Knightwoman…who is soon captivated by the twirling gold medallion. With her senses dulled, Knightwoman is powerless to resist Cleopatra's every command… and agrees to follow her deeper into her inner sanctum.
Once inside her personal chamber, Cleopatra reinforces her mystical spell upon Knightwoman and the two vixens begin making out passionately. The Goddess of the Nile pushes our heroine back onto her bed and begins pawing at Knightwoman's spandex covered crotch and breasts. Cleopatra rubs her pussy and sucks on the caped crusader's perfect tits through her shiny costume, and Knightwoman moans and gasps with pleasure. Cleopatra produces a vibra wand, and hopes a nice forced orgasm will cement her entracement of Knightwoman and she will then become her willing slave. Knightwoman can't help to be completely overcome by the buzzing vibrator on her already wet pussy. Cleopatra delights as she watches her new pet have an ecstacy filled super climax that sends her right off to dreamland.
Later, when Knightwoman awakens… she is all alone in Cleopatra's lair… but not for long! Cleopatra enters and the two exchange terse words and soon a fierce catfight breaks out. The mighty Cleopatra gains the upperhand, and tosses The Dark Knight to the bed again… but realizes she may need to cheat to win this battle… Cleopatra pulls the OrgasmaGas out and sprays it upon the caped crusader with an evil smirk. Knightwoman lungs fill with the toxin…but she feels fine… "Ha! Your little potion didn't work!" she snaps at her Egyptian foe. But…it IS working on Cleopatra!!
Having spent centuries locked away from human contact, Cleopatra's strong libido is reignited by the OrgasmaGas and suddenly can't keep her hands off her own body…and begins fondling her own perfect breasts and curvaceous body. Knightwoman tries to ignore this lewd display…but suddenly she too is having trouble concentrating…and finds her own gloved hands massaging and kneading her own lycra covered tits… Feuled by this surging erotic passion, the two enemies suddenly lock in a passionate embrace…Their tongues entertwining as the hands grope each other's perfect bodies. Cleopatra's insane lust can wait no longer, she spins the heroine around and pulls down Knightwoman's sexy leotard, revealing her bountiful breasts.
Knightwoman throws her utility belt to the floor and steps out of her bodysuit and soon finds Cleopatra between her legs, violently tearing open her shiny pantyhose and revealing her sopping wet super snatch. Cleopatra forces her tongue deep inside Knightwoman sending wave after wave of pleasure cousing through her body… amplified by the toxins of the OrgasmaGas. Knightwoman gropes her own supple tits as her body shudders with another intense climax. The two kiss passionately, and Knightwoman cannot wait to get her mouth on Cleopatra's clit!
She undresses her new mistress and begins sucking and licking her lucious labia. With her silky, stocking covered legs and feet hoisted high above, Cleopatra's pussy is fully exposed to her slave's wishes and desires. Soon, Cleopatra has her first orgasm in a millenium… and it is a powerful one! Not satisfied, the two insanely horny vixens immediately get into a sensual sixty nine…and both have simutaneous orgasms. The two make out and taste their own juices on each other's lips…and then Cleopatra decides she wants to worship The Dark Knight's nylon encased feet! She licks and then shoves all her petite toes into her mouth. The two find themselves crotch to crotch in this position, and the OrgasmaGas takes over again…as they begin rubbing their pussies together…clit to clit… at an ever increasing speed. Their lubed labias brushing together as they grab and grope each other cause them both to have one last earth shattering eruption of ecstacy! Knightwoman drifts off to dreamland.
With her nemesis subdued for the moment, Cleopatra sets off into the night… with a plan to enslave all of Arkham…using the OrgasmaGas formula! Will The Girl Wonder be in time to save her enslaved partner? Find out next time… Same Knight Time…. Same Knight Channel!!
tags:superheroine,superheroines,lesbian domination,lezdom,froced orgasm,super hero, super heroines
Info :
Size: 580.72 MiB
Duration: 00:19:22
Resolution : wmv3, yuv420p, 1280×720, 4066 kb/s, 23.98 fps(r)
Format: WMV
Download – Lezdom_RiseOfCle0patra.part1.rar
Download – Lezdom_RiseOfCle0patra.part2.rar