The Life Erotic – Kiere & Anais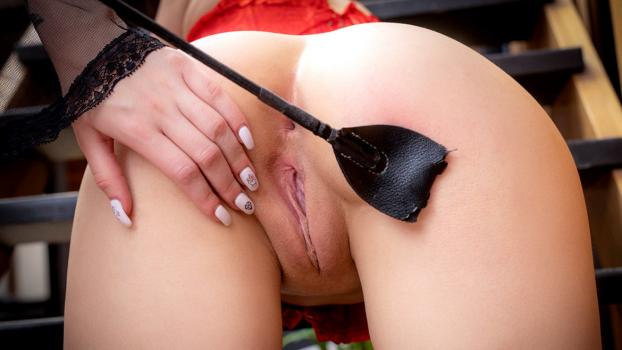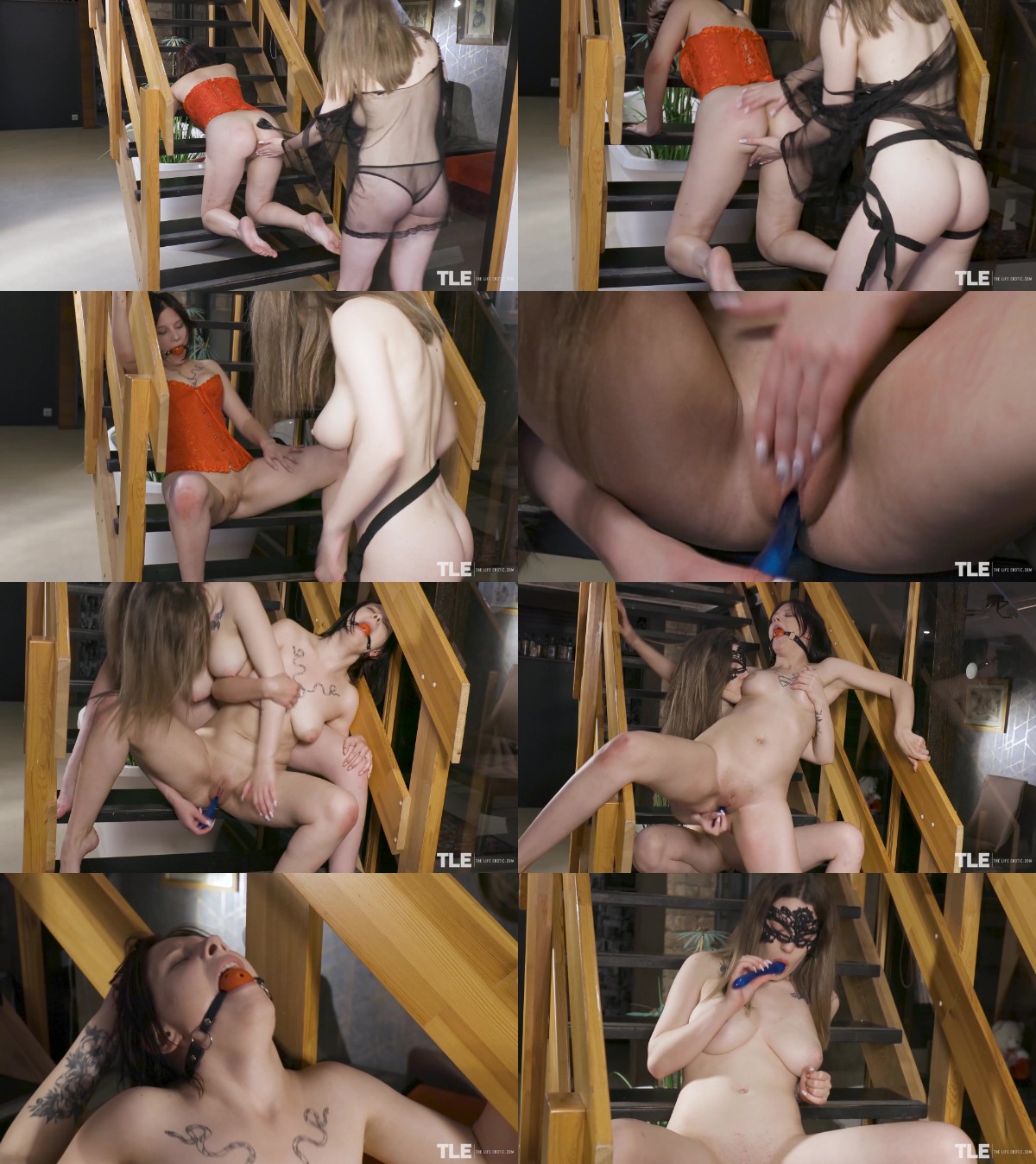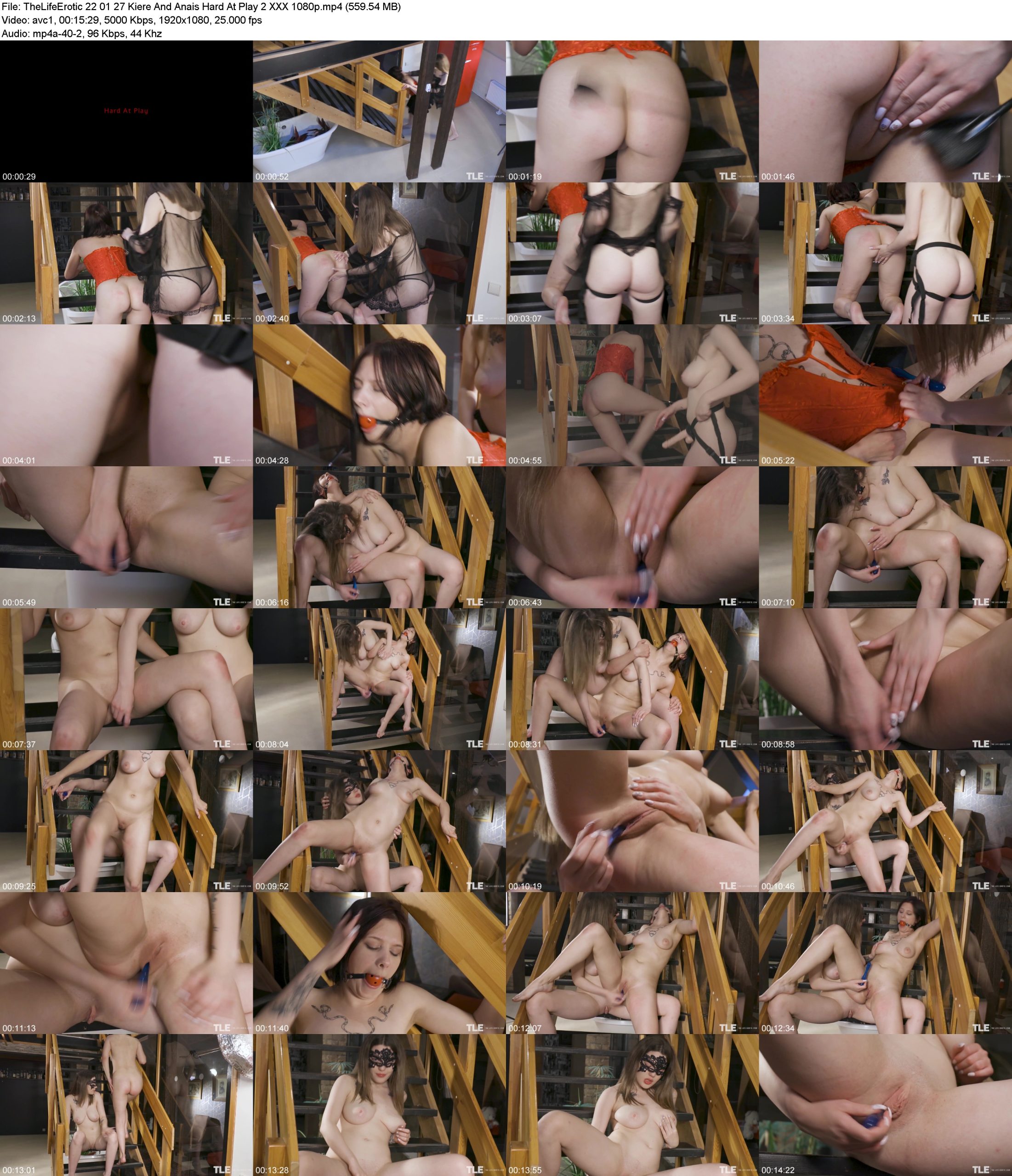 Kiere & Anais – Hard At Play 2
Released: January 27, 2022
Gorgeous brunette Kiere is down for kinky lesbian sex, but her girlfriend arrives home late. Dressed in a sheer black nightgown, thong and lace eye-mask, Dominant Kiere demands an explanation of dark-haired Anais – then, impatient and unforgiving, drags her to the staircase. She orders her onto all fours and yanks off her cute skater skirt, leaving her in only a red bustier corset…
Next, the Domme spanks Anais's ass with a riding crop, raising pink marks. Both girls are turned on, and Kiere teases her galpal's shaved pussy with manicured fingers and the whip. Anais enjoys this a little too much, so, to remind her she is being punished, Kiere muffles her cries of pleasure with a ball-gag.
Kiere straps on a large, realistic dildo then strips naked, flaunting her big, natural breasts. She guides the veined shaft into Anais's wet snatch and bangs her hard and deep. Despite her gag, the submissive moans loudly as she is reamed doggie-style. After withdrawing the strap-on and tossing it aside, Kiere grabs a slim blue hand-dildo then unfastens the red corset to expose her lover's perky tits.
She resumes screwing Anais with the new toy, spanking her splayed thighs all the while. Kiere is fast and relentless, and she grinds her free hand against her lover's clit as she pistons the dildo in and out. They change position, with Anais leaning back against Kiere, allowing each girl easy access to the other's rack. Then Kiere tells her submissive to stand with one leg raised, and plows her even deeper. Trembling and unable to keep her balance, Anais soon sinks back down onto her Mistress's lap.
Kiere orders Anais to cum, and the obedient submissive climaxes almost immediately. Spent, she asks permission to go to bed as soon as she is ungagged – and Kiere, finally showing some mercy, says yes. Left alone, Kiere tastes her lover's juices off of the blue dildo, then uses it to pound herself to an intense orgasm before leaving the scene.
tags:lezdom fetish,lesbian domination porn,submission ,humiliation,spanking,flogging,caning,ballgag,forced orgasm,strapon
Duration: 00:15:29 Resolution: 1920×1080 Format: MPEG-4 Size: 559.54 MB
Download or WATCH ONLINE – TheLifeErotic.22.01.27.Kiere.And.Anais.Hard.At.Play.2.XXX.1080p.mp4