Taken by Storm with Cali, Irene & Terra (hd)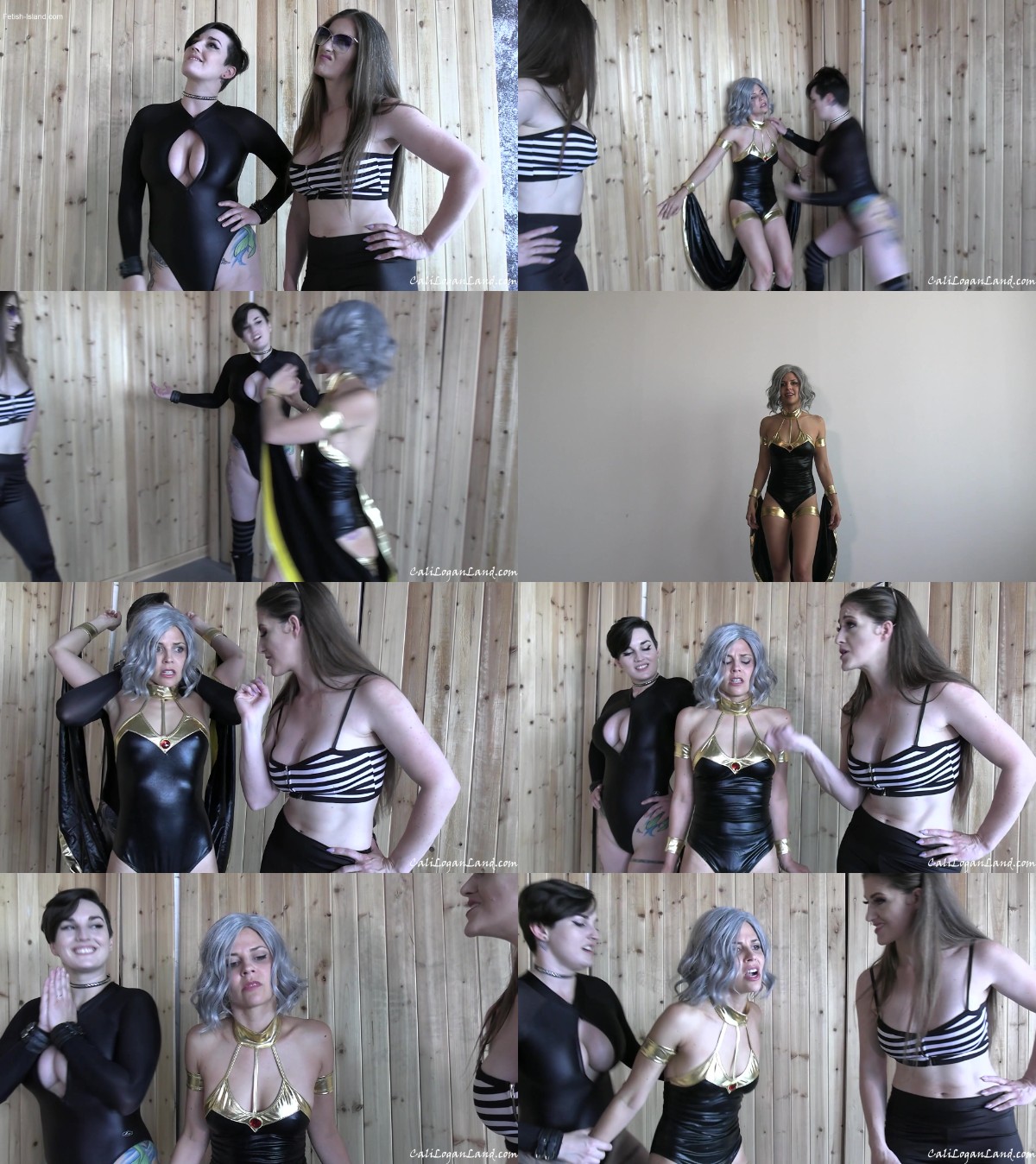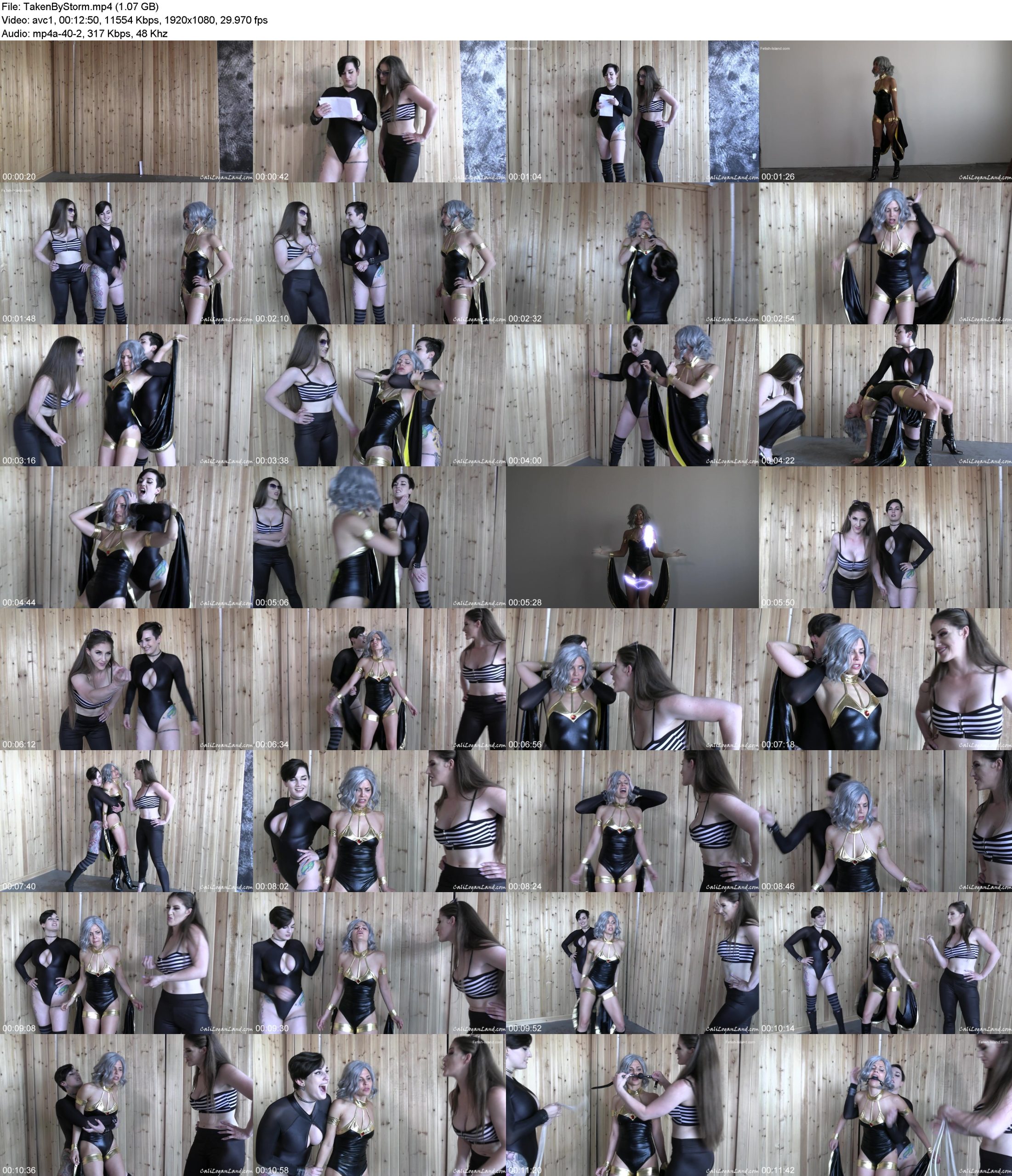 Mezmerelda(Terra Mizu) and the StrongSilver(Irene Silver) have infiltrated the secret underground headquarters of the X-Men! They plan on completely disabling the X-Men one by one and will stop at nothing to take the headquarters and the X-Men under their complete control. Strong Silver is looking completely powerful in her one-piece black body suit and the lovely Mezmerelda is soul-stopping in her two-piece sexy leotard.
Just as Mezmerelda and StrongSilver are going over their plans, the powerful X-Man Storm(Cali Logan) whirls in and tries to look for Professor X, noticing the absence of the rest of the X-Men and how oddly quiet it's become. She spots Mezmerelda and StrongSilver, asking them what's going on and if they are new recruits sent here to help out! The two of them look at each other and laugh, letting Storm know they are here to take over the X-Men and control everybody as they see fit. Storm realizes how much trouble she's in on this two on one situation, but she does her best to put up a fight. However, Storm's punches and kicks to StrongSilver do nothing but make StrongSilver laugh!
Mezmerelda and StrongSilver ask Storm if that's the best Storm has before they grab her and start to bend and throw her body around in headlocks, full nelsons, and bearhugs. They laugh as she tries to fight back despite the fact they are completely overpowering her! They decide to give her a second chance to fight, and let her go to try to prove herself.
Storm runs to the opposite side of the room and lets out an enormous lightning strike, sending Mezmerelda and StrongSilver up against the wall in pain. They seem surprised that Storm has just a bit of power in her tiny body, but it won't do much good against Mezmerelda's powers of mind control. As Mezmerelda unleashes her power of mind control on Storm, Storm's lightning power is weakening and she is unable to throw more lightning at them. Knowing that Storm is under the spell, Mezmerelda beckons Storm to come over to them and starts to have Storm do several things on command. Soon, Storm is revealing her darkest secret of being dominated by her masters which happen to be Mezmerelda and StrongSilver at the moment! As StrongSilver puts a tight headlock onto Storm, Mezmerelda puts a ball gag into Storm's mouth and uses some rope to tie Storm's arms together. Unable to fight back or resist, Storm follows Mezmerelda and StrongSilver into her new occupation as being their servant for as long as they see fit!
This clip runs 12 minutes long and contains, superheriones, bondage, ballgags, superpowers, and mind control. The 1080hd format can be found in under the SUPERHERIONES Category.
Category: SUPERHEROINES COSPLAY, MAGIC CONTROL, DOMINATION, FEMALE FIGHTING, MESMERIZE.
Keywords: xmen, storm, cali logan, irene silver, terra mizu, peril.
tags:superheroines fetish,superheroine porn,superheroines sex,humiliation,superheroines adult movies,fantasy,lezdom,lesbian domination,catfight,submission,humiliation x-men
Duration: 00:12:50 Resolution: 1920×1080 Format: MPEG-4 Size: 1.07 GB