Supervillain Victories: Night Bat's Bondage Training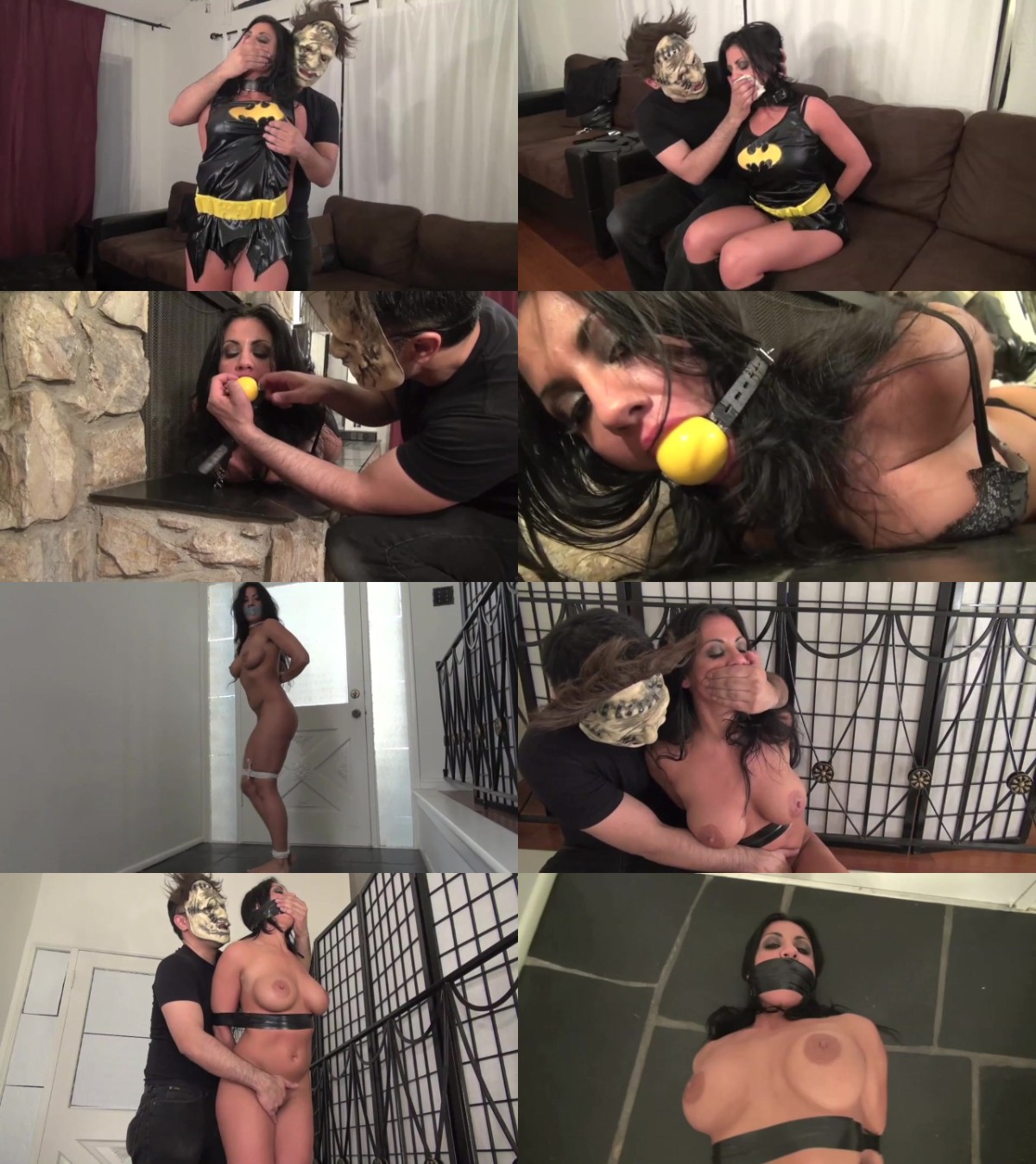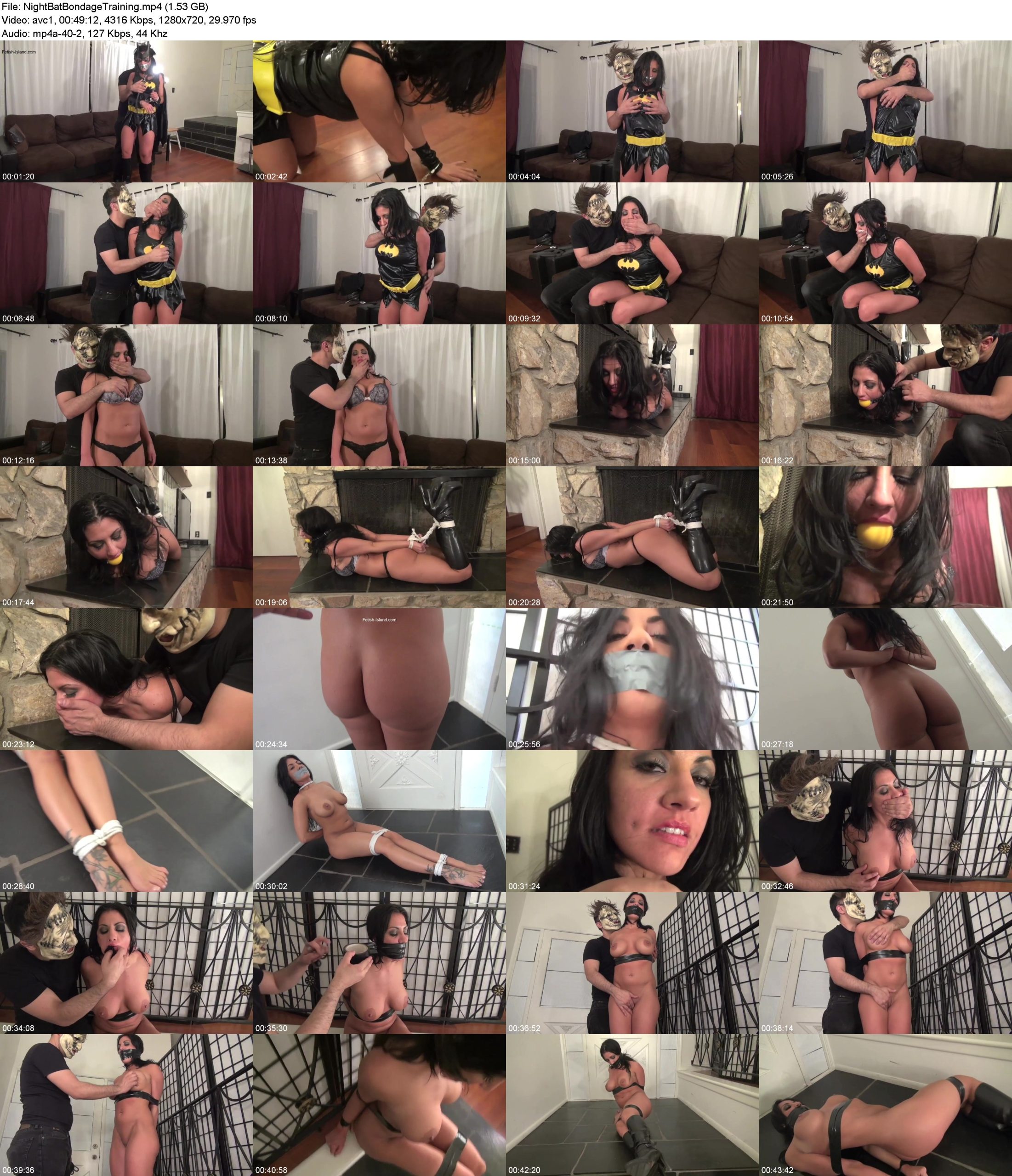 Gorgeous busty babe Ash is a 'Night Bat' a superheroine who finds herself handcuffed, tapegagged, collared and being yanked along via a leash by supervillain slaver Mr Scar. She fell into his trap and he's now training her to become his submissive superheroine slave. She resists the machinations of the leash and has to be trained on all fours for that extra humiliating feeling as she crawls wherever she is ordered to go. Her pesky mask is removed and she is constantly fondled with her big tits getting roughly mauled and her ass being spanked and grabbed so hard she is sometimes lifted off the ground. Her tapegag comes off and she asked to give up some information, but due to her lack of cooperation she is handgagged. The leash is removed and her wrists re-cuffed behind her back and she endures more interrogation followed by getting handgagged and for not being cooperative. She is given a 'relaxing' treatment, but resists the effects somehow but does eventually succumb. A short later she has been stripped down to her bra and panties and becomes the pliable plaything of evil Mr Scar who enjoys groping her sexy body. Due to continued lack of cooperation she is 'subdued' as she is prepared for some bondage that will make her change her mind about cooperating!
Night Bat's ordeal continues as Mr Scar toys with hapless superheroine captive. She finds herself trussed up in the hogtied position and her threats of revenge when interrogated get her handgagged, spanked, and groped. A big ballgag is then shoved into her pretty mouth to shut her up and after more fondling she is left to struggle. She bounces up and down as her big tits get squashed and then are visible momentarily at times. After a while she starts to drool uncontrollably around the big ballgag. Mr Scar returns to un-gag and interrogate her some more without much success and handgags and fondles her some more before 'relaxing' her. The next morning she remains in bondage with her body bound with rope and her hands in a reverse prayer position behind her back. Submissive in bondage now, she is fondled in closeup POV and ends up tapegagged and is left to once again deal with being a helpless sex object on display (great display to watch for sure!). More in closeup POV transpires as her captor will probably keep tying her up in different positions that please him!
Night Bat is being trained so that she will serve (and service) the nefarious Mr Scar. She is well on her way to complete submission and while she resists at times, she slowly but surely becomes the willing slave girl Mr Scar is training her to be. With feelings of captivity while in tape bondage she gets fingered and develops confusing and ultimately pleasurable leanings towards being restrained. Groped constantly (including in closeup POV) she is still not quite trustworthy and has to be gagged with panties going into her mouth and a tight wraparound tapegag that keeps her very muted. Her perfect big tits and toned sexy round ass get lots of fondling and spanking as well. Fingered yet again she is given a orgasm and then left to enjoy her bondage alone. She writhes about, more likely looking to get comfortable rather than trying to escape! The view is great and with lots of closeups as well as full body and select body part observations, it's a hot tour of her sexy helpless bound and gagged form. Mr Scar returns and fondle her some more and then picks her up and carries her off.
Categories: BONDAGE, GAGGED WOMEN, GROPING, SUBMISSIVE / SLAVE TRAINING, BOUND ORGASMS.
tags:superheroines fetish,superheroine porn,superheroines sex,humiliation,superheroines adult movies,fantasy,Batgirl,batwoman
Duration: 00:49:12 Resolution: 1280×720 Format: MPEG-4 Size: 1.53 GB