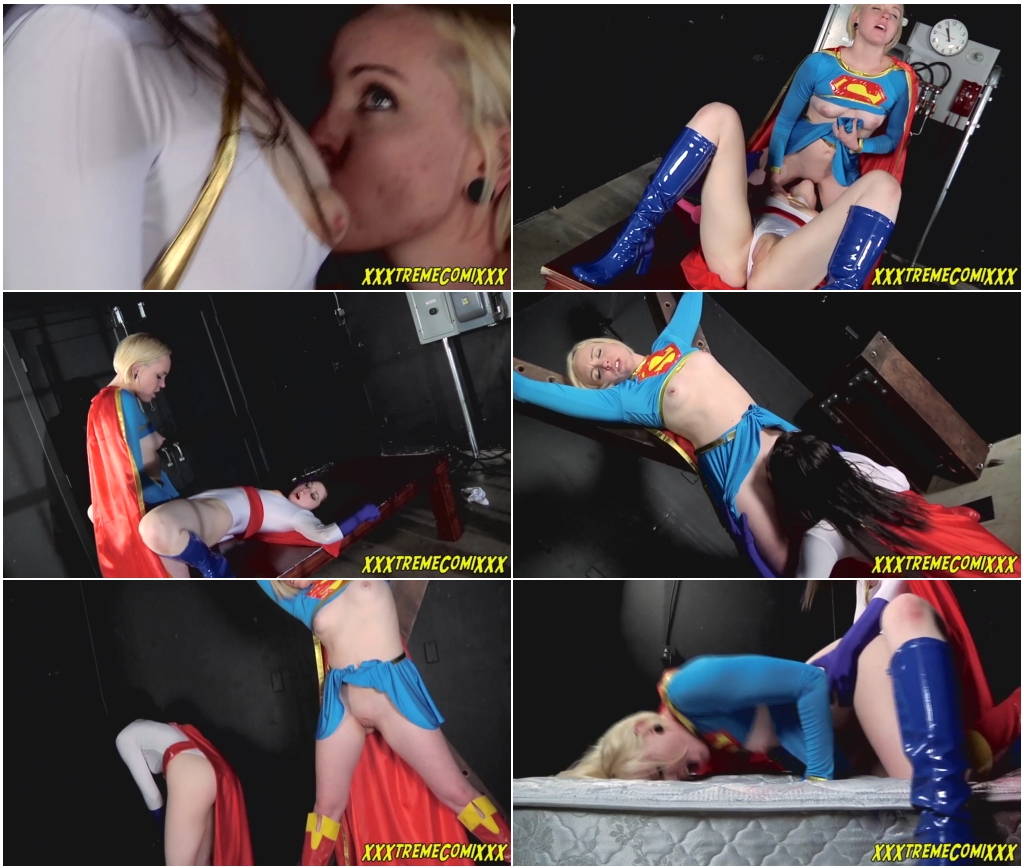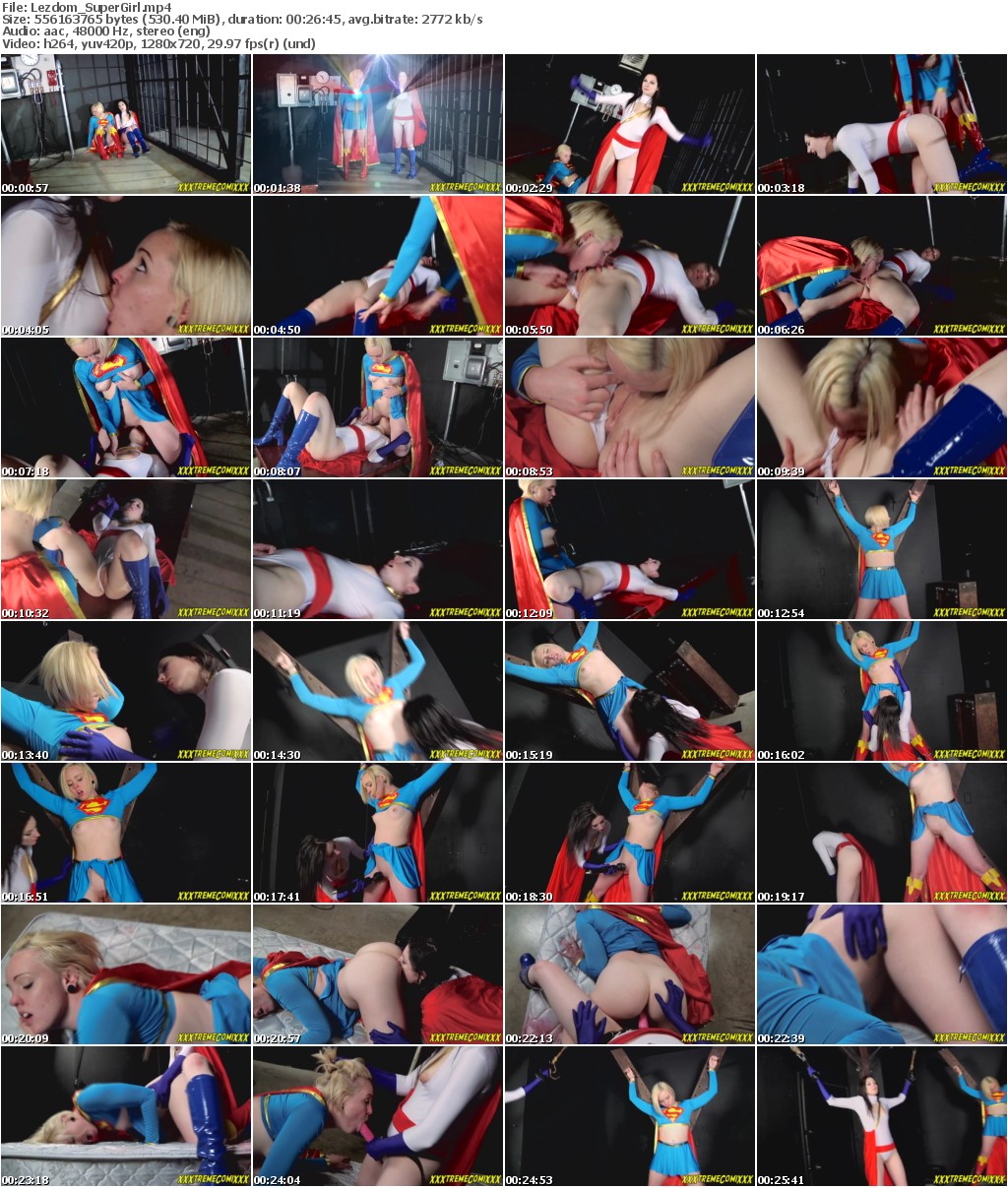 Supergirl and Powergirl have been captured by a malevolent super entity. Trapped in a dark and scary dungeon, they awake demanding to be released. A voice sounds from above and tells them to do whatever he says to be released. They stand firm and tell him they will not, so he zaps them with a celestial electricity beam, they collapse, still Supergirl refuses to play his game, Powergirl however, doesn't seem to care and punches her friend in the back of the head.
Supergirl falls and Powergirl starts to wail on her, she presses her boot firmly on the weakened heroines chest, then starts to pose for disembodied voice. Supergirl recovers from the attack, and rises to her feet, clenching her decides to give Powergirl a lesson in humility and punches her in the face, then again and again, then punches her in the belly. She throws her on the ground and starts to spank her.
A pile of sex toys materialize on the table and Supergirl knows what to do. She puts Powergirl on the table and makes her worship her tits, then kisses her, then lays her down and starts to eat her pussy till she has a super orgasm, then sits on Powergirls face and rides her, then goes to a 69 position till they both cum. Supergirl grabs a strap on and puts it on, then slides the cock into Powergirls pussy and pounds her hard and deep until she cums again. Supergirl stands and demands to be freed as she has won, but the voice just shoots more electricity at the proud heroine.
Supergirl wakes on a St. Andrews Cross, bound and helpless, with the reinvigorated Powergirl in front of her. Powergirl starts by playing with Supergirl's boobs, sucking on her nipples, then starts to finger and lick her pussy. She grabs a Hitachi and starts to rub it on Supergirl's pussy, making her moan and come to a powerful orgasm, then she rips her off the X and throws her to a bed and begins licking her pussy. Once she is ready and wet, she puts on a strap-on and starts to fuck Supergirl till she cums again.
Powergirl demands to be freed as she has won, but their captor doesn't seem to care, he zaps them again. They awake each strapped to their own cross, powerless and waiting for whatever the collector wishes to do with them.
Fetish Elements: Explicit Sexual Content, Superheroine, Lesbian, Fighting, Spanking, Belly Punching, Costumes, Nipple Licking, Kissing, Pussy Licking, 69, Orgasms, Forced Orgasms, Strap-On, Dildo Fucking, Bondage, Fingering, Vibrator, Dildo Sucking, Fucking, Blow Job
tags:superheroine,superheroines,lesbian domination,lezdom,froced orgasm,super hero, strapon,super heroines
Info :
Size: 530.40 MiB
Duration: 00:26:45
Resolution : h264, yuv420p, 1280×720, 29.97 fps(r) (und)
Format: MP4
Download – Lezdom_SuperGirl.part1.rar
Download – Lezdom_SuperGirl.part2.rar