Super Girl's Super Pussy – Kenna James and Sinn Sage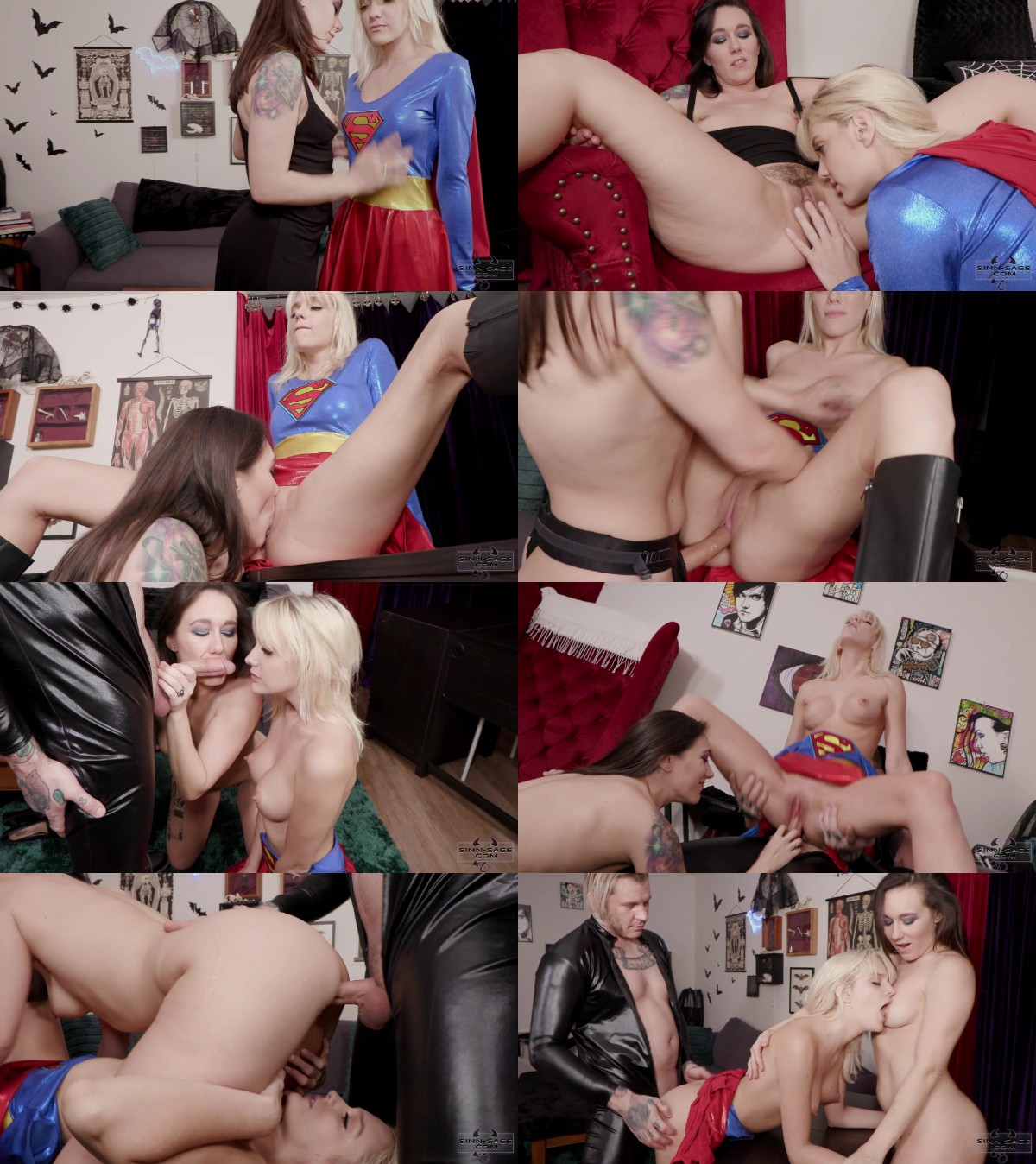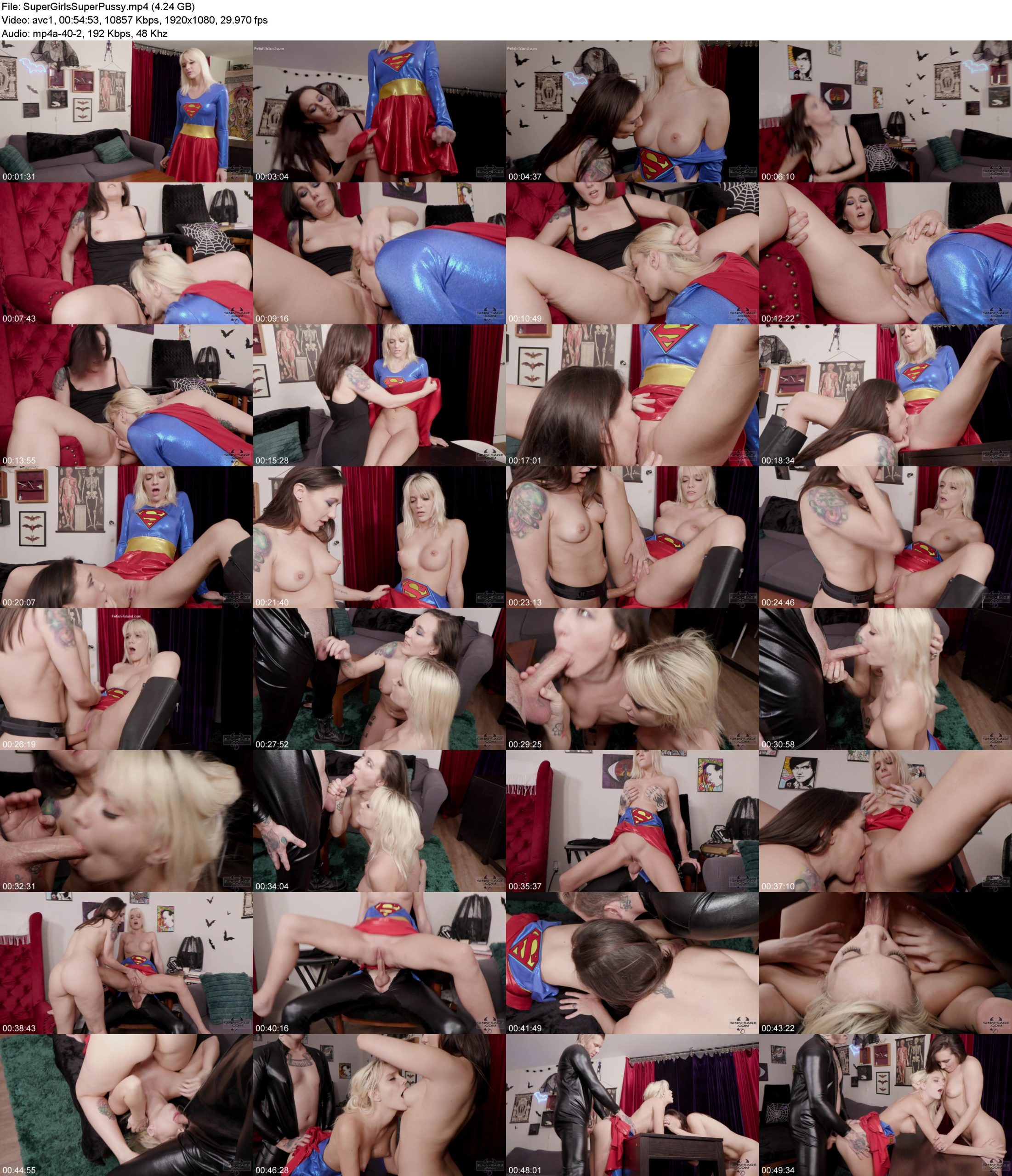 SuperGirl (Kenna James) has been found by supervillains and she gives a quick punch to the minion, leaving him dazed. Sinister Sinn Sage has an incriminating picture of Super Girl giving a blowjob on her phone. It would be a shame if this got out. All the Do Gooder superheroine has to do is become Sinn's submissive whore.
Lifting her uniform, Sinn plays with Supergirl's pussy through her red thong. Ass smacking, tit grabbing and nipple sucking are just the start of the humiliating treatment. Tit to tit, they're tongue kissing. Supergirl tries to deny her sexual arousal, but her pussy juices reveal her lack of pussy control.
Crawling in shame, she's pussy licking over Sinn's black lace panties. The pussy worship and pussy fingering makes Sinn moan in pleasure. Cumming in SuperGirl's mouth, Sinn's eager to taste her own pussy juices from sensual kissing.
The supervillanous goes down on Supergirl to see her squirming and trying to practice orgasm control, but she's soon shuddering and quivering beneath Sinn's talented tongue. Supergirl's shocked when the big strapon is used in her virginal pussy and loses control from a g-spot orgasm.
Baddie Drake wakes up from the beatdown, but he's ready for her cock sucking services. The oral servitude must be humiliating for a fallen superheroine, but she's deep throating like a pro. Sinn aids with ball sucking and dick sucking.
Repulsed, SuperGirl's guided to sit on his big cock for cowgirl position. Sinn takes more blackmail pictures before licking pussy as it's going up and down Drake's big dick.
Laying their sex slave out, she gives cock service as Sinn gets fucked doggystyle. Bending Supergirl over a table, she gets banged in doggy style while giving tit worship to Sinn. Supergirl is grunting as her body submits to pleasure.
Beaten down emotionally, she receives her humiliating facial with an open mouth. They're cum swapping and Supergirl can't believe she a submissive cum swapper. Holding her head down in shame, she realizes they are never going to leave her alone now that they know where she lives!
OTHER KEYWORDS- Drake Man'OWarXXX cape fetish boots boot fetish blowjobs blow jobs lesbian domination lesbians girl girl girl-girl girl/girl girlgirl GG pussy eating pussy licking oral sex oral servitude finger fucking female orgasms female domination femdom sensual domination embarrassment blondes big tits roleplaying fantasies role playing fantasy kink all natural brunettes super heroines boy/girl/girl boy girl girl BGG costume fetish cum on face cumming on face cum swappers blackmail fantasies blackmail fetish
Categories: SUBMISSIVE / SLAVE TRAINING, FUCKING, BOY-GIRL-GIRL, DOMINATION, FACIALS.
Keywords: super villains, submissive sluts, slut training, cosplay, costumes, threesomes, cum play, xxx hardcore, sex positions, menage a trois, strap-ons, humiliation, blackmail fantasy, kenna james, sinn sage.
tags:superheroines fetish,superheroine porn,superheroines sex,humiliation,superheroines adult movies,fantasy,lezdom,lesbian domination,catfight,submission supergirl
Duration: 00:54:53 Resolution: 1920×1080 Format: MPEG-4 Size: 4.24 GB