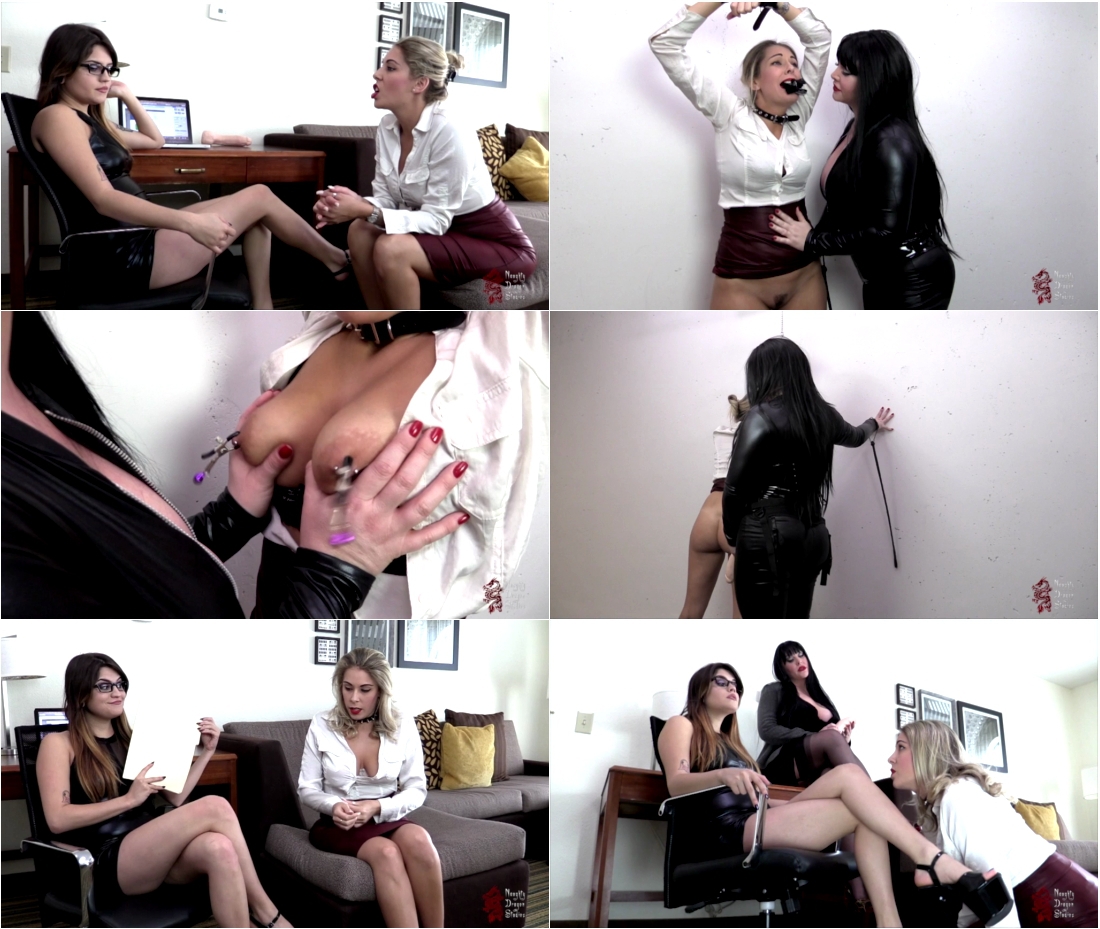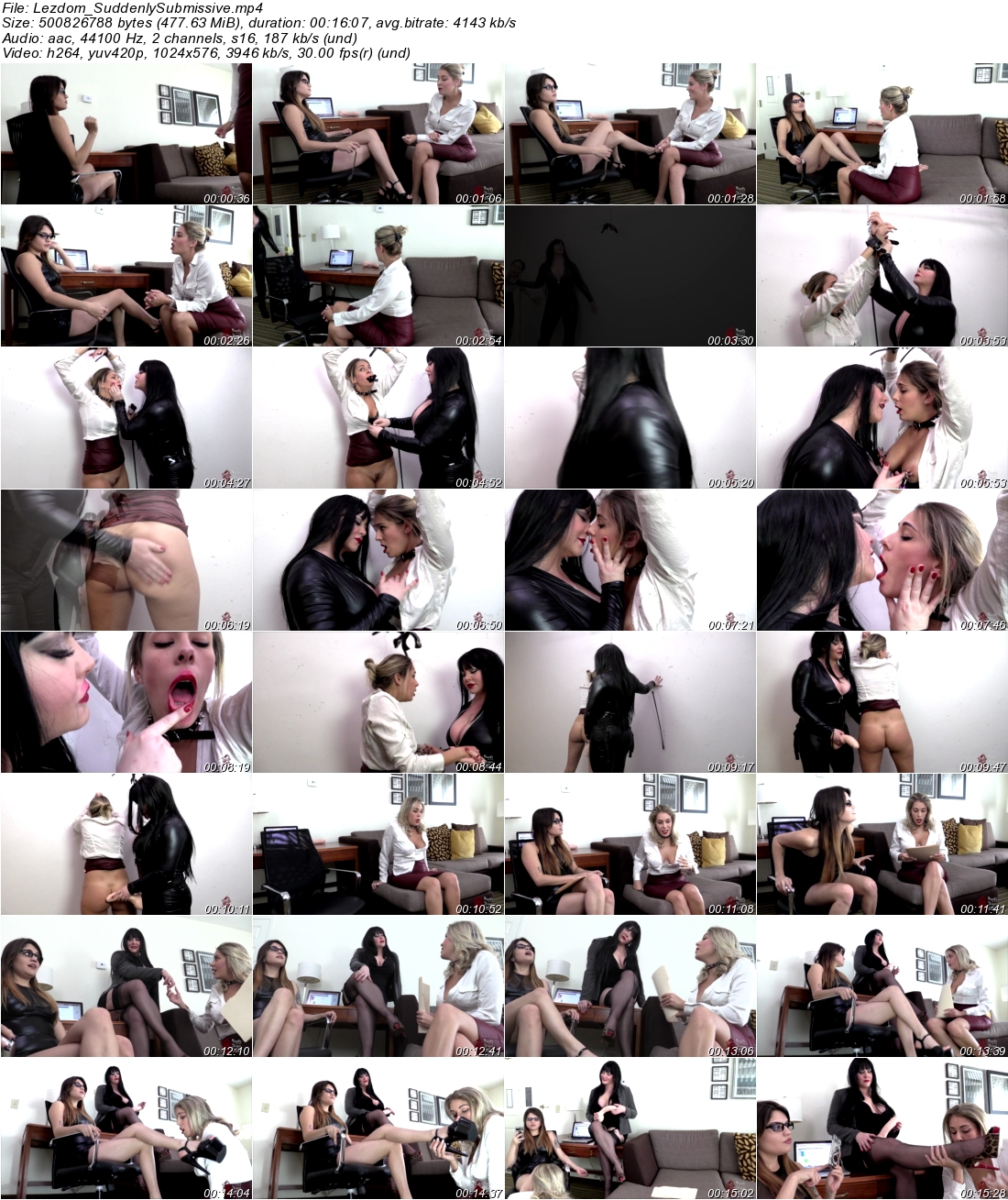 High Heels Worship, Lesbian Domination
CUSTOM REQUEST – Senator Parker, a self proclaimed protector of public morality, has taken it upon herself to wage a one-woman war on those providing services to the fetish community. On this particular day, she wanders in to the front office of a local dungeon run by a young dominatrix, Mistress Dominique. Upon entering, Senator Parker divulges the nature of her visit to which Dominique is mostly apathetic. Demanding her files on current clients, Senator Parker patiently waits for Mistress Dominique to return with the documents.
Just then, Miss Sophia Stone enters the office and spies Senator Parker. Assuming she is her next client for the day, Miss Sophia immediately collars her up and drags her into the dungeon for her session. Senator Parker tries to protest but Miss Stone will have none of it and commands Senator Parker to keep quiet as she secures her hands above her head in cuffs. Senator Parker is still reeling from the "abduction" but cannot help but to submit to the will of Miss Sophia. "What are you," Miss Sophia asks sternly? Senator Parker is stammering nervously searching for the desired answer when Miss Sophia lets her off the hook with, "You are my dirty little slut, aren't you?" Senator Parker agrees and confesses. And with that, Miss Sophia Stone engages in a domination sessions for the ages employing naked humiliation, spanking, nipple clamps, kissing and finally a massive strap-on.
After her session, Nikki stumbles, disheveled, back into the front office when Miss Dominique appears with the requested paperwork. She is shocked and bewildered by Senator Parker's appearance and sudden change of demeanor. Just then, Miss Sophia enters the office and sits on the office desk smiling wickedly at Senator Parker. Miss Dominique introduces her as Senator Parker and it is at this point that Miss Sophia realizes she was NOT her next appointment after all!
However, Miss Sophia knows that she has broken Senator Parker into a complete submissive and flatly tells Senator Parker that she will NOT be shutting down any dungeon AND she will be worshipping Miss Dominique's feet and heels instead. They both laugh at their newfound sub and watch as Senator Parker moves over to worship Miss Sophia next!
DOMINATION, LESBIAN DOMINATION, STRAP-ON, POWERFUL WOMAN, FEMALE DOMINATION, FEMDOM, NIPPLE PLAY, FOOT WORSHIP, PANTYHOSE, STOCKINGS, GODDESS WORSHIP, KISSING, SPANKING, HIGH HEEL WORSHIP
#Domination, #Double Domination, #Female Domination, #female/female strapon, #Femdom, #Foot Worship, #Kissing, #Nipple Clamps, #Pantyhose Domination, #Powerful Women,
tags:lesbian domination,lezdom,story line ,storyline,froced orgasm,submission,humiliation,anal,butt plug,spanking
File: Lezdom_SuddenlySubmissive.mp4
Size: 500826788 bytes (477.63 MiB), duration: 00:16:07, avg.bitrate: 4143 kb/s
Audio: aac, 44100 Hz, 2 channels, s16, 187 kb/s (und)
Video: h264, yuv420p, 1024×576, 3946 kb/s, 30.00 fps(r) (und)
Download – Lezdom_SuddenlySubmissive.part1.rar
Download – Lezdom_SuddenlySubmissive.part2.rar