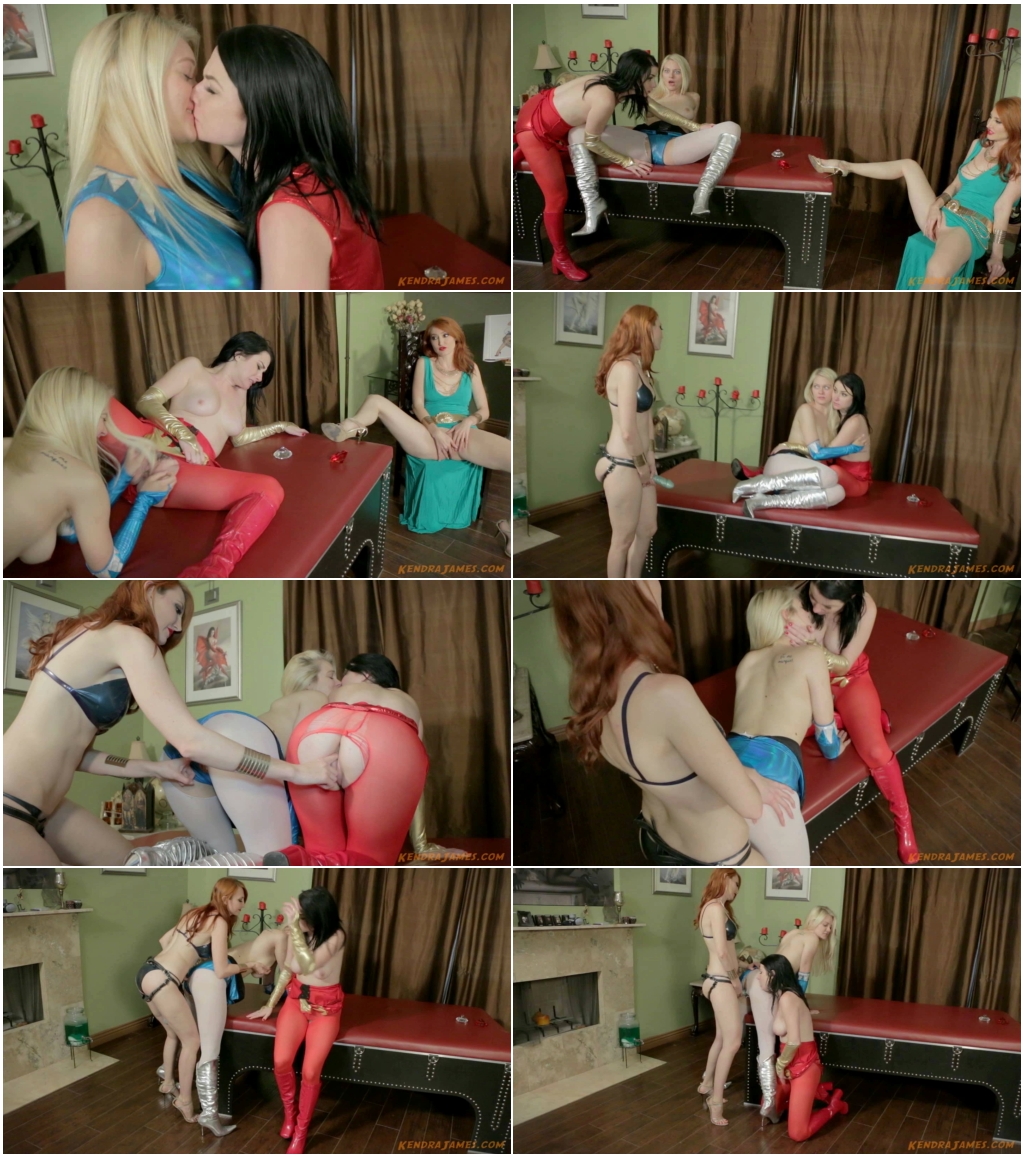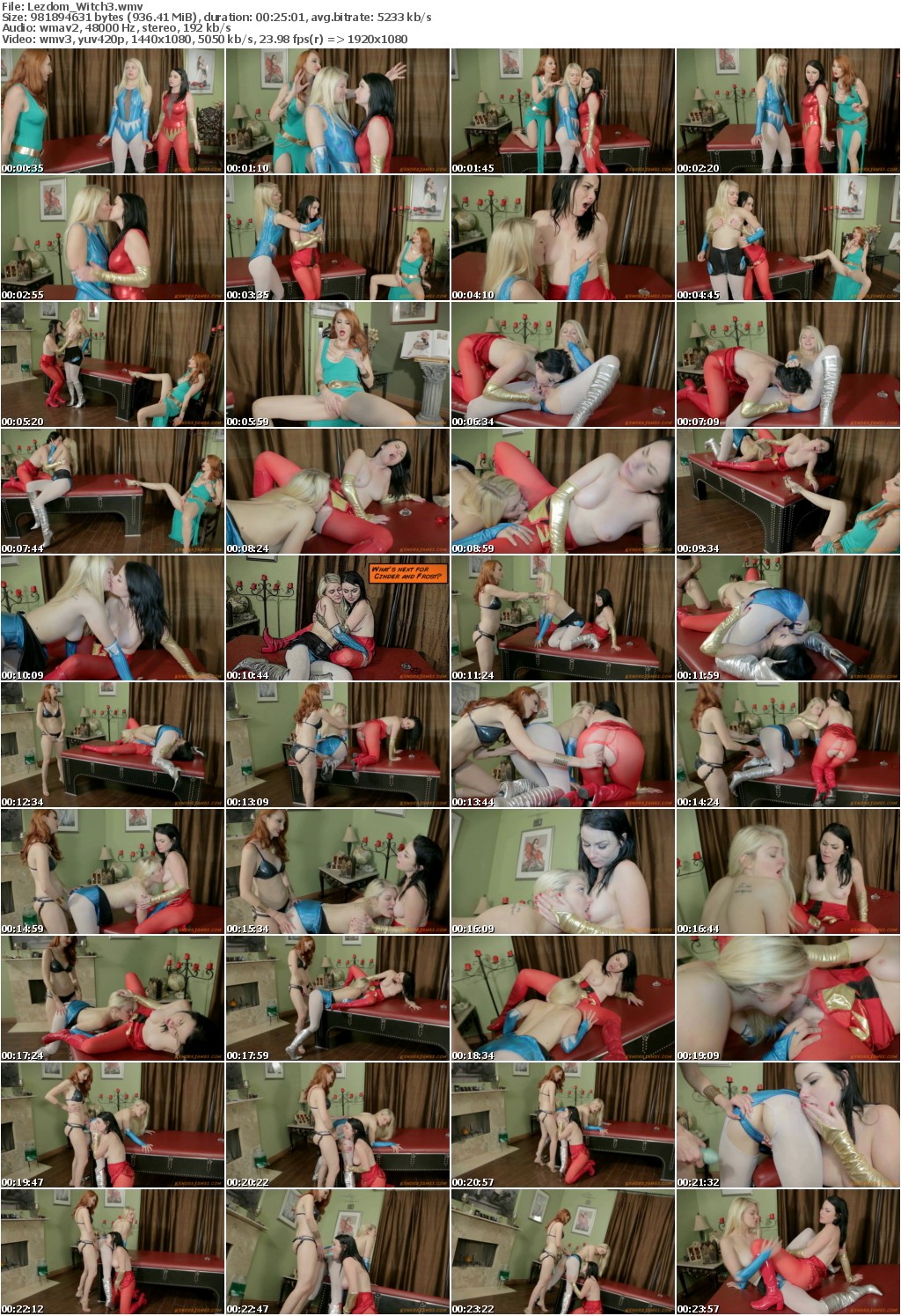 With Circe lying fucked on the floor, Cinder and Frost start discussing what to do with her. Perhaps go find Stargirl so she can get some payback before they take the vileness to the super villains prison? They don't notice that something is happening to Circe… it turns out that their magic crystals only temporarily removed her power and it is coming back now…Suddenly Circe is no longer lying in rags, but has been restored to her sexy dress and immaculate appearance. At the restoration of her powers she snaps into alertness. The two heroines desperately try to use their crystals again but their power is spent, it turns out they were a 1-shot item.Circe snaps her fingers and the sister heroines both find themselves completely frozen and unable to move! Circe then tells them it's time for some payback, she's going to teach the super brats a lesson!
Circe then waves her fingers in the air and the two frozen heroines slowly turn to face each other and move closer. They realize what is going on: Circe means for the two sisters to kiss each other! They both try to resist, but Circe's magic is too powerful and their bodies are slowly driven together, mouth to mouth, and despite their refusals they can't stop themselves from pressing their lips together and kissing. Circe laughs in glee at the two poor kissing heroines. She waves her fingers again and their arms become unfrozen, but still completely under Circe's control. Against their wishes they start to caress each other while they kiss, their hands moving to fondle a breast.
Circe then sits down and starts to rub her pussy while she watches the two heroines put on a show for her. The heroine's minds are screaming no, but they have zero control of their bodies as they start to suck on each others tits. Frost licks her sisters nipples and then moves between her legs, pulling her costume aside and ripping her pantyhose to gain access to her sister's sweet wet pussy. She laps at Cinder's glistening cunt, horrified by her actions, but unable to control herself. This turns Circe on and she finger fucks herself while watching the heroine sisters in their sexual peril. Soon the girls are so overcome with hunger for each other they get into a 69, licking each others pussies for Circe's enjoyment. They beg to stop, but can't get enough.
The sorceress thoroughly enjoys watching the show, sitting on her throne and sliding a finger in and out of her sticky wet pussy while watching the amazing heroines humiliate themselves. She then gets the two sisters on their hands and knees side by side and finger fucks them both. The two heroines continue to protest but their bodies are under the power of Circe and they cannot escape. In fact they find they can't overcome their desire to kiss each other.The vileness then gets her special strapon and fucks Frost doggy style while Cinder kisses her and sucks on her tits. She plunges her cock deep into the blond heroine's twat making her moan in pleasure and humiliation while her sister watches. Circe then makes Cinder get on her knees so she can alternate between fucking Frost's pussy and Cinder's mouth. The fiery brunette is going to lick the strapon clean of her sister's juices before the sorceress then fucks her with the same cock.Circe has defeated and fucked yet another pair Superheroines and succeeded in turning the two sisters into a pair of insatiable lesbians. She leaves the two of them tribbing and kissing away on her table as they succumb totally to their lesbian lust for each other.
superheroines, super villain, cosplay, costumes, spandex, pantyhose, latex, strapon sex, cock sucking, magical transformation, boots, oral sex, lesbian domination, pussy licking, taboo, rough sex, freeze, mind control, masturbation, 69, tribadism, mesmerize, magic control, sexual humiliation, peril, orgasm
tags:superheroine,superheroines,lesbian domination,lezdom,stroyline,froced orgasm,submission,humiliation,super hero, super heroines ,pussy fingering,pussy licking,strapon,strap-on
Info :
Size: 936.41 MiB
Duration: 00:25:01
Resolution : wmv3, yuv420p, 1440×1080, 5050 kb/s, 23.98 fps(r) => 1920×1080
Format: WMV
Download – Lezdom_Witch3.part1.rar
Download – Lezdom_Witch3.part2.rar
Download – Lezdom_Witch3.part3.rar