Princess Ludella Must Obey the Dark Side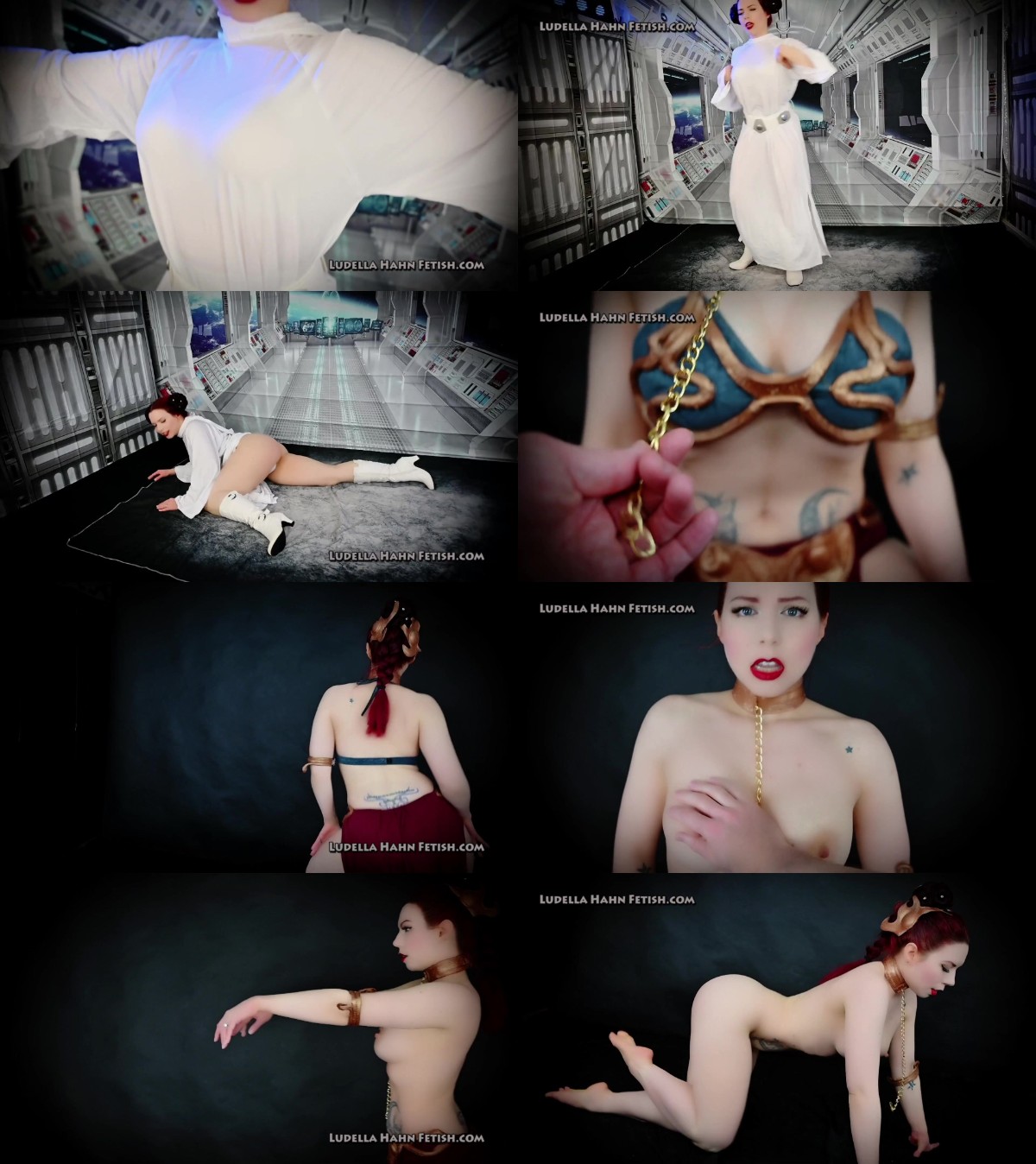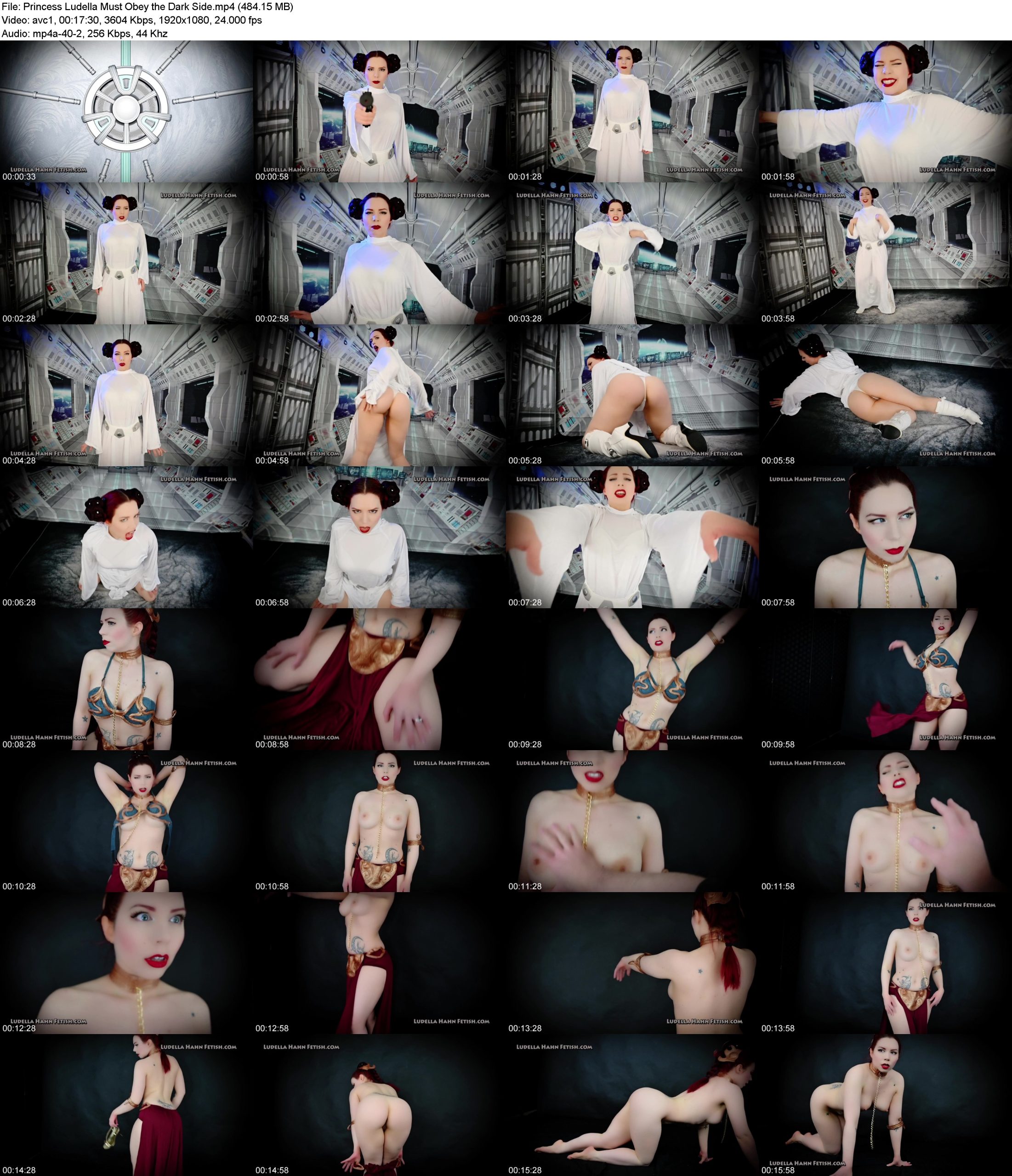 Princess Ludella Must Obey the Dark Side – Feisty Redhead Body Controlled and Brainwashed Into POV's Eager Slave Girl – A Cosplay Parod – HD MP4 1080p
A long time ago in a galaxy far, far away…a feisty Princess refuses to accept the power of the new rule. While trying to devise a plan, her ship is overtaken by a powerful POV with dark abilities. He breaches her security system to gain access to her locked quarters. Taken by surprise, the Princess raises her blaster and refuses to come with him. "Don't you understand, I'm part of the resistance and I will ALWAYS resist." She says, standing her ground. POV uses his powers to make her drop the blaster. A flicker of fear crosses her face, but she continues to stand her ground verbally. "I will continue to resist. My mind is strong and you will have no power–" Her arms fly up one at a time as if held in the air by invisible restraints, and she suddenly feels less secure with her power to fight.
Struggling against the magic restraints, she squirms as POV drawn nearer. He looks her up and down and then runs his hands over her body, squeezing her breasts. "Get your hands off me! Release me at once!" The Princess demands. "I said release me!" She says with more authority. POV releases her from the restraints and her arms drop heavily by her sides. Quickly trying to take action, she dives down for her blaster, but POV is much faster and uses his powers to make her stand upright and kick it over to him. She breathes heavily as he approaches.
"No, you will NEVER control me. I will never obey your rule. NEVER." She says with fire in her eyes. So POV uses his powers to humiliate her, making her flap her arms like wings and cluck like a chicken around the room. She tries to fight it, but her body obeys. "This is humiliating, and I am NO CHICKEN!" She insists. He releases her from the act to give her another opportunity to come willingly, but she continues to resist. "You may have some power to control my body, but you will NEVER own me and I will never do your bidding." He then makes her turn around and lift her dress to show off her big bottom. He makes her slap it a bunch as she struggles to resist, yelping and moaning with each slap. Then he makes her shake her booty and twerk her way to the floor. She moans and begs him to stop as her booty shakes and twerks. "As humiliating as this is, you cannot keep this up for long and you will never fully control me!" She breathes out.
She collapses to the floor with her ass still up in the air. "Why is this…so draining.?" She struggles to get back up, and when she is able, she's made to kneel in the slave position. She's breathing heavily and moaning, weakened by her fight against his power over her body. "I will not submit. I will not. I will not be your slave! Use the dark side all you want. My mind is strong and I will resist." She insists, still feisty as ever in spite of every humiliating command her body has obeyed thus far. "I will not do your dark deeds. I will NOT come with you. No!" She tries to fight it, but her arms fly out in front of her and she stands up to follow her new Master. "No, I will NOT be your slave girl!" But her body obeys and she comes with him.
Back on his home planet, Ludella is dressed like a slave girl complete with a collar and chain around her neck. Her hair is up in a braided ponytail and she's kneeling on the ground in the slave position. She's still mentally resisting POV's advances as he strokes his hands across her. She continues to be feisty and resist his commands, but her body always obeys his power. She's made to do a sexy dance for him, swaying her curvy hips back and forth for his pleasure. He makes her remove her top and she's mortified to see her body obey him and do it. "I am NOT your slave! No, you may NOT touch my breasts!" But she has no power. Her body stays in place so that he may squeeze and play with her big tits, much to her dismay.
"You do NOT own me. You may think you do now, but you do not. I assure you. My mind is strong and you will never win." She says feistily. That's when POV decides to prove her wrong and exert his full power over her. He lifts a hand in the air. "No." She moans. "I will fight you." She struggles to resist him. "You will never own me." She moans out just as he closes his fist powerfully, giving a blast of his full dark magic which puts her into a blank stare trance. "Yes, you ARE my Master. You DO own me, and I will eagerly obey." She says in her trance.
"Yes, Master." Her arms go straight out in front of her and she starts to pace around the room like a mindless zombie, repeating mantras of his control over her. After a while, he commands her to finish stripping. "Yes, Master." She says as she obediently removes her heels. She sways her hips sensually before turning around to pull down her skirt and bottoms so that she's now completely nude outside of the cuff and collar. She's commanded to get down on all fours and crawl around the room sensually so that POV may enjoy her naked curves from all angles. She again repeats mantras of her obedience as she crawls.
He then has her kneel in the slave position. "Yes, Master…you won. You always win… My mind was too weak for you, Master…and now you own me. I am YOURS." He strokes his hand over her naked breasts and grabs the chain to pull her collar. She sensually moans out, "Oh, Master. Yes, Master." And she gets back on all fours to crawl toward her Master as he pulls at her leash to pull his eager slave toward him. She WILL do his dark deeds. Every one of them. She will COME to the dark side… He owns her now.
Clip Includes: POV, Sci Fi, Magic Control, Cosplay Parody, Leia Parody, Erotic Magic, The Feisty Princess Tries to Fight Off POV's Magic But Her Body Cannot Resist and Obeys Much to Her Chagrin, Made to Drop Blaster, Arms Fly up into Invisible Restraints, POV Gropes and Taunts Her Before Releasing Her Wrists From Their Magic Restraints, Made to Act Like a Chicken Clucking and Flapping Wings to Humiliate Her for Being a Resister, Tells POV That As Humiliating as It Is She Will Never Do His Dark Deeds For Her Mind is Strong, POV Then Makes Her Turn Around And Lift Her Dress to Show Her Ass, Made to Slap Her Own Ass and Twerk Her Big Booty, Feels Drained and Collapses to Floor, Made to Kneel in Slave Position, Continues to Resist and Verbally Fight But Is Controlled to Come with POV to Become His Sexy Slave Girl, Inside His Palace She's Kneeling in a Slave Girl Outfit with a Collar and Chain and Resists His Physical Advances, Made to do a Sexy Dance, Makes Her Strip Off Her Top to Show Him Her Tits, She's Mortified, POV Tit Play, Uses His Powers to Weaken Her Mind and Put Her into a Trance, Blank Stares, Mindless Stares, Obedient Slave, Makes Her Say Mantras of Obedience While Walking Like a Zombie, Makes Her Strip to Fully Nude While Keeping Her Collar On, Full Bush, Big Tits, Big Butt, Makes Her Crawl Around Sensually Fully Nude On All Fours, Slave Position, Woman Following Orders, Space Buns, Curvy, Thick, Redhead, Eager Slave, Pulled By Leash To Come To Her Master, Ludella Hahn, Contains FULL NUDITY
Hypnosis, Magic control, Cosplay, Transformation Fantasies, Woman following orders, Sci Fi, Female training, Body control, Mesmerize, Brainwashed
tags:superheroines fetish,superheroine porn,humiliation,superheroines adult movies,fantasy
Duration: 00:17:30 Resolution: 1920×1080 Format: MPEG-4 Size: 484.15 MB
Download or WATCH ONLINE – Princess_Ludella_Must_Obey_the_Dark_Side.mp4