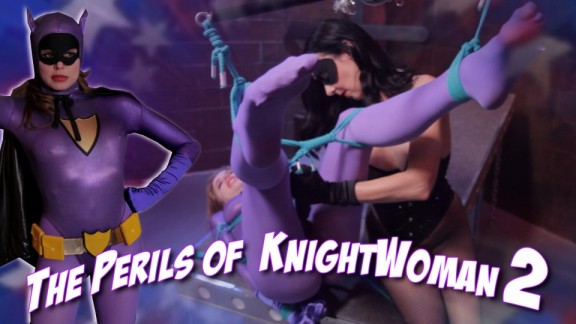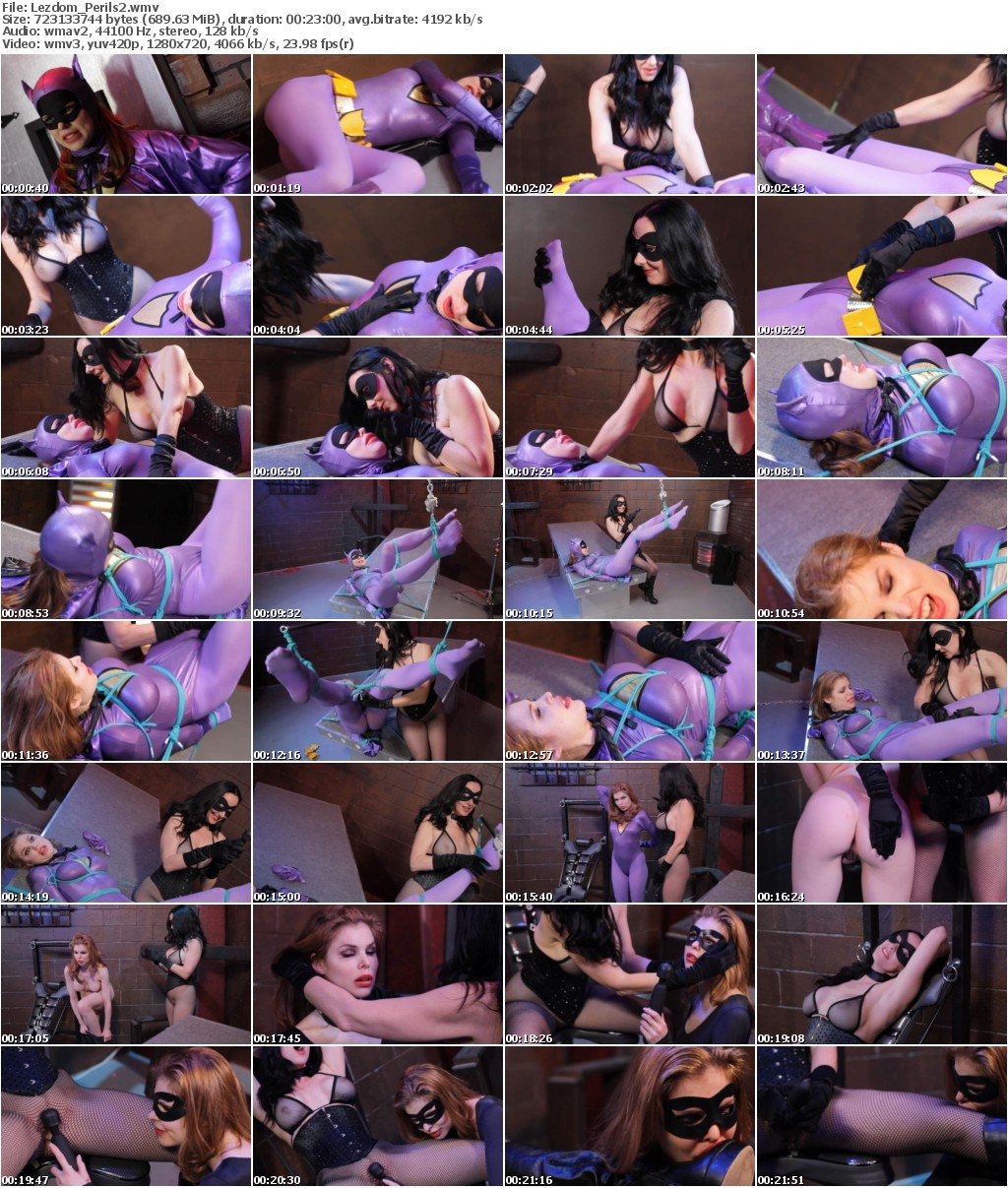 The ever stealthy KnightWoman is on patrol in Arkham Heights when she stumbles upon the lair of the evil enchantress Mystique! She surprises the villainess and her henchman and tells them she's taking them to jail for the recent theft of ancient artifacts from the Arkham Museum of Art… including the prized Sword of Goujian.
Mystique isn't about to go down without a fight and sics her hench on the caped crusader! A fight ensues and KnightWoman handily pummels the duo…finally coming to rest while standing under the poorly mounted Sword of Goujian. As she strikes a heroic pose of victory, the heavy Chinese sword forged in 510 BC falls from its flimsy perch and crashes down across the cowl of KnightWoman….sending her off to dreamland.
The nearly defeated Mystique and her henchman have a good laugh at The Dark Knight's misfortune. Mystique examines her captured prey and orders her hench to get some rope to restrain the fallen heroine. Mystique takes a fancy to KnightWoman's boots and removes them to keep as her own. She also removes her special utility belt which she plans on adding to her growing trophy room. She orders KnightWoman bound and promises more surprises to come for the masked crimefighter.
KnightWoman awakes from her fog, finding herself inescapably bound to a table with her long legs restrained by a humiliating spreader bar high above her. Unable to free herself… the caped crusader finds herself at Mytique's mercy. The vile vixen enters and delights at KnightWoman valiant struggling and twisting her spandex clad body in her futile attempts at freedom. Mystique informs her that she plans on turning KnightWoman into her latest mindless and willing sex slave. But first… she must satisfy her curiosity by removing The Dark Knight's cowl and revealing her beautiful face.
With her arms tied behind her back, KnightWoman has no choice but to watch in horror as Mystique pulls off her mask, revealing her true identity as Alexandra Jane, Arkham Height's wealthy and powerful business mogul and philanthropist. However, being the newest villainess in the Arkham rouge's gallery… Mystique has no idea who Alexandra Jane is…or how important a catch she has made! Mystique does find her beautiful… and that's all she's looking for in a new sex slave! The fishnet clad vixen wastes no more time and unveils a special vibra wand that has magical properties that enslave those who it is used on. With each passing orgasm, KnightWoman/Jane falls deeper and deeper into the clutches of Mystique's spell. Soon our heroine is putty in the hands of her new mistress. Satisfied KnightWoman no longer has any will of her own, Mystique has more plans for her new pet.
Mystique orders her new pet to take off her KnightWoman outfit, which she willfully complies…Pulling down her thong leotard and removing her tight purple pantyhose. Now, Alexandra Jane stands before her mistress stark naked and Mystique decides her magnificent ass needs a good spanking. She turns Alexandra around and gives her light smacks to both perfect cheeks, pausing to grope and spread her cheeks wide before unleashing an all out assault on her ass with her gloved hands… as Alexandra says "it is my pleasure to be disciplined by you, my mistress".
Mystique is turned on by her submissive slave and orders her to put on her new spandex outfit…a full black unitard and mask. Alexandra complies…and is soon given the vibra wand and ordered to her knees to pleasure Mystique's sweet spot. Her slave applies the buzzing vibrator to her clit and Mystique has several mind blowing orgasms at the hands of the fallen KnightWoman. She then orders her pet to worship her boots as she grinds the vibra wand into her own snatch for another intense climax.
Mystique is sexually satisfied and thanks her new slave with a kiss. Now curious about her slave's secret identity… Mystique tells KnightWoman that they have MUCH to discuss and orders her to follow her to her inner sanctum. KnightWoman willingly crawls on all fours and follows her new master to the next chapter of her enslavement.
Will the dastardly Mystique learn KnightWoman's true identity? Will her faithful ward Robyn be able to stop Mystique in time? Tune in for "The Perils of KnightWoman 3″…coming soon!
Models: Candlebox, Diana Knight
tags:superheroine,superheroines,lesbian domination,lezdom,stroyline,froced orgasm,submission,humiliation,super hero, super heroines ,bondage,hitachi,KnightWoman
Info :
Size : 689.63 MiB
Duration : 00:23:00
Resolution : wmv3, yuv420p, 1280×720, 4066 kb/s, 23.98 fps(r)
Format : WMV
Download – Lezdom_Perils2.part1.rar
Download – Lezdom_Perils2.part2.rar