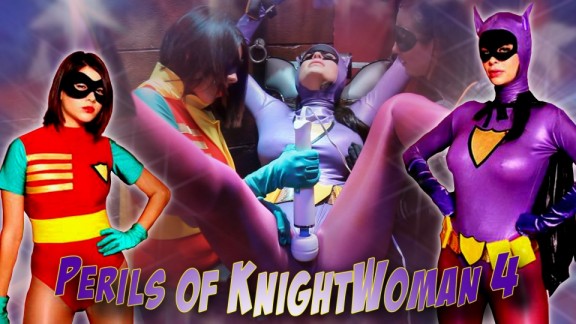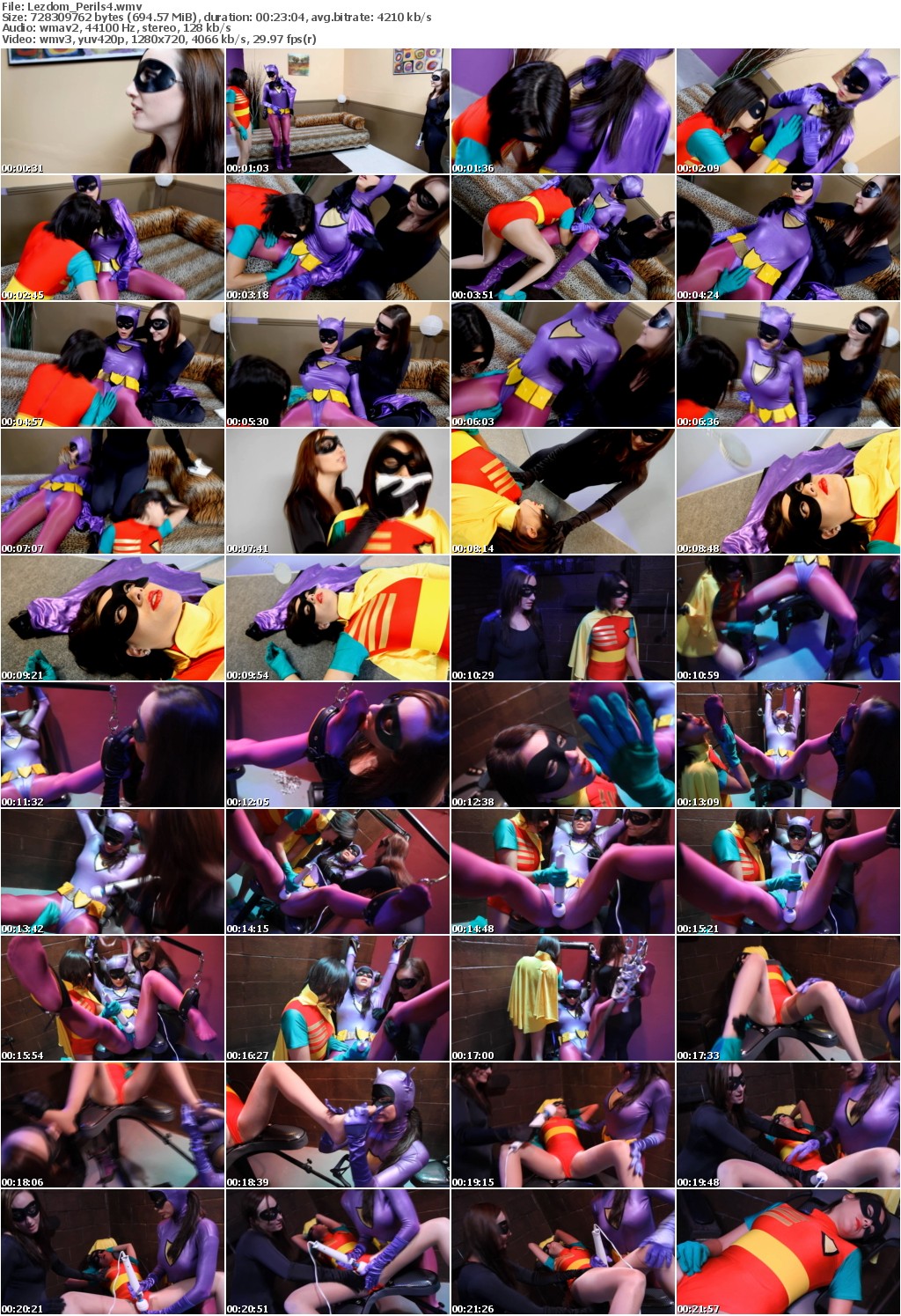 KnightWoman & Robyn have located a fallen Angel. Blue Angel Lucky's mind has been hijacked by the evil Mystique…and she has taken on the persona of The Black Angel! The Dynamic Duo hopes to get the Black Angel back to the Knight Cave and unbreak Mystique's powerful hold over her and return her back into a crime fighting superheroine. But Mystique's new minion has other plans.
She uses the OrgasmaRay Mystique gave her to enslave KnightWoman & Robyn…she fires a shot, but KnightWoman is able to deflect the blast using her specially treated kevlar cape. Black Angel blasts the unprotected Girl Wonder, who immediately falls under the spell of the carnal device. She is overcome by a wave of lust, that heighten the sensations in all of her pleasure zones. KnightWoman tries to shake Robyn out of it…which leaves her vulnerable to attack. She turns to face the evil Angel, who promptly shoots the lust filled laser right into her chest. The Dark Knight now finds herself in the same predicament as her loyal partner. With both their bodies under the influence of the OrgasmaRay, their minds are warped by sensual desire for each other. They embrace…their hands unable to resist each other's touch. Black Angel watches in amusement as the duo loses their will and Robyn begins licking KnightWoman's perfect tits. She pushes them both down onto the couch so they can get more comfortable…and Robyn immediately begins rubbing the Caped Crusader's ever moistening mound. Black Angel moves behind KnightWoman, removes her Knight Cape and gropes her spandex clad tits as Robyn pulls her leotard aside for better access to her pussy. The lusty sidekick's fingers hit their mark as KnightWoman tries to resist her pleasing touch…but soon she is overcome with desire and has a mind splitting orgasm. Black Angel is pleased and tells Robyn what a good job she has done before sending both the superheroines off to dreamland. She takes KnightWoman's special cape as a souveinir for Mystique and leaves the duo slumbering.
KnightWoman & Robyn awake and decide to split up to track the Black Angel down and retrieve her cape. Robyn makes a wrong turn and finds herself and in the fallen Angel's clutches, The Black Angel uses Mystique's entrancement medallion to place her under her spell. With the Girl Wonder under her control, the two set off to enslave KnightWoman.
They find her in the dungeon and the evil Angel commands Robyn to subdue her partner for her. She does so willingly much to her partner's surprise…and soon Black Angel sends her back to dreamland. The two tie up the helpless heroine and deboot her. They lavish their lips and wet tongues upon her sexy feet. Satisfied with their foot worship, they tie KnightWoman's feet in a sling and Black Angel decides it's time to bring her under her spell with some good 'ol fashioned forced orgasms!
She produces a special entrancement vibra wand and commands Robyn to bring her partner to orgasm…and that she does. KnightWoman begs Robyn to snap out of her spell but the vibrator is too powerful to resist and soon has two enormous climaxes back-to-back. The wand has done it's trick and made KnightWoman the villainess's willing slave.
She commands KnightWoman to help her do the same to her faithful ward. Robyn lies down in the pleasure chair and is soon relieved of her green slippers. KnightWoman and the Black Angel begin sucking, kissing and licking Robyn's pretty, petite feet. They then turn their attention to her spread eagle position and place the vibra wand on her spandex covered crotch.
Black Angel pulls her shiny red leotard to the side, exposing her lycra clad labia, and commands KnightWoman to make her perky sidekick climax. KnightWoman is so turned on by this proposition, she is helpless to resist. She uses her fingers and the wand to send Robyn off into waves of unimaginable pleasure as powerful orgasms overtake her body and mind.
Robyn isn't even able to recover from her post-climactic moment before Black Angel places her special cloth over her face, sending her off to a blissful slumber. She does the same to KnightWoman….leaving the Dynamic Duo a useless sexually overloaded mess. She slinks off into the night to report her evil deeds to her mistress…the powerful Mystique!
tags:superheroine,superheroines,lesbian domination,lezdom,stroy line ,stroyline,froced orgasm,submission,humiliation,super hero, super heroines ,superheroines porn,superheroines adult movies,robyn,Knightwoman, Blue Angel ,bondage,hitachi
Info :
Size : 694.57 MiB
Duration : 00:23:04
Resolution : wmv3, yuv420p, 1280×720, 4066 kb/s, 29.97 fps(r)
Format : WMV
Download – Lezdom_Perils4.part1.rar
Download – Lezdom_Perils4.part2.rar