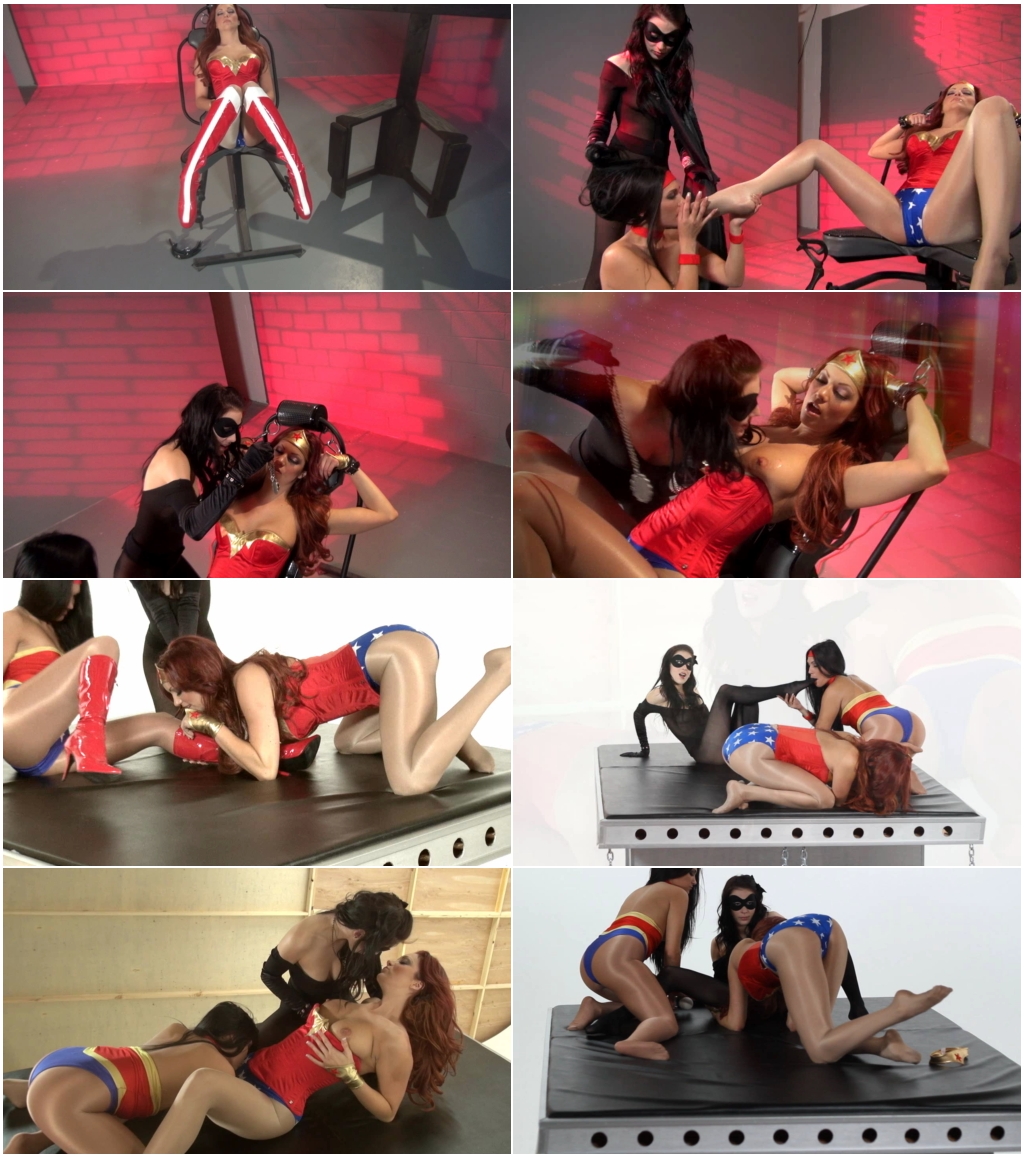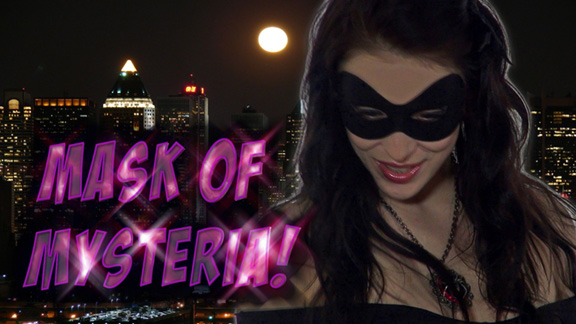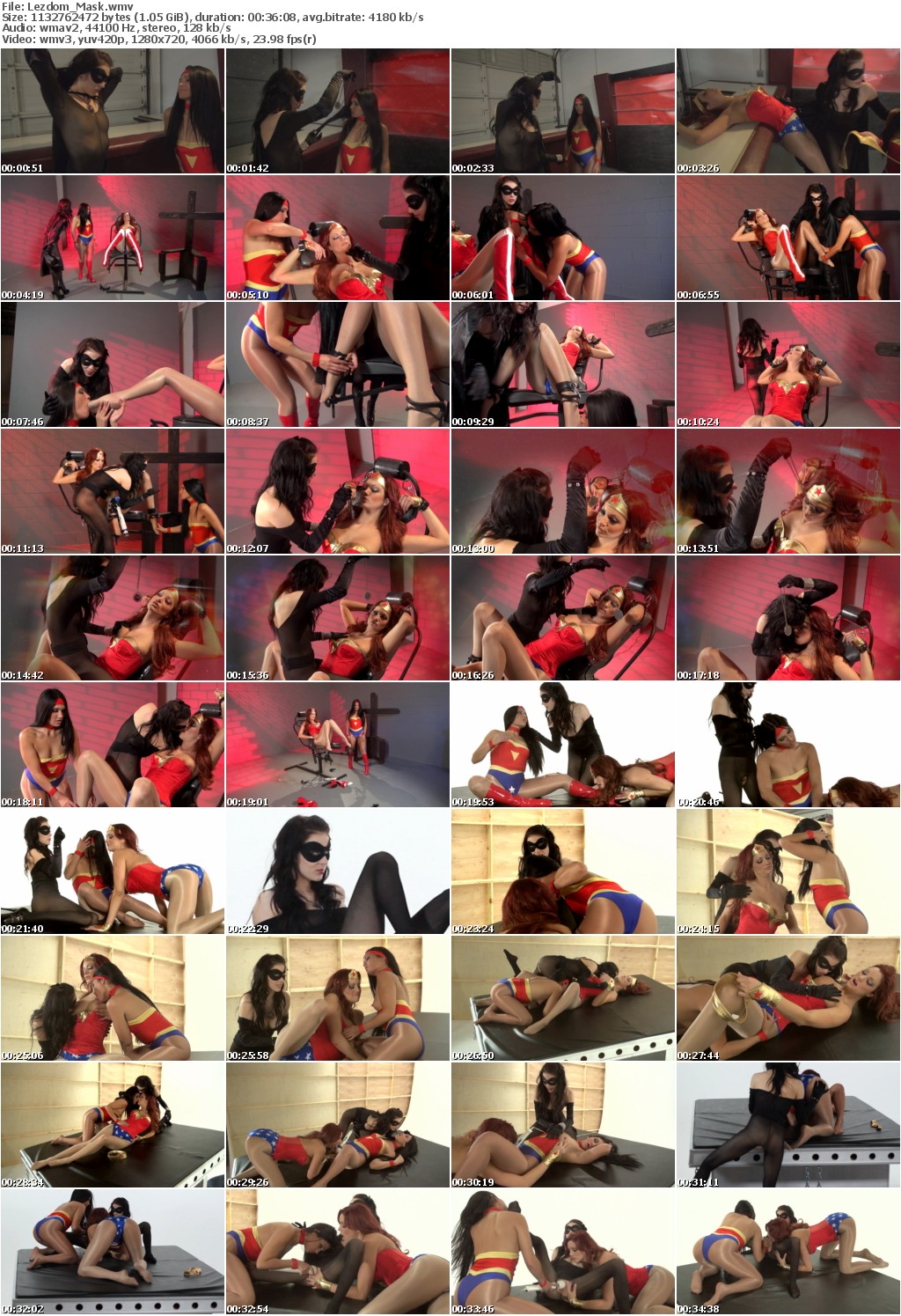 The mesmerizing and mind stealing Mysteria has agreed to surrender herself into the custody of Princess Paradise & Wonder Star for stealing the cursed Amulet of Arkham from the city museum. Wonder Star arrives early to make a name for herself by trying to retrieve the amulet from Mysteria alone…
Big mistake! Mysteria cannot resist the temptation to entrance the powerful sidekick using the cursed amulet, and soon she has Wonder Star in the palm of her hand as her willing slave.
Princess Paradise arrives on the scene, and demands Mysteria's surrender and to hand over the amulet, but is soon double crossed by her own sidekick…as Wonder Star removes Paradise's power belt and assists Mysteria in subduing the fiery haired Amazon of Arkham.
Princess Paradise awakes and finds herself having been bound to a bondage chair by her own sidekick who is now worshipping her restrained feet at Mysteria's evil command. Mysteria taunts Paradise and orders Wonder Star to use the magic wand on her partner as utilizes the mysterious amulet to entrance the Princess. She straddles the bound heroine and swings the amulet before her eyes. Paradise is powerless to resist the pull of the cursed amulet and Mysteria's soothing voice…and soon has a mind numbing orgasm at the hands of Wonder Star and the vibrator between her bound legs. Fully entranced, Princess Paradise now joins Wonder Star as Mysteria's willing minion. Mysteria commands her new charges to follow her to her inner lair for more sensual exploration.
The three vixens climb atop Mysteria's pleasure table and Mysteria orders Paradise to remove Wonder Star's boots and worship her feet, and she gladly obeys. Mystria breaks out the magic wand again and commands Paradise to use it to bring Wonder Star to orgasm…which she does…TWICE!
Mysteria decides it's her turn for some fun and commands her slaves to make her cum with the vibrator…and soon, she is having an explosive climax of her own. The three make out afterwards with Mysteria vowing to keep her new slaves around as her personal sex slaves. She then sends the entranced heroines off to dreamland with her magic potion for safe keeping.
With the power of the cursed amulet at her disposal, will anyone be able to defeat Mysteria and free Princess Paradise & Wonder Star?
tags:superheroine,superheroines,lesbian domination,lezdom,stroyline,froced orgasm,submission,humiliation,super hero, super heroines ,wonderwoman,bdsm,bondage,hypnosis,hitachi
Info :
Size: 1.05 GiB
Duration: 00:36:08
Resolution : wmv3, yuv420p, 1280×720, 4066 kb/s, 23.98 fps(r)
Format: WMV
Download – Lezdom_Mask.part1.rar
Download – Lezdom_Mask.part2.rar
Download – Lezdom_Mask.part3.rar