KnightWoman vs The Scorpion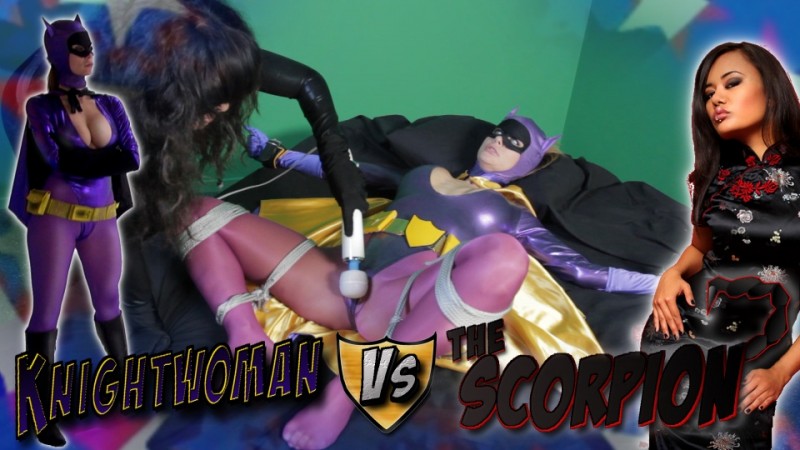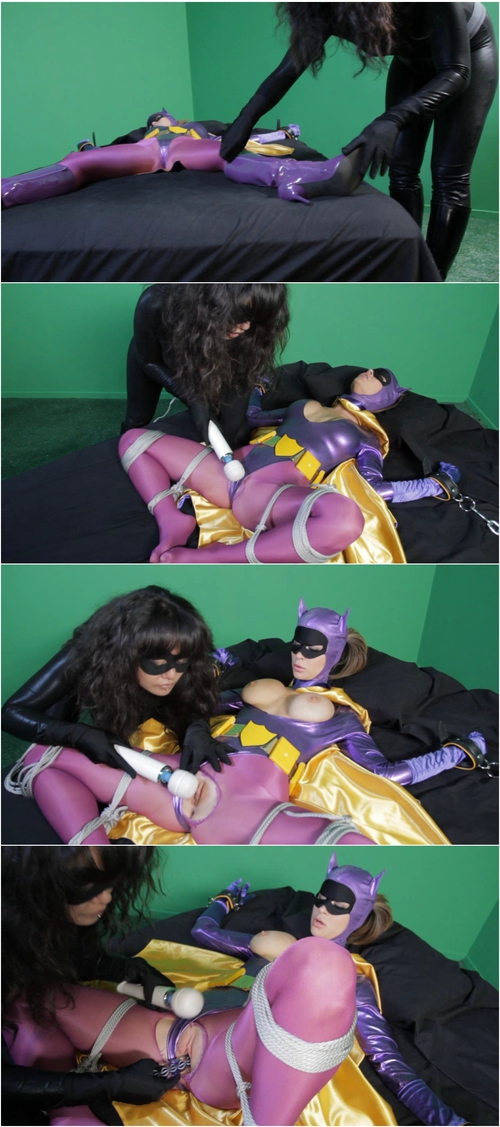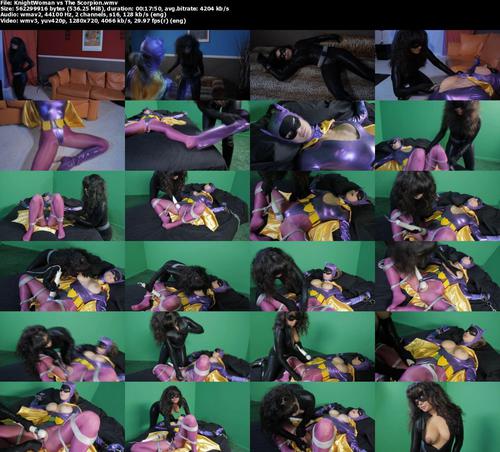 The Scorpion is in her underground lair deep below Arkham Heights…where she is cultivating the alien crystals that produce the nefarious pheromones used in the OrgasmaGas formula. Her tracking device alerts her to the presence of an intruder nearby. Knightwoman is on the prowl 3 stories above The Scorpion's lair, looking for the hidden entrance way that will take her face to face with her arch nemesis…who she hopes to interrogate about the location of the lab where the evil OrgasmaGas is manufactured.
Knightwoman confronts the black spandex clad vixen in her inner sanctum…and a fight ensues. Scorpion scores first with two round houses that have The Dark Knight reeling. A surprise kick to the gut has Scorpion doubled over and Knightwoman sends her to dreamland with a brutal uppercut. Knightwoman calls into headquarters to let them know she has found the Scorpion and has the situation under control. But…does she?
Scorpion awakes…and retrieves her stinger ray from her boot. Knightwoman finishes up her call, but then is blindsided by a powerful paralyzing ray that freezes her in place, as the Scorpion's blast infects her mind & body with toxic scorpion venom. The stinger ray sends a final jolt of energy that sends the caped crusader flying to the floor. She is unable to move or speak, as the Scorpion slithers over to taunt her helpless prey.
We next find our heroine bound to a bed in the Scorpion's boudoir…The vile villainess de-boots Knightwoman and runs her fingers up her shiny, purple pantyhose covered feet and legs. She then binds the Arkham Avenger's legs in an unforgiving frog tie. The Scorpion next produces a vibra-wand and Knightwoman gasps as it slides over her lycra covered labia. The Scorpion ramps up the sexual torment by ripping open Knightwoman's pantyhose and placing the vibe on her exposed clit. Knightwoman pulls at her bondage as she tries to twist her body away from the probing on her wet pussy. But Scorpion is just getting started.
Scorpion brings Knightwoman to the brink of orgasm several times…licking and kissing her exposed tits… and when she's sure she has The Dark Knight begging to cum… she pulls out a giant glass dildo and rams it deep inside the heroine's vulnerable pussy. Knightwoman's eyes roll back in her head as The Scorpion fucks her with her favorite toy…spitting all over her slit…as Knightwoman is now lost in a sea of ecstasy. She finally adds the vibra-wand back into the mix…buzzing away on full power as it makes sweet circles over our heroine's clit. Knightwoman can take no more and has a mind blowing climax…screaming and shuddering as wave after wave of orgasms rock her body.
The Scorpion kisses the sexually surrendered Knightwoman…and leaves her in the most humiliating position to be found in…tied up, exposed and unable to remove the giant glass dildo still protruding out of her drenched pussy. She begs Scorpion to untie her…but her desperate pleas fall on deaf ears….as she's left in this thoroughly violated pose for her back up to find her in.
Will Knightwoman be able to get out of the dreadful predicament? Find out next time…Same Knight-Time….Same Knight-Channel!
tags:,superheroines,lesbian domination,lezdom,bondage,froced oxrgasm,super hero, super heroines ,Annie Cruz
Info :
Size: 536.25 MiB
Duration: 00:17:48
Resolution : wmv3, yuv420p, 1280×720, 4066 kb/s, 29.97 fps(r)
Format: WMV
Download file – Lezdom_KnightWoman.part1.rar
Download file – Lezdom_KnightWoman.part2.rar