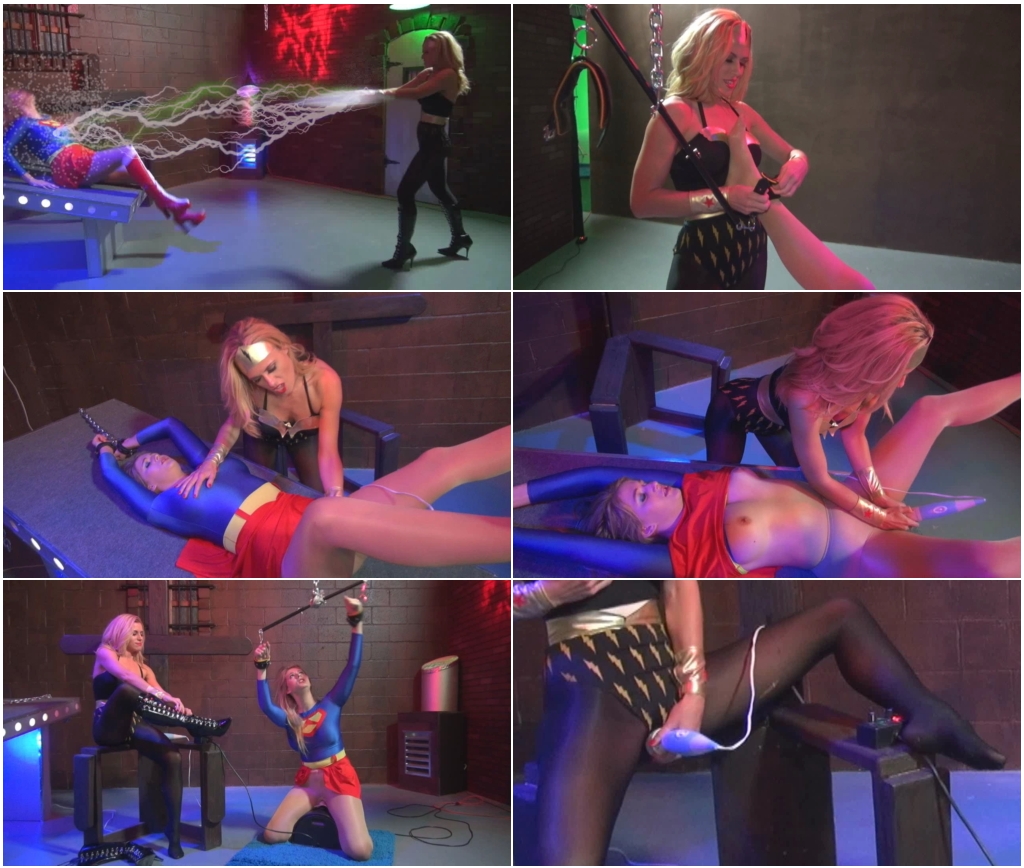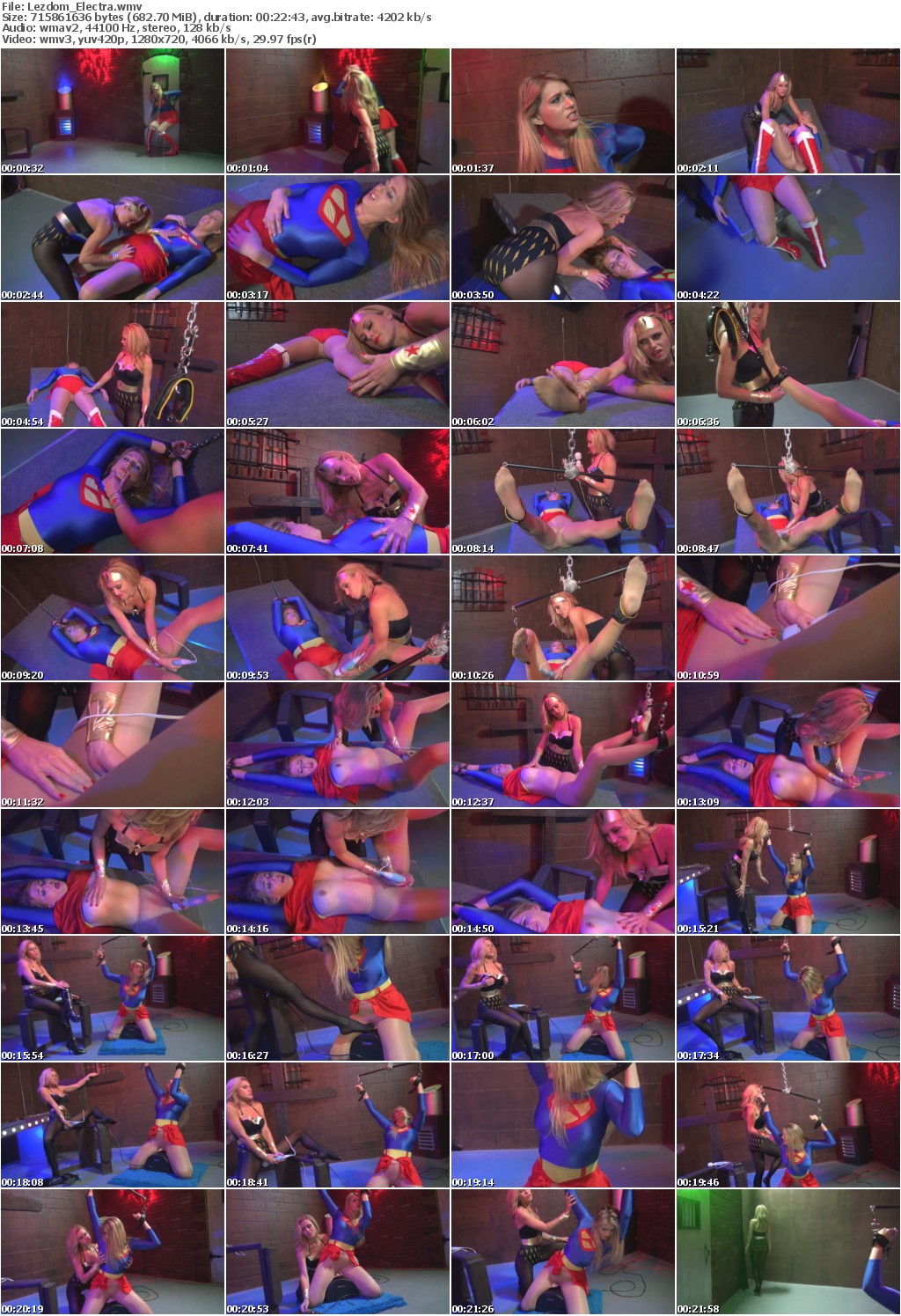 Electra Star has been quite busy developing a special energy source that would infiltrate Arkham Heights enire power grid and emit a superheroine weakening pulse through every light bulb in the city…effectively rendering the crime fighters powerless to stop her devious plans for supreme domination. She decides to test her new diabolical weapon against the Girl of Steel herself, Argon Girl… who she invites to her secret lair…with the promise of surrender.
Argon Girl arrives and blows open the solid lead door protecting Electra Star's inner sanctum…and then walks right into her evil trap. As the supergirl walks through the door…she is greeted by a powerful green light beaming out pure Argonite rays across her powerful spandex clad body.She immediately doubles over in pain, as the specially formulated radiation begins sapping her super strength. The beam strengthens and Argon Girl is too weak to attempt to flee…just as her hostess and arch nemesis arrives and finds her in her most vulnerable state.
Electra Star happily greets the helpless heroine, very proud that her corrupt electricity stream has worked perfectly. She gloats and taunts Argon Girl as the beams drain the last ounce of her strength and then proceeds to use Argon Girl as her own personal punching bag.
Argon is powerless to defend herself from the crushing blows from the former princess…now exiled amazon from Paradise Island. Electra throws her down onto a table and begins groping Argon's beautiful tits and then applys the claw to her spandex covered mound.
Argon has had enough…and summons all her remaining energy to push the vile villainess off of her. She stand and gains her composure…bluffing really…as the two super vixens face off. But Electra is now done toying with her prey…and puts Argon girl back on the table with a powerful jolt of her force lightning. The blast sends Argon flying backwards…and now completely at Electra's mercy.
Electra stalks her prey and unleashes a concentrated, Argonite laden blast of energy right into the Girl of Steel's temples…and she can only shutter, shake and flop on the table as the electric charges beam particles of Argons home planet right into her temples.
Electra then de-boots the defenseless heroine and runs her hands over her supple feet and pantyhose clad legs. She binds Argon's feet…suspended and spread in the air…and then straps her arms out over her head. She begins vibing Argons exposed pussy and the weakened heroine begins to stir with the buzzing on her clit. She tugs in vain on the cuffs around her wrists and ankles…as Electra then lifts up her super suit and exposes Argon's perfect breasts. Electra gets her new sex toy's nipples hard as diamonds by kissing, licking and sucking on them, while pressing the vibra wand even harder into Argon's wet slit. "You're…gonna..make…me…cum" Argon is forced to admit as a mind shattering orgasm rushes through her bound body. Electra taunts the once composed and stoic heroine on her climactic excitement. "Are you ashamed?" she asks with a laugh. Electra promises that the fun is just beginning.
Later, Argon finds herself straddling a sybian with her arms now bound above her head. Electra Star enters and teases the heroine about what fate awaits her. Electra removes her own boots and runs her foot along Argon's nylon clad leg…and up to her exposed and still moist pussy as it rests on the sybian's vibration plate. Electra powers up the machine with her Argonite laced energy source and the sybian roars to life… surprising the superheroine with a jolt to her clit. "Struggle for me" she commands her bound pet as she applies the vibra wand to her own turned on snatch.
Electra can barely contain herself as she grinds the vibrator into herself and pinches her own nipples while watching Argon's valiant attempts to fight off another forced orgasm. Electra turns up the power on the sybian to push the superheroine sex slave over the edge. Electra can hold out no longer and has an electrifying climax…and then takes a position behind Argon to bring her to orgasm once again.
"I think I'll keep you around as my little cum slut,,,rather than destroying you", she taunts Argon… as she reaches around her body and rubs her tits and clit. Electra then turns the sybian all the way up and sends Argon into pure ecstacy with another climactic display.
After cumming, Argon still manages to put up a fight, "You're gonna pay for this…when I get free" she warns her foe. Electra Star is amused by the fight still left in her…and proceeds to leave the humiliated heroine basking in the glow of her new Argonite Light to keep her new cum slut in place while she plots her next crime spree.
Will Electra Star's distant cousin…and fellow Amazon, Wonder Womyn be able to save Argon Girl? Stay Tuned!
tags:superheroine,superheroines,lesbian domination,lezdom,stroyline,froced orgasm,submission,humiliation,super hero, super heroines ,bondage,supergirl,superwoman,bdsm,hitachi,magic power,fantasy
Info :
Size : 682.70 MiB
Duration : 00:22:43
Resolution : wmv3, yuv420p, 1280×720, 4066 kb/s, 29.97 fps(r)
Format : WMV
Download – Lezdom_Electra.part1.rar
Download – Lezdom_Electra.part2.rar