Electra vs. As1an Angels 2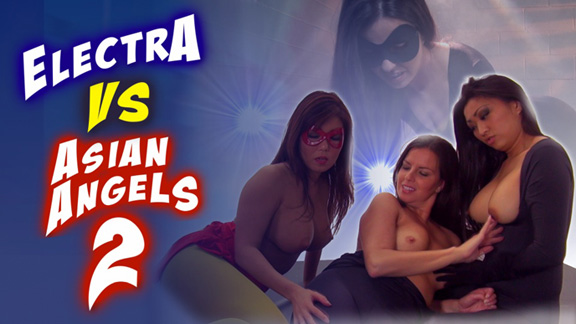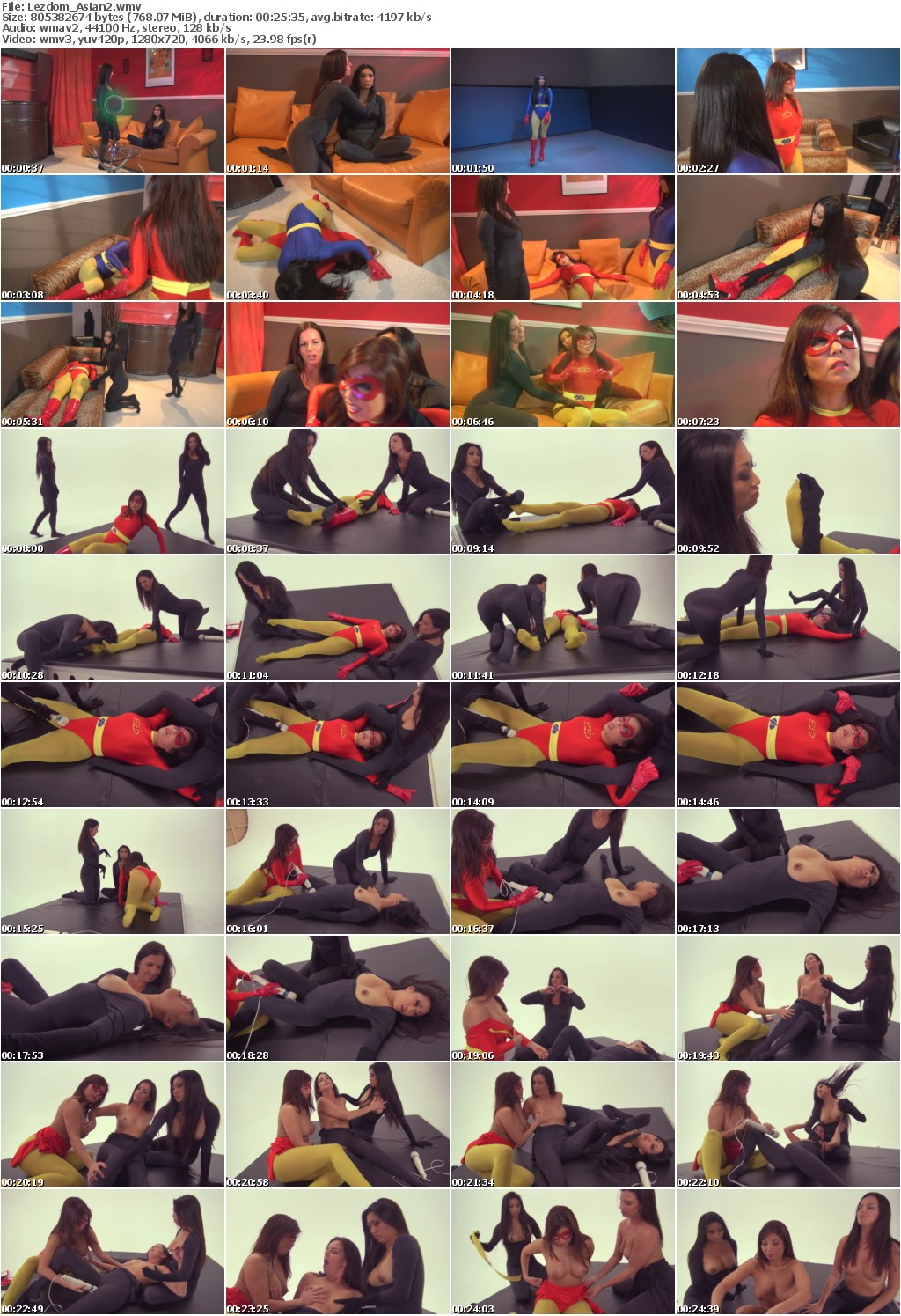 Electra has captured Asain Angel Nicole in the previous video and now has her inside her lair… kept under her spell with her special entrancement globe. The evil Electra enters and begins fondling the mesmerised Angel. She then commands Nicole to return to headquarters and fetch her partner, Asian Angel Akira, and bring her back to her lair.
Nicole obeys her mistresses wishes and dons her Angel costume and reports to Akira that she has located Electra and the two head back to the lair.
With Nicole leading the way, Akira confronts the waiting Electra and tells her she going to jail for all her outstanding crimes. Electra laughs and assures Akira she's not going anywhere. Nicole suddenly snaps into action and punches her partner in the face, and a battle ensues between the two Asian beauties. Akira has Nicole on the ropes but is surprised by a blast from Electra eltra-wand… sending a crushing shock wave over Akira's entire body… that is only broken when Nicole sends her elbow into Akira's vulnerable chin. The sexy catfight continues, and just as Akira gets the upper hand, Electra zaps the Angel with a final blast of electricity and sends the heroine off to dream land.
Now back in her black spandex unitard, Nicole is ordered to worship her former partner's vulnerable body. Akira then awakes to find herself positioned in front of the entrancement globe, and Electra orders Nicole to hold her in place and Akira is forced to gaze into its soothing spiral lights. Akira reluctantly becomes entranced by the globe and Electra's incantation and is soon lured under her evil spell. Electra announces it's time to make Akira's transformation to the dark side complete.
Nicole & Electra lead Akira to the transformation chamber and order Akira to lie down. Nocole is ordered to remove Akira's boots and worship her feet. Electra then gives a vibra wand to Nicole and orders her to make Akira cum, and complete her transformation and make her Electra's new sex slave.
Akira tries to fight off the surge of pleasure as Nicole applies the vibra wand to her lycra covered labia, but soon loses her ability to resist the extacsy and screams "I will obey! I will obey!" as she has an enorrmous forced orgasm. Electra order Akira to expose her perfect tits and then pulls down her own unitard to reveal her perky boobs. Electra then orders Akira to use the vibra wand on Nicole, and she eagerly complies.
Nicole is turned on from giving her partner a climax and grinds against the vibrator, arching her back as Electra exposes Nicole's tits and fondles them liberally. Nicole is lost in intense pleasure and Electra commands her to say what she wants to hear… Nicole cannot hold out any longer and screams "I will obey! I will obey!" over and over as she has her own mind numbing orgasm.
Electra kisses her new slaves and orders them to use the vibra wand on her. Akira worships her sexy feet and then applies the wand to Electra's sweet spot. Electra enjoys the buzzing on her clit and has a screaming orgasm. She then orders Akira to disrobe and hands her her new uniform to put on. Akira puts on her black spandex bodystocking and her transformation to the dark side is finalized.
Electra and her two helplessly entranced vixens head off into the night to begin their next crime spree.
Models: Kobe Lee, Akira Lane, Nicole Oring
tags:superheroine,superheroines,lesbian domination,lezdom,stroy line ,stroyline,froced orgasm,submission,humiliation,super hero, super heroines ,superheroines porn,superheroines adult movies,hitachi
Info :
Size : 768.07 MiB
Duration : 00:25:35
Resolution : wmv3, yuv420p, 1280×720, 4066 kb/s, 23.98 fps(r)
Format : WMV
Download – Lezdom_Asian2.part1.rar
Download – Lezdom_Asian2.part2.rar