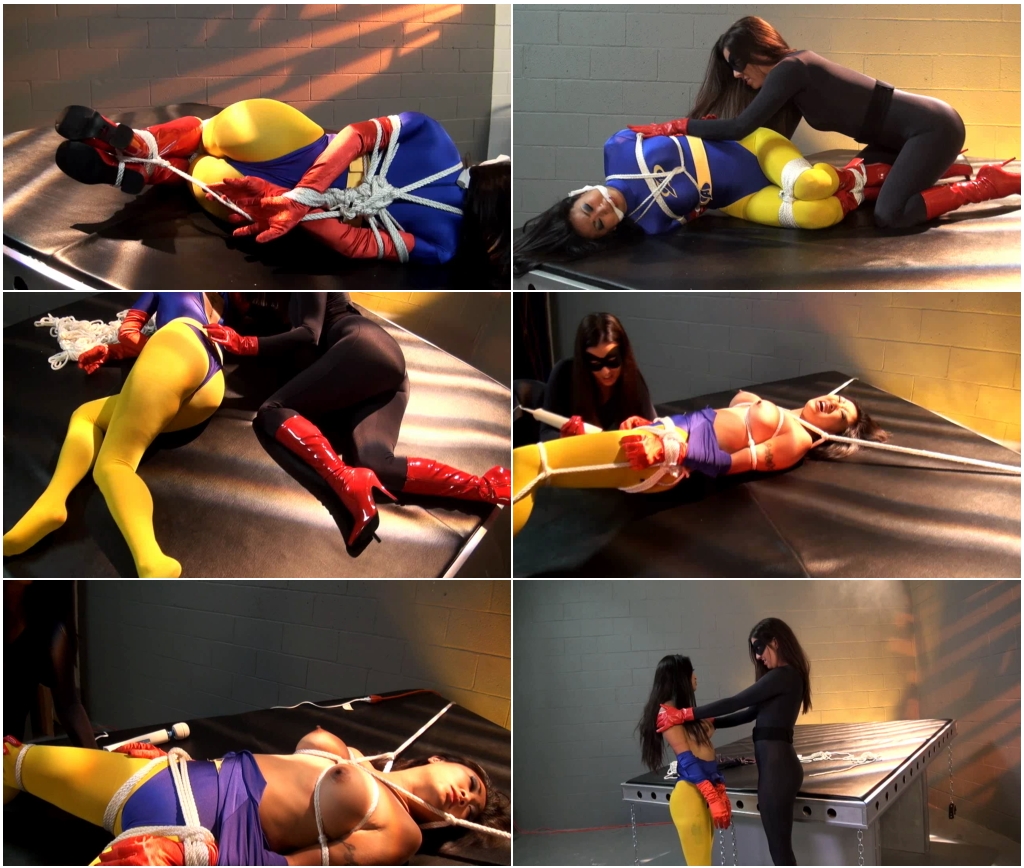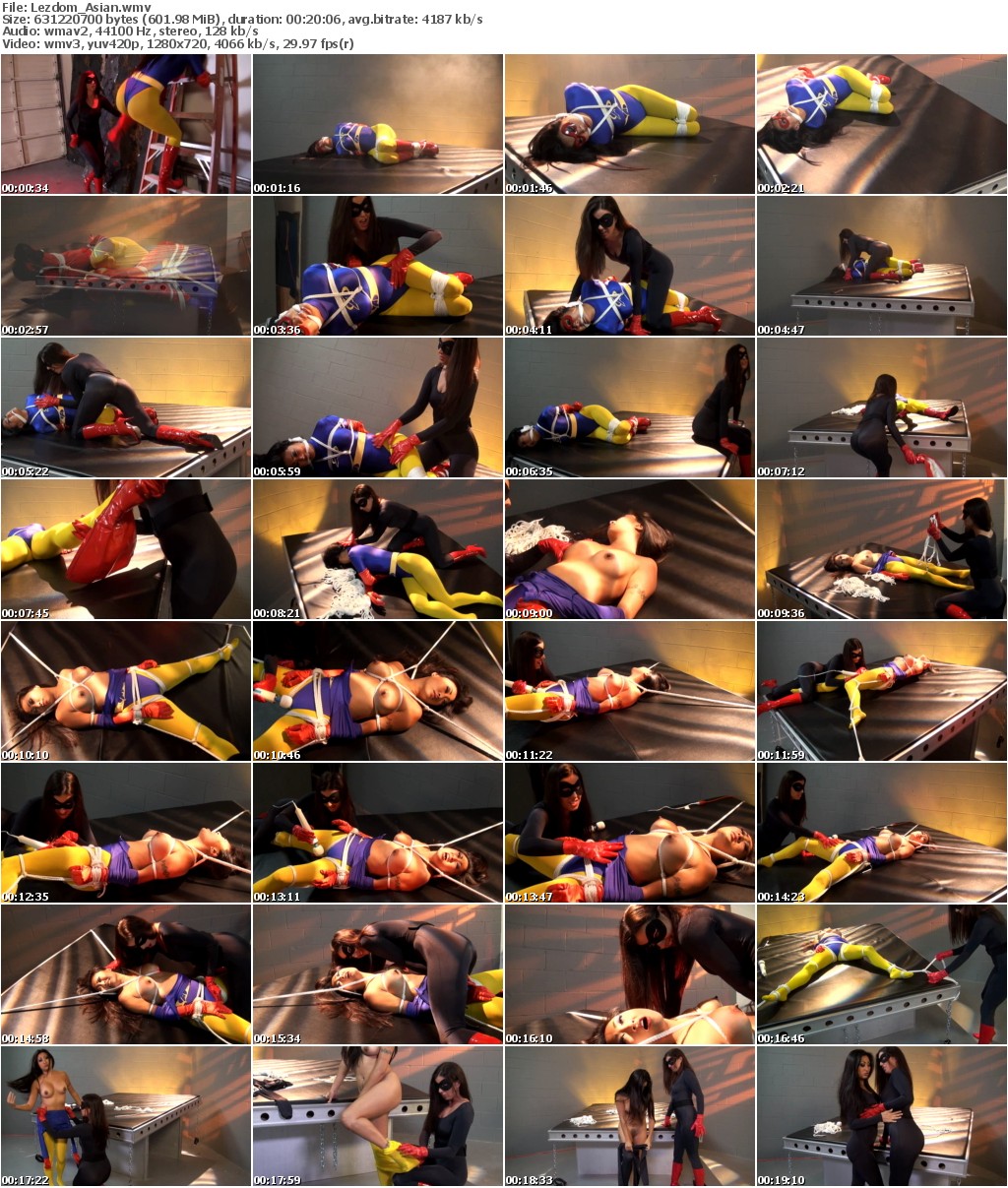 Asian Angel Nicole has found the devious villainess Electra in her hideout. A fight ensues with Angel Nicole quickly taking the upper hand. But, Electra has a few tricks up her sleeve! She produces an electrified stun stick from her boot and zaps Nicole several times before finally finishing her off.
Angel Nicole wakes up gagged and bound in a strict hog tie on a table in Electra's lair. Nicole struggles in her bondage as the villainess enters to check on the captured superheroine. Electra toys with the Angel, climbing atop her…unmasking her…all while groping and fondling Nicole as she further taunts the helpless heroine. She decides she's ready to transform this heroine captive to the dark side and sends her off to dreamland.
The Angel awakes, only to find herself tied up yet again…this time in a strict spread eagle position and an unforgiving, tight boob bind. With her breasts exposed and her hands tied securely to her thighs, Nicole is completely at Electra's mercy. Electra de-boots the heroine and plays with her pretty feet…before producing her cum inducing vibra-wand. Electra climbs on top of Angel Nicole and immediately applies the vibrator to her vulnerable pussy. Nicole tries desperately to keep her stoic superheroine defiance…but is slowly seduced by the power of the vibra-wand on her sweet spot. Nicole soon has an intense forced orgasm, much to Electra's delight.
Electra senses that the Angel's defenses are down, and presses her to give in to the dark side. She mounts her again, and uses her talented fingers on Nicole's spandex clad pussy, she finally is able to convince the heroine that being "bad" is more fun than being a good girl. Nicole can no longer fight the orgasm brewing within and has another bound orgasm. Satisfied Nicole is now her willing minion, Electra unties her new partner in crime.
Electra undresses the former Asian Angel, and helps her put on her new costume…a shiny, black unitard. The two share a passionate kiss before taking off into the night to commit some crimes.
This clip features professional rope work from Reno Binder, and two sizzling performances from Kobe and Nicole, who is quite convincing as she tries valiantly to maintain her superheroine dignity throughout.
tags:superheroine,superheroines,lesbian domination,lezdom,stroyline,froced orgasm,submission,humiliation,super hero, super heroines ,bondage
Info :
Size: 601.98 MiB
Duration: 00:20:06
Resolution : wmv3, yuv420p, 1280×720, 4066 kb/s, 29.97 fps(r)
Format: WMV
Download – Lezdom_Asian.part1.rar
Download – Lezdom_Asian.part2.rar