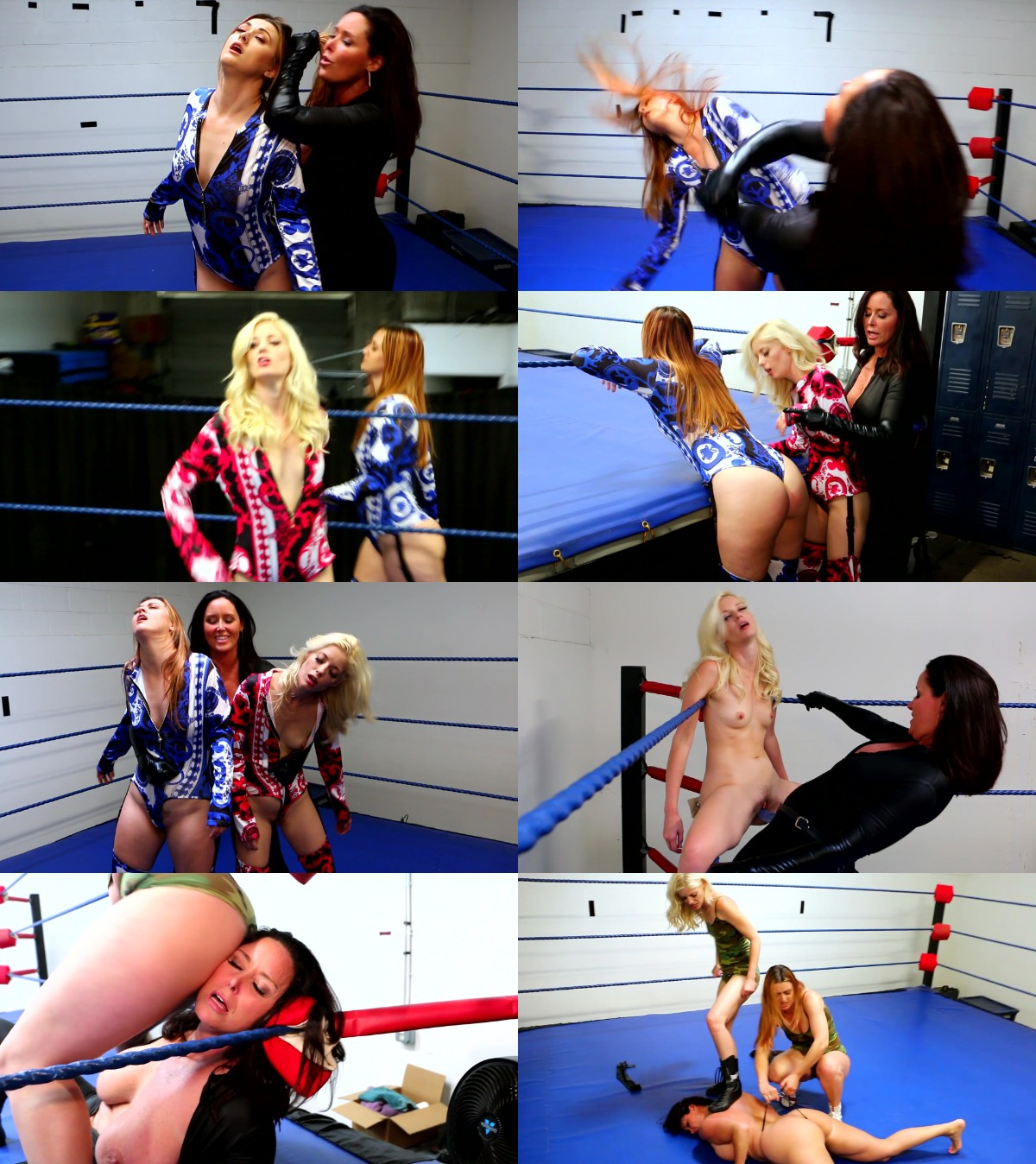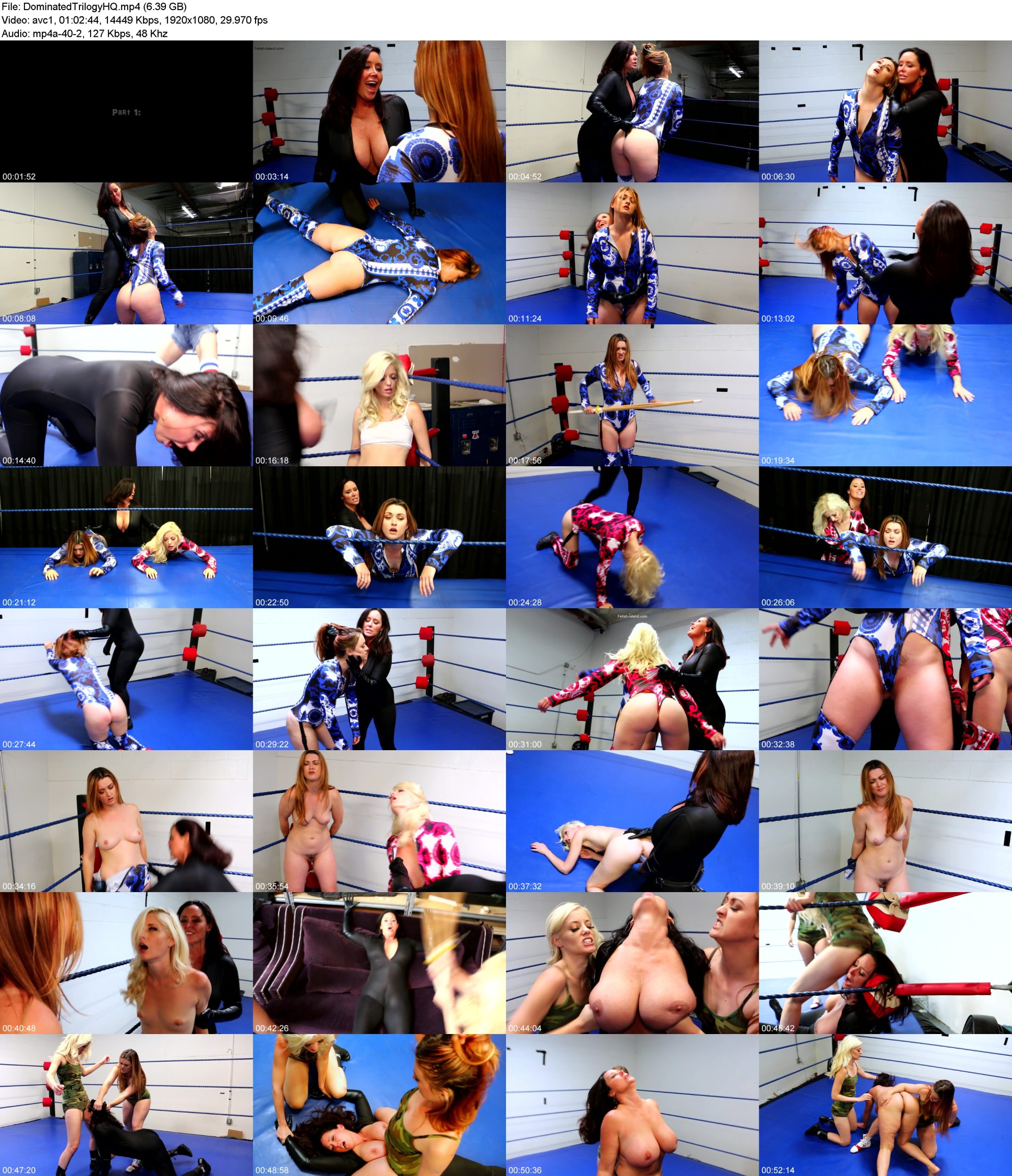 "The Passion of the Bitch" "Helpless Again" and "Ice Cold Vengeance!"
Starring:
Karlie Montana, Charlotte Stokely, and Christina Carter!
That's right, it's an EPIC three-part video over an HOUR long!
In part 1, "The Passion of the Bitch," Karlie "The Bitch" Montana is badly dominated and humiliated by the Dominator with wedgies (front and back), spankings, fondling, and face punches!
It looks like Karlie is just about finished for good when Ice Cold Stokely makes the save, though she too soon finds herself a victim of the Dominator's massive breasts, which she uses as weapons!
Karlie wakes up just in time to save Charlotte from a vicious breast smother, and challenges Dominator to a handicap match!
In that match (part 2, "Helpless Again"), Dominator sneak attacks the duo of Charlotte and Karlie, and quickly renders them weak and helpless. Dominator delights in humiliating the two weakened wrestlers, with wedgies (front and back), spankings, head slams, ring rope to the crotch, and fondling!
After stripping Karlie completely naked and tying her up in the corner, Dominator proceeds to PUMMEL poor Charlotte with face punches until Karlie begs her to stop. Dominator is happy to oblige, and FUCKS poor Charlotte with a strapon instead (HARDCORE), all while Karlie can only watch helplessly! Charlotte is so weak and defeated she can't help cumming!
Finally, in part 3, "Ice Cold Vengeance," Charlotte and Karlie are determined to get revenge, and sneak attack Dominator with kendo sticks and render HER helpless! They subject Dominator to all sorts of humiliating attacks: breast punches, face sitting, her face shoved against Charlotte's crotch, breast squashing, stripping, wedgies, spanking, and more!
They even bend Dominator over the top rope and make her cum by fondling her pussy from behind! Then they drag her beaten body to the back and fuck her with a strapon and bitch-slap her! As a final humiliation, they stick their sweaty shorts on Dominator's face! A MASSIVE three-part epic, over an hour long!
In this EPIC three-part video: lots of wedgies (front and back), spankings, face punching, head slams, kendo sticks, breast punches, face sitting, ring rope to crotch, breasts smashed against faces, hardcore strapon ravishing, rag dolling, helplessness, stripping, fondling, orgasms, psychological domination and humiliation, and more!
tags:superheroines fetish,superheroine porn,superheroines sex,humiliation,superheroines adult movies,fantasy,lezdom,lesbian domination,catfight,submission,strapon,spank,spanking wrestling fight
Duration: 01:02:44 Resolution: 1920×1080 Format: MPEG-4 Size: 6.39 GB