CRIMSON ANGEL GAGGED, SLEEPY CLOTH KOs & NAKED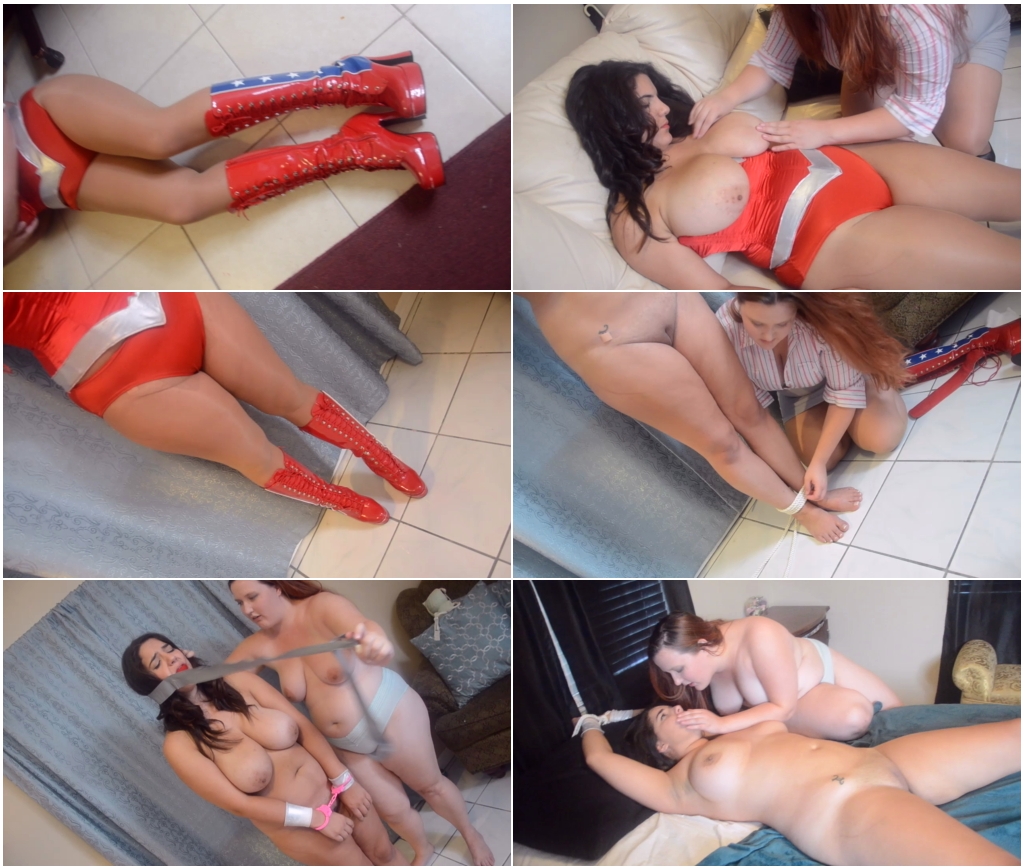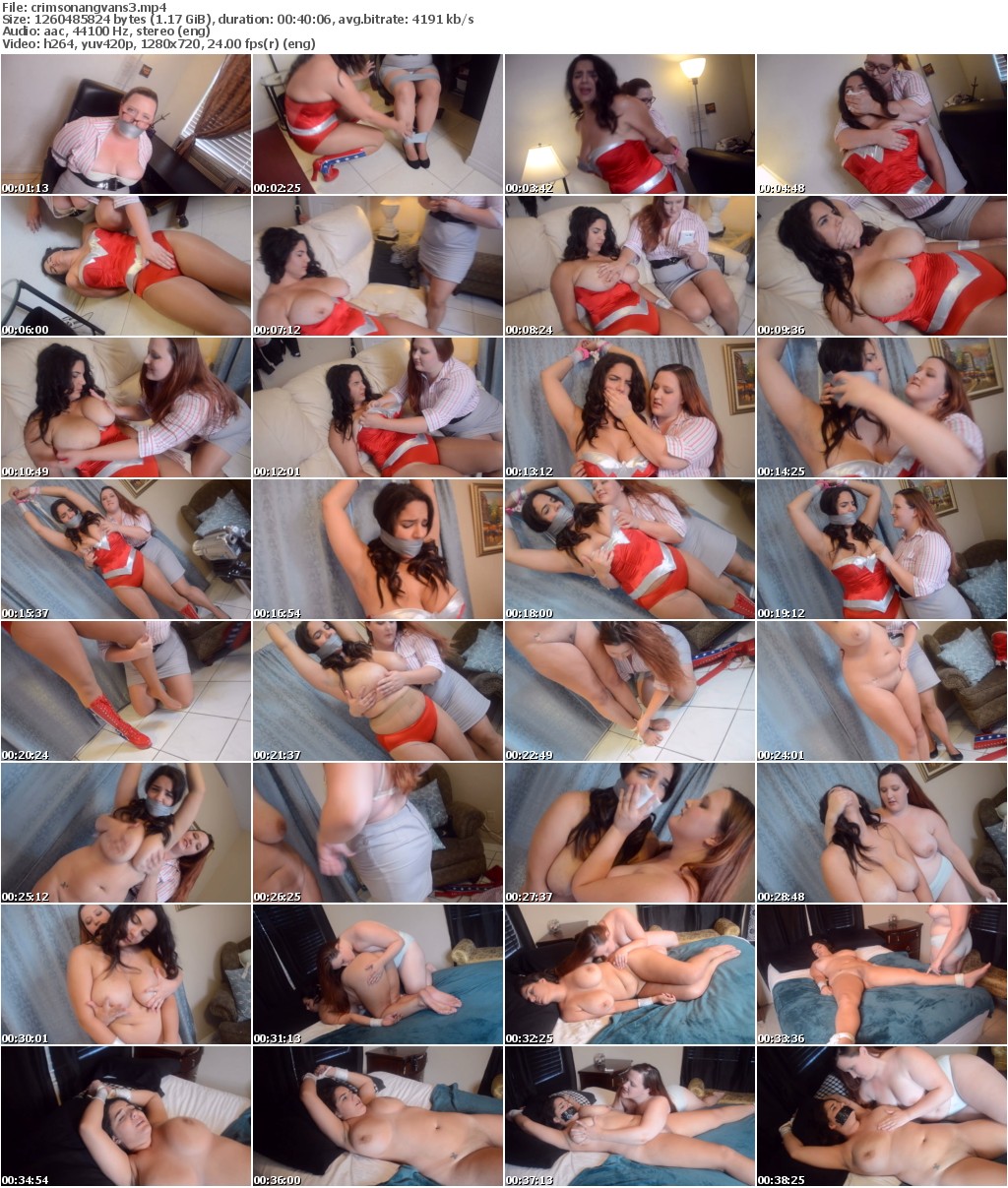 Crimson Angel (Angela) is back! An undercover agent (Vanessa) has been kidnapped, bound and gagged and it's up to the buxom (all-natural) super heroine crusader to save her before it's too late!
The abducted femme agent "MMMMMPH"s and gag-talks as she struggles while bound to a chair with duct tape! Soon Crimson Angel enters the room and gasps at the sight of her helplessness! Sworn to protect and defend all damsels in distress, Angel removes the tape bonds from the gagged woman and frees her!
The woman thanks Crimson but then suddenly distracts her! As the super beauty falls for the ruse, the femme agent suddenly slaps handcuffs on Crimson Angel and reveals herself to be 'The Madame'! She and tightly handgags the shocked super heroine and gropes her huge boobies while teasing her for falling into her trap! Angel 'MMMMMPH's as she's molested by her arch nemesis! Soon 'The Madame' soaks a chloro cloth and smothers the super damsel's beautiful face while heavily groping her curvy body!
Crimson Angel is slowly drugged to sleep and passes out in the arms of The Madame who has her way with her sleeping prey's helpless body! She carries her unconscious prize into another room where she continues to fondle her on a sofa! When Angel tries to wake up she's smothered to sleep again with the chloro cloth! Next, her arms are bound overhead to the wall and she's teased by the perverted Madame! The wicked villainess delights in handgagging and humiliating her bound victim and tells her of her diabolical plans!
Soon Crimson Angel is gagged with a fat foam ball and lots of duct tape wrapped around her lovely face! The super babe 'MMMMMPH's beautifully and gag-talks heavily throughout the scene as her body is subjected to gratuitous groping! The Madame sets up a video camera and begins to record Crimson Angel's stripping and humiliation for a worldwide streaming video audience!
The super damsel struggles and protests valiantly but soon gets another dose of the chloro cloth to calm her down and make her compliant! The Madame then strips Angel naked, leaving her wearing only her power bracelets and gives her a good grope-down! Soon The Madame strips her own clothes off, down to her panties, and rubs herself all over her squirming super captive!
Crimson Angel endures more chloro torment and relentless fondling as she's taken to The Madame's chambers and fondled while lying on her bed unconscious! The Madame sucks Crimson Angel's boobs then ties her naked & spread eagle to the bed! The evil kidnap queen says perverted things to Angel pertaining to her white slavery operation!
WHAT WILL BE THE FATE OF CRIMSON ANGEL?
tags:superheroine,superheroines,lesbian domination,lezdom,froced orgasm,big tits,super hero, super heroines
Info :
Size: 1.17 GiB
Duration: 00:40:06
Resolution : h264, yuv420p, 1280×720, 24.00 fps(r) (eng)
Format: MP4
Download file – Lezdom_Crimson.part1.rar
Download file – Lezdom_Crimson.part2.rar
Download file – Lezdom_Crimson.part3.rar