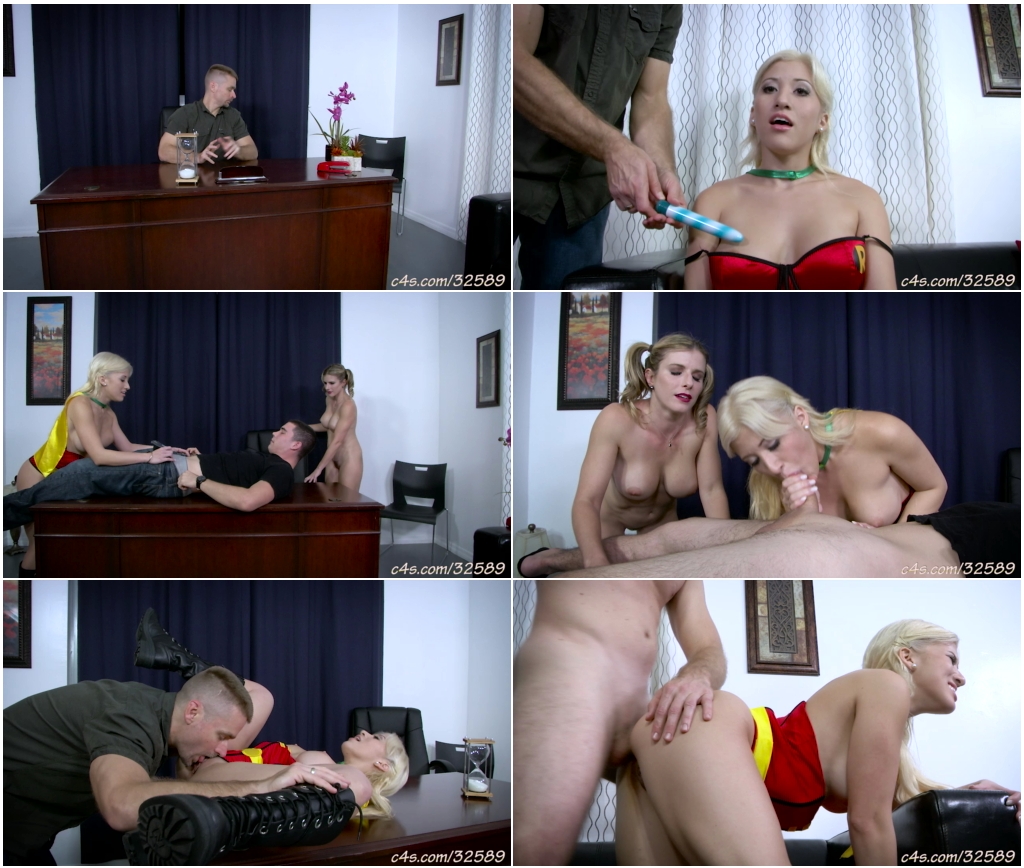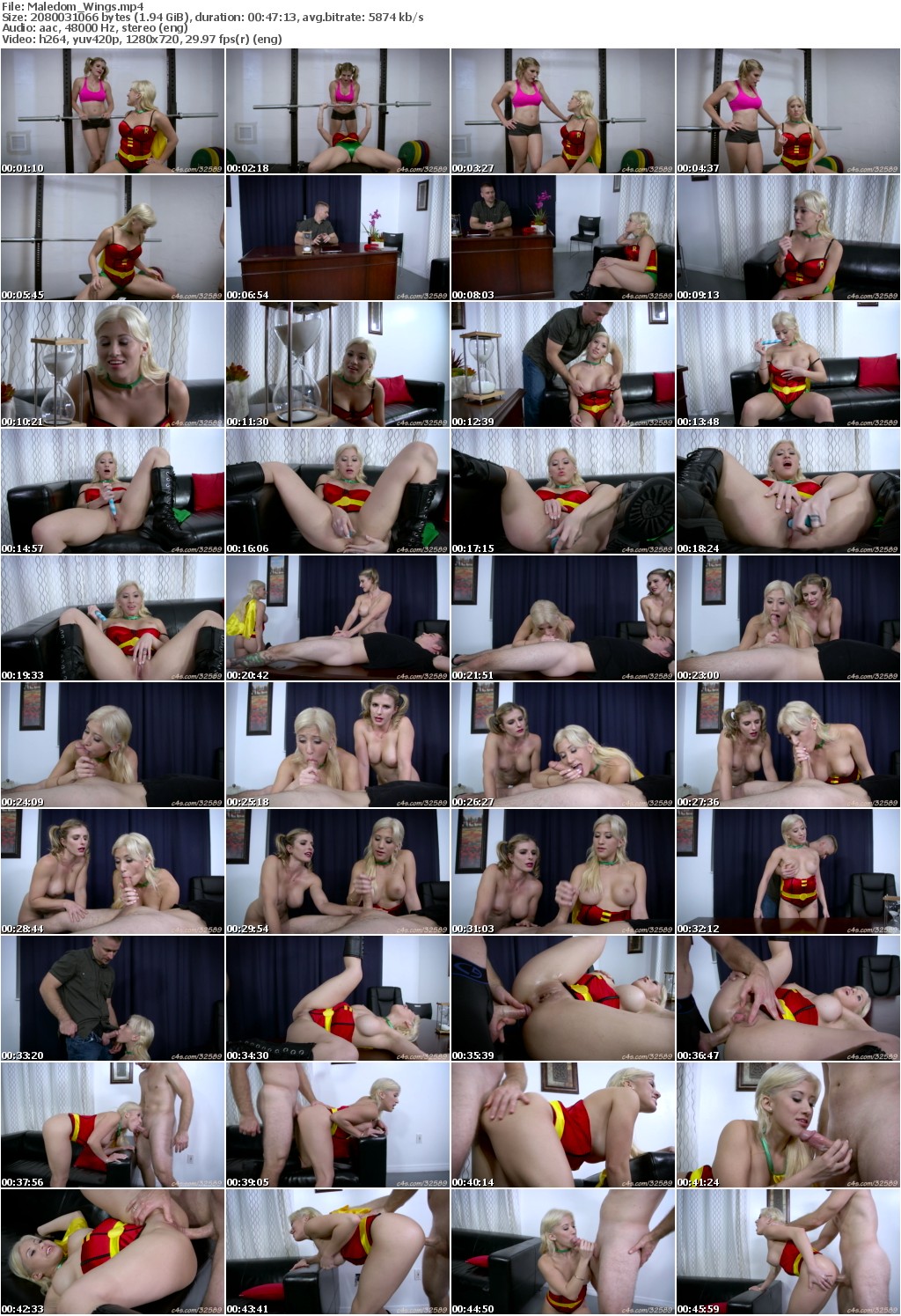 The new Robin is hot and sexy but not very bright. She's not very strong either. "These bars are just too heavy" She tells another girl at the gym. "I'm Haley Quinn" The new girl introduces. "That sounds so familiar." Robin responds in her high pitched bimbo voice, but thinks nothing more of it. "Can you please spot me?" Robin asks. Harley is surprised at how weak and dumb Robin is Is this your first time working out? I can get you a personal trainer Harley suggests.
Harley flirts with Robin, touching her softly. Robin pushes her away. I'm sorry but I like boys She says. They keep working out, Robin failing at lifting even the lightest weight. She better go see that trainer. The trainer with be amazing Harley laughs.
Mr. Lexington Luthor? Robin asks, walking into the personal trainers office. They discuss Robin's problem of not being strong enough. Luthor tells her that there seems to be a larger issue. Using his hourglass Luthor tells her that it can put someone under and make them better. Oooo it's so pretty Robin says. She begins to stare at the sand and go into trance. You're going to feel like a whole new Robin. He smiles.
Scene Two: Pretty things to look at
Is it working doc? She asks. Her mind is going completely blank. Every thought in her bimbo head is gone. Yes doctor my mind is blank She says, sitting with a glazed look on her face. He feels her large breasts. I'm going to turn Robin into a cum loving anal slut He says.
Taking out a vibrator he touches her and makes her mouth open in pleasure. Get yourself worked up He suggests. Yes Doctor Robin responds, pulling open her panties and sliding the dildo along her clit. She takes off her panties and is commanded to have the loudest orgasm she's ever had before. Robin does it without thought and without question, sliding the dildo inside of herself and cumming again and again. Did you enjoy yourself? He asks. Yes Doctor Robin blankly responds.
Scene Three: Harley's skills
Robin stands blankly as a naked Harley brings a man into the room. Lay down right here. We need to see her skills. She tells him. Luthor commands robin to take off his pants, and Harley tells her how to work his cock. Robin sucks him like a good blank minded bimbo whore. She goes all the way down on him, making it grow in her mouth. I love sucking dick Robin emotionlessly responds.
Robin sucks and jerks him while Harley watches and encourages her to be the best slut she can be. She strokes him faster, feeling the build up of cum. Watch that cum shoot out of that big dick Harley whispers as streams of cum cover Robin's hands.
Scene Four: Last super heroine training
Robin is left alone to watch the hourglass, her mind completely blank. Luthor proceeds to her last stage of training. That would be wonderful doctor Robin replies, getting to her knees and sucking his cock. At his command she lays on the table and spreads her legs. Luthor licks her pussy until she's a quivering wreck of emotions and hormones. Robin shakes, feeling Luthor's big cock push inside her.
She moans and plays with her large tits as she's fucked hard. Her blank mind only experiencing the now of her pleasure. With his wet cock he pushes it inside her tight ass and fucks her. I love it doctor Robin tells him blankly. She sucks his cock clean before moving to the couch.
Scene Five: Hammering in the lesson
Bent over the couch she sucks him nice and hard to fuck her ass with. Robin's mouth opens wide at the feeling of the big cock pushing deep inside her. She's never felt so completely fucked. Oh doctor She moans.
He fucks her ass then makes her suck his cock again and again. Fucking her in every position on the couch. He trains Robin to be a sex slave, and she's never been happier. Oh yeah, You're pounding my ass so fucking good! I love being your anal slut. I want to swallow your cum, I need your cum doctor, please! He brings her to her knees and makes her stick out her tongue. Robin's out of breath and desperate to swallow all his cum. She's be a perfect cum slut for you Harley tells him, cum dripping down Robin's ignorantly blissful face.
Category: SUPERHEROINES
Related Categories: FEMALE TRAINING, MIND FUCK, ANAL, ASS TO MOUTH Keywords: robyn, robin, harley quinn, luke longly, mind control, blowjob, blow jobs, anal, ass to mouth
Tags:Maledom,Male Domination,superheroine,superheroines,Humiliation,Mixed Wrestling,Submission,froced orgasm,super hero, super heroines,superheroines porn
Info :
Size : 1.94 GiB
Duration : 00:47:13
Resolution : h264, yuv420p, 1280×720, 29.97 fps(r) (eng)
Format : MP4
Download – Maledom_Wings.part1.rar
Download – Maledom_Wings.part2.rar
Download – Maledom_Wings.part3.rar
Download – Maledom_Wings.part4.rar