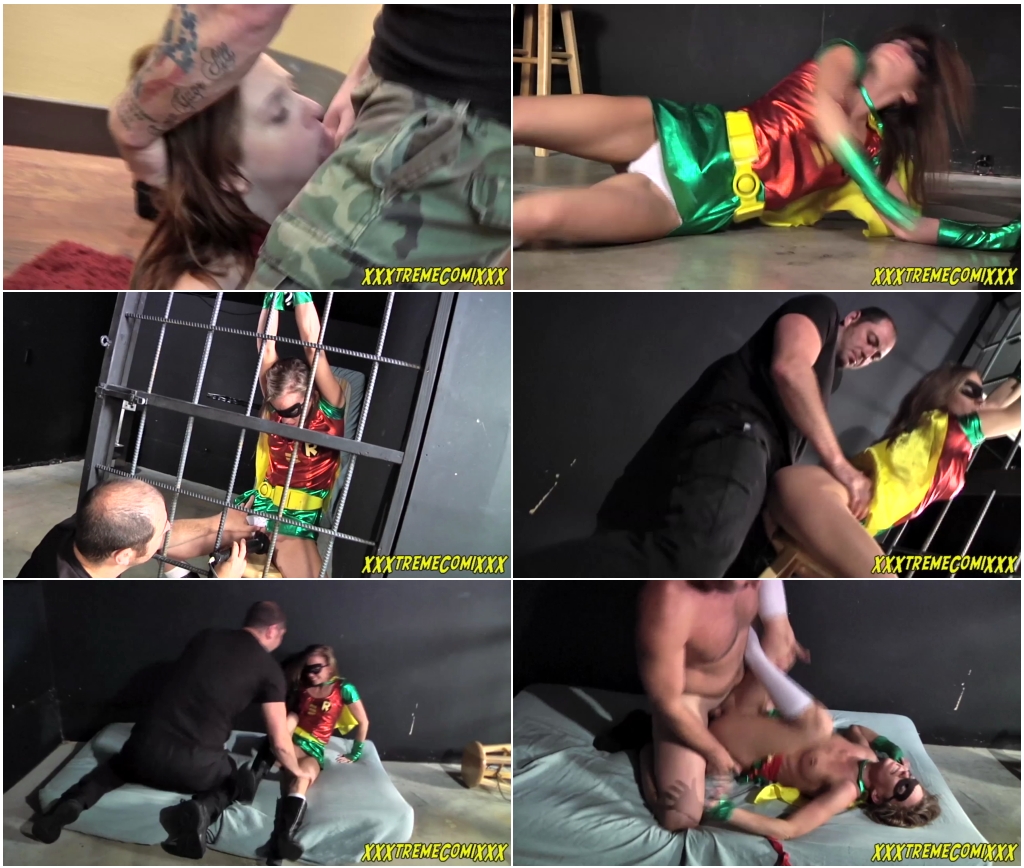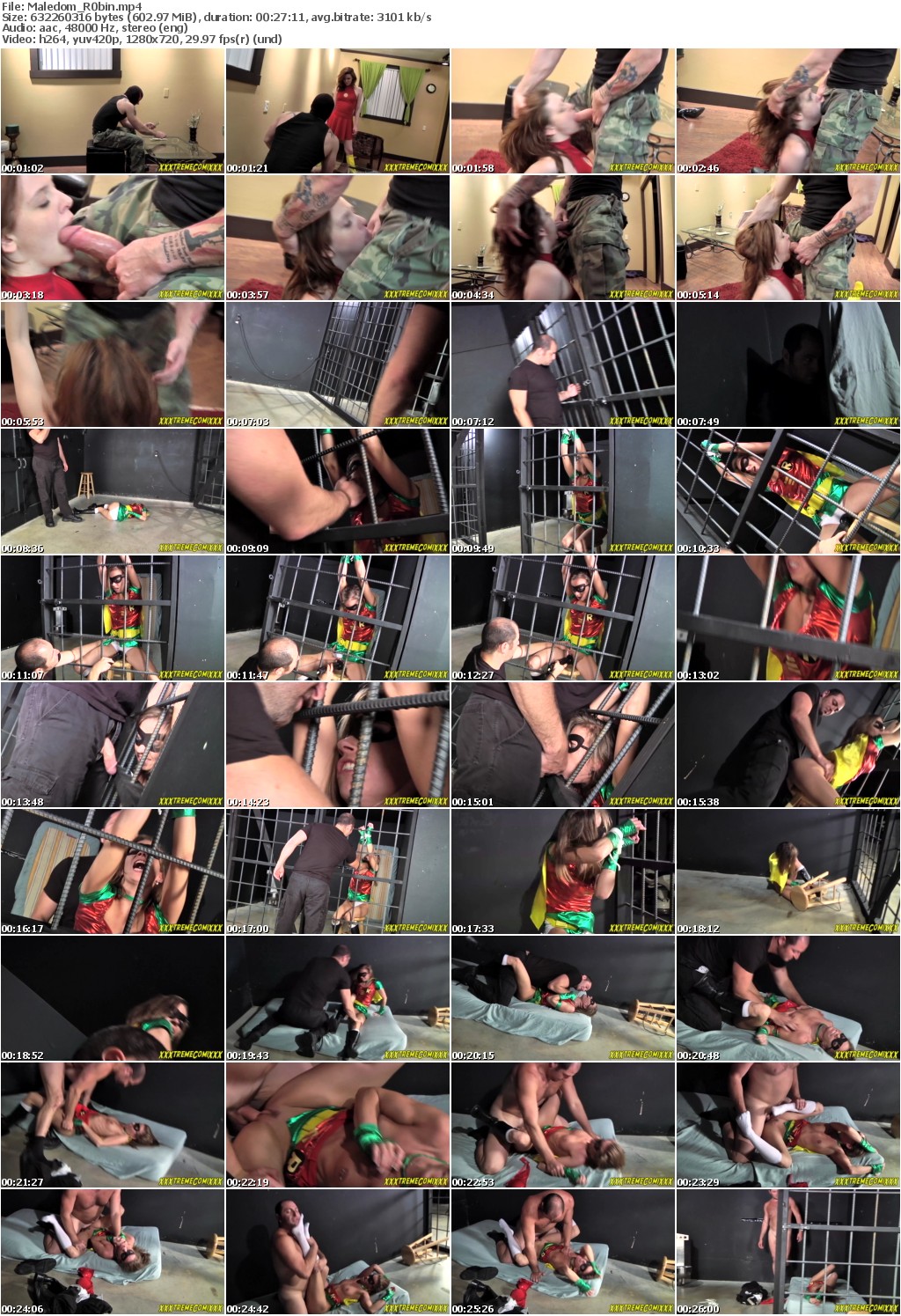 Starring Norah Nova, Emma Evins, Miles, and Rock
Bane is at it again! This time he's stolen money from the church. He sits in his lair, counting his booty when the Flash zooms in to save the day. She lectures him – with her fists, using her speedy powers to sucker punch the crap out of him. But he's strong, and the second she slows down, he takes the opportunity to get in a punch. He knocks her around and then shoves her to the ground.
Grabbing her hair, Bane whips out his cock and shoves it in her mouth. She tries to protest but he's too strong. He uses the handful of her hair to thrust his cock inside her face as she makes gagging sounds and moans. He pounds her mouth until he cums down her throat, then slaps her in the face with his cock and she falls backwards.
He yells at her, trying to get her to tell him where the Bat Cave is, but she refuses! She will never tell the likes of him! He punches her in the face a few more times and chokes her. She finally relents, and tells him where it is. "I have no further use for you," he says, delivering one final blow to her head. He leaves her behind and goes for the Bat Cave.
Back at the Bat Cave, Robin gets a message that something terrible has happened to the Flash. Meanwhile, Bane calls one of his henchman with his new found information, and instructions to carry out. He enters the Cave, surveys the situation. He's snooping around when Robin returns, but he hides before she can see him. She's just about to unknowingly lock him in the cell when he lunges at her from his hiding place, punching her in the face.
He knocks her to the ground, kicking her and punching her while she's down, until she's out. He makes a call to Bane, letting him know he found the Cave and his little birdie, Robin. Together, they hatch a plan.
Robin awakes to her face being slapped. She is bound to a stool on the inside of the cage, her wrists tied above her head. Bane's henchman has already decided to take full advantage of this situation. He pulls out a powerful vibrator and presses it against Robin's white cotton panties. She moans. This feels so wrong, but wrong feels so good. He continues with the vibrator as she moans loudly, her pussy hot and wet. Now it's his turn.
He pulls out his cock and shoves it in her mouth. She tries to resist at first but he is very physically insistent. Plus she doesn't have a whole lot of room to move around. She sucks his cock, hoping that if she complies he will let her go. But he's not finished yet. After ripping her panties in half, he fucks her. She's still bound to the stool, but he slides in from behind.
After he cums, it's time to set up the rest of the trap for Batman. He slaps her as and leaves, locking the cage door behind him. Now that he's gone. Robin hatches a plan of her own. She struggles her way free of her bonds and crawls up the grating in the cage to the ceiling.
When Bane's henchman re-enters, he is confused by the absent Robin. The door is still locked. How could she have gotten free? He unlocks the door and looks around the cell. Ha. He fell for it! She jumps on his back with her legs wrapped around him. They struggle, but he wins. He grabs her and fucks her some more.
He exposes her tits and removes her boots as he's fucking her. She's a tight little birdie, and he's punishing her for trying to escape. He fucks her hard until he cums on her face. That'll teach her!
Fetish Elements: Explicit Sexual Content, Superheroine, Blowjobs, Fucking, Bondage, Costumes, Role Play, Fighting, Cumshot, Facial, Rope, Boot Removal, Boot Socks.
Tags:Maledom,Male Domination,superheroine,superheroines,Humiliation,storylline,story line,Mixed Wrestling,Submission,froced orgasm,super hero, super heroines,superheroines porn,superheroines adult movies,forced sex,bondage,cage,hitachi
Info :
Size : 602.97 MiB
Duration : 00:27:11
Resolution : h264, yuv420p, 1280×720, 29.97 fps(r) (und)
Format : MP4
Download – Maledom_R0bin.part1.rar
Download – Maledom_R0bin.part2.rar