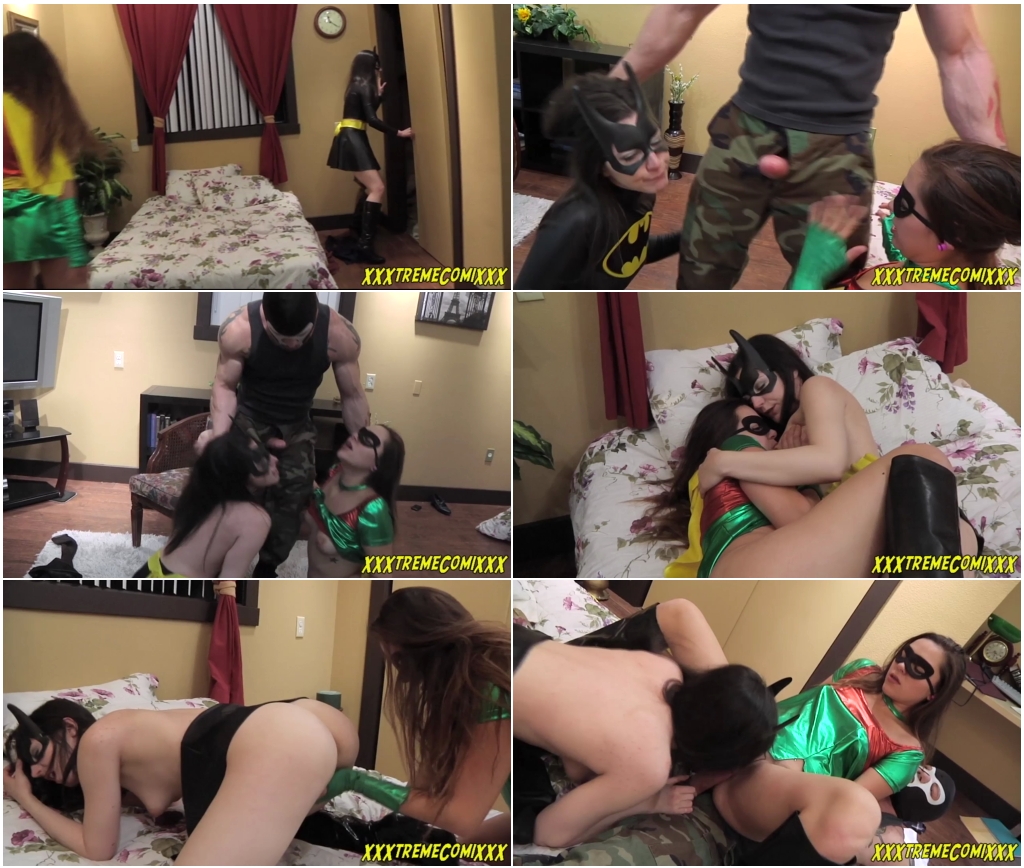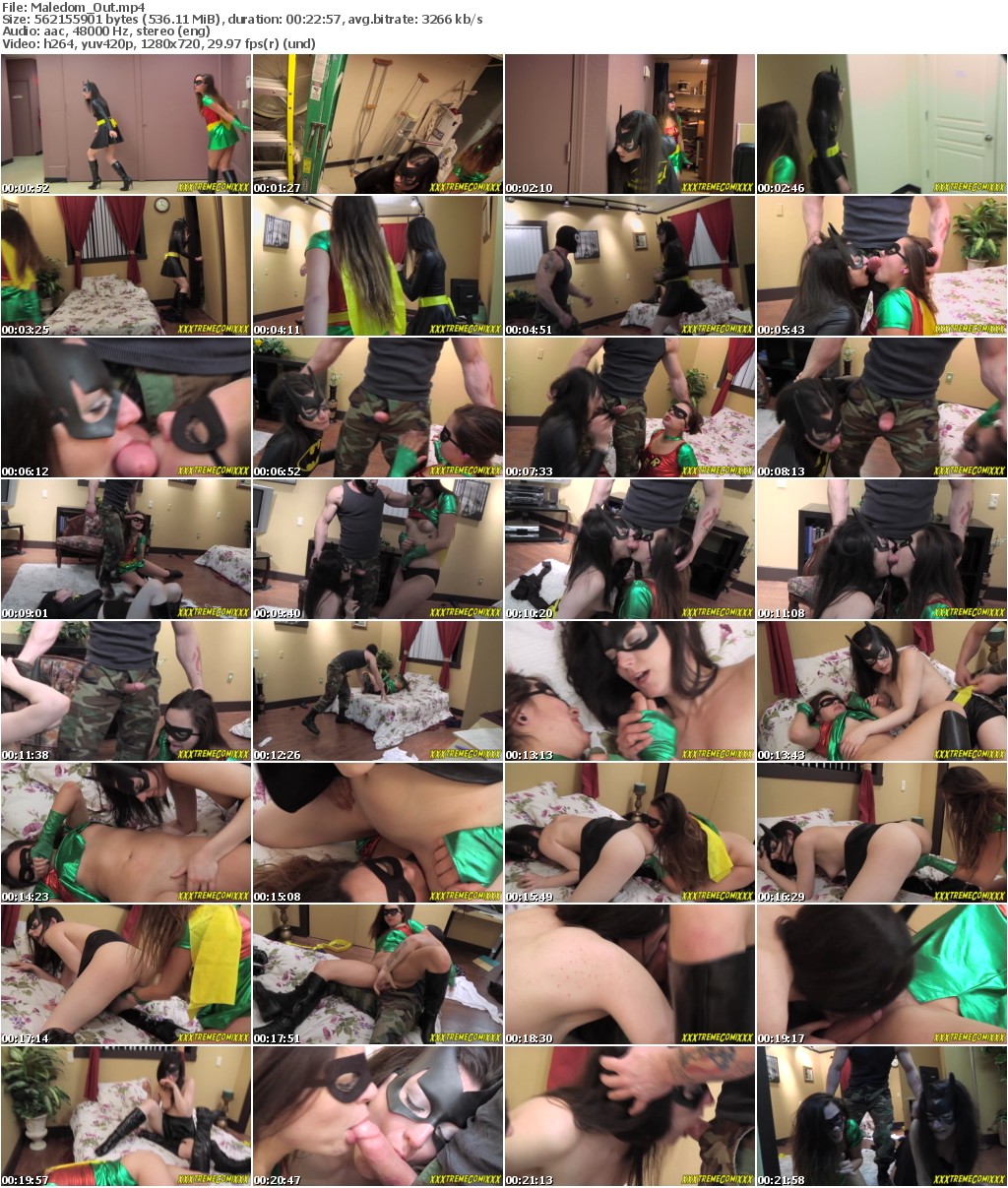 Starring Zoey Foxx, Victoria Verve and Miles
Batgirl and Robin are out doing a bit of sleuthing. They're pretty sure they are in the vicinity of Bane's secret bedroom hideout, until they catch a glimpse of the villain himself. He's walking by the e******e to a homelike cavern of evil, exactly the kind of place a villain of Bane's caliber may rest.
The two heroines sneak toward the door only to come upon a note that reads: "Out to get some milk", signed "B". Who else could this mysterious "B" be? Our two heroines are determined to find out, as they show themselves in.
They show themselves into what turns out to be a comfy apartment, that is conspicuously messy, with chairs turned over and clothing on the floor. The two heroines fine nothing at first glance, but the skill of our villain Bane finds him on top of the situation.
Bane lies against the ceiling, watching their every move, waiting for the opportunity to strike. Just as the two ladies have let the guard down, Bane drops from the ceiling in an ambush. What ensues is a hand to hand brawl, the kind of combat in which Bane is adept and has skillfully f***ed the two to engage.
Bane has gained the upper hand, and as the two heroines are put into a weakened state, Bane continues to skillfully take advantage of the situation by getting his dick wet. He mashes both of their mouths on either side of his hard dick, and takes turn fucking Batgirl and Robin's face.
Next he strips the two down and f***es them to pleasure each other for his own viewing pleasure. Batgirl feels responsible for getting the young Robin involved in such a predicament, and apologizes over and over again as she hesitates to caress Robin's young body and stroke her tight pussy. Bane then f***es Batgirl to sit on Robin's face and have her lick Batgirl's shaven pussy.
The two struggle between the pleasure, embarrassment, and pain surrounding the situation as Bane continues to enjoy controlling their lewd acts. Robin begins to rub Batgirl doggystyle until she cums. Bane plays with the young Robin by resting his hard cock on Robin's pussy, f*****g Batgirl to lick both pussy and dick while simultaneously masturbating Robin.
Now that Bane has just about had his fill, he f***es the two heroines' mouths on his cock for one like for a thrilling climax of this saga of Bane's Hideout.
He'll literally throw the two out when he's done.
Fetish Elements: Explicit Sexual Content, Superheroine, Sneaking, Supervillain, Fighting, Beating, Nudity, Lesbian, Pussy Licking, Fucking, Blow Job, Double Blow Job
Tags:Maledom,Male Domination,superheroine,superheroines,Humiliation,storylline,story line,Mixed Wrestling,mixed fight,Submission,froced orgasm,super hero, super heroines,superheroines porn,superheroines adult movies,Batgirl , Robin
Info :
Size : 536.11 MiB
Duration : 00:22:57
Resolution : h264, yuv420p, 1280×720, 29.97 fps(r) (und)
Format : MP4