Beastriders: Wonder Woman & Captain Marvel – Fetleague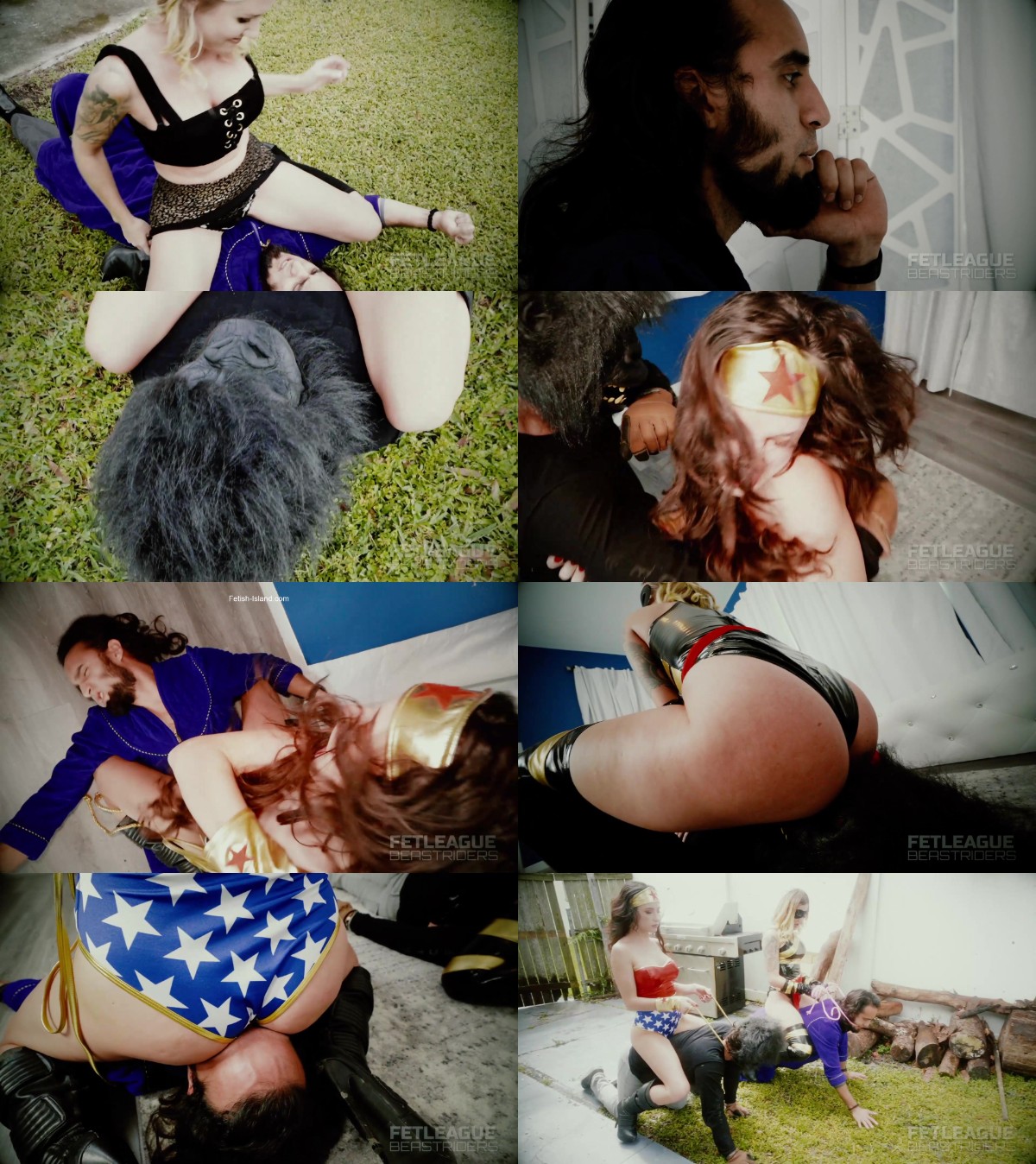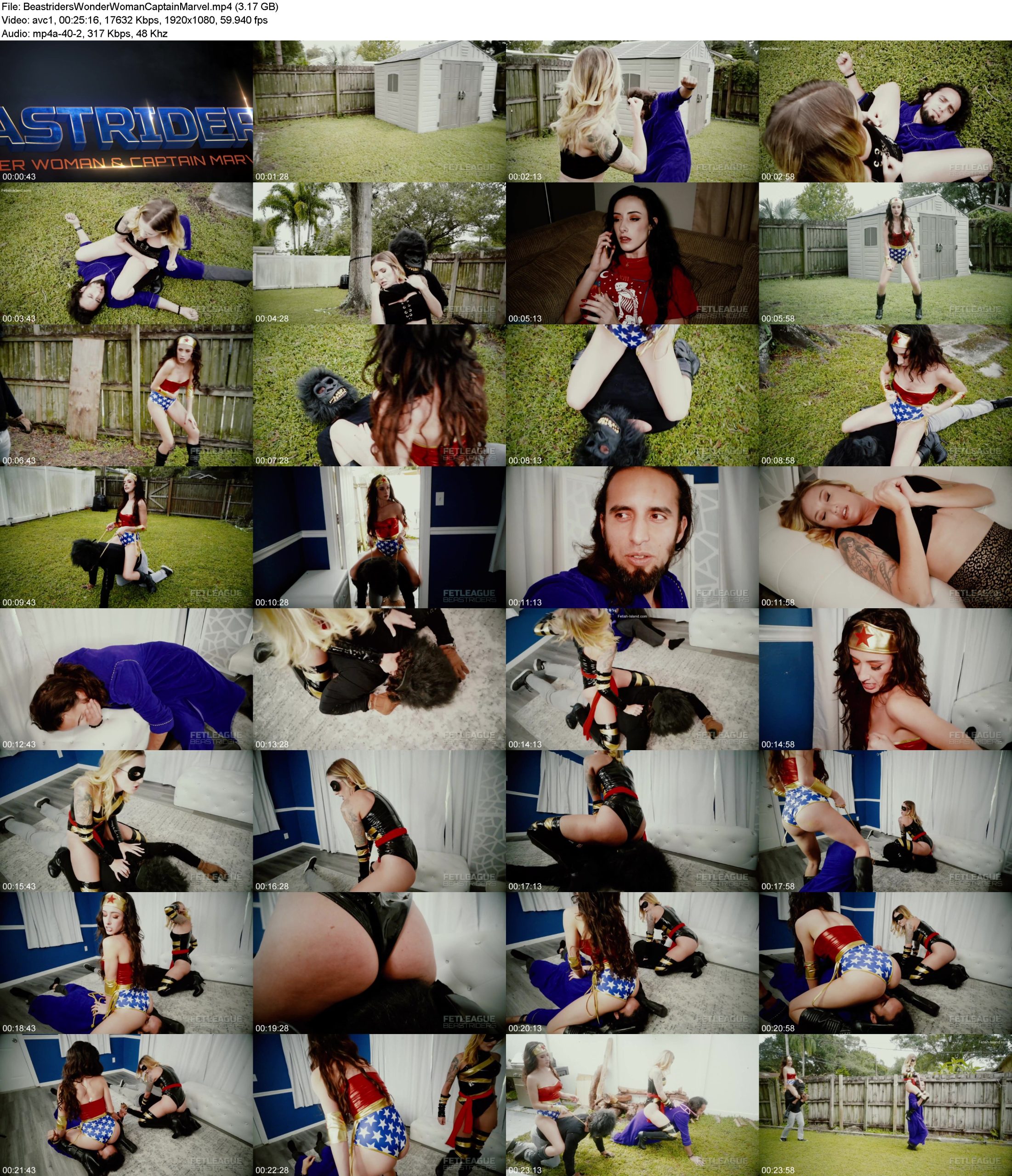 Starring:
Reagan Lush as Captain Marvel
Ama Rio as Wonder Woman
Acrosuave as Dark Wizard Octavio
Rad man as Beastman
Shot & Edited by Jason Ninja
Runtime: 25 minutes
When Captain Marvel dressed in her civilian clothing investigates The Dark Wizard's lair looking for a special U-Disk with blueprints for a Super weapon, she is suddenly face to face with the Arch Mage. The two start to battle, Marvel in her regular street clothes stays hidden, but is still powerful enough to take him with her fists alone. Unluckily for her right when she has the upper hand he calls for his trusty henchman Beastman!
The Ape Mutant grabs Reagan as Octavio stuns her and they bring her back to their lair where they keep her captive. An ominous phone call is made to Wonder Woman about her friend. Soon Wonder Woman arrives where Beastman lays in wait. The two confront each other with Wonder Woman taking some big shots from the Beast. However, her amazonian strength overcomes the Beastman as she mounts him and ground and pounds him into submission. Soon the whimpering Beastman agree's to be Woman Woman's mount, as she straddles him with her lasso and rides him towards the main lair. As they enter the lair, Octavio fires his Berserk mind control ray at the Beast to power him up. Beastman roars as he becomes enraged! The evil Wizard once again directs him to destroy WW as Reagan struggles in her ropes. This time Beastman with his enhanced strength manages to topple WW to the floor where he attempts to bite her neck. The Dark Wizard seeing his opportunity to finish her fires his beam at WW, however WW is fast enough to deflect the beam towards Reagan's wrists, instantly destroying the magic rope bonding her hands.
Reagan now freed, jumps up and finally changes to her true form as Captain Marvel! She knocks down the Wizard and grapples with the Beastman freeing WW from his grip. Punches start raining down from Marvel as the Beastman writhes around with her mounted on his back. He struggles to avoid Punch after Punch. WW quickly attempts to capture Octavio who struggles free from her rope and attempts to fire off two magic missiles, WW blocks both, deflecting one directly back injuring him. Seeing him in a weakened state WW let's loose a colossal blow to his face, completely knocking him to the floor.
Now both WW and Marvel have mounted their weakened foes and the pain really begins as they ground and pound the evil duo for seems an eternity. Finally Octavio can take no more as he gives up and agrees to get her the U-Disk. WW mounts him like a horse as they leave to retrieve it. Marvel isn't through with Beastman however. Her punches continue until she feels he has succumbed once more. She tells him to show his new loyalty to her by kissing her boot. He slowly kisses up her boot to her perfect ass. She likes this idea and kicks him to the ground once more where she mounts his face under her perfect ass and commands him to start kissing and sniffing it. She grinds her ass all over his face, facesitting him till WW returns. WW likes the look of what she see's and commands Dark Wizard to lay down as well. Now both Superheroines are facesitting their new slaves. They slowly grind on their faces, making them show their total allegiance. Once they are satisifed they once again mount their new slaves like horses riding them outside, where they switch to a shoulder mount to take them back to their base.
This clip features: Superheroines, Special FX, Sound FX, Music Scores, Facesitting, Ass Worship, Pony Play, Mixed Fighting, Ground and Pounds, Magic, Cosplay, mild bondage (Wrist tie).
Categories: FACE SITTING, PONYPLAY, PONYBOYS, MIXED FIGHTING, SPECIAL EFFECTS – SFX.
Keywords: ama rio, reagan lush, acrosuave, rad man, wonder woman, captain marvel, punching, ground n pound, female domination, magic control, damsel in, fighting, super villain, ass smothering, ass fetish.
tags:superheroines fetish,superheroine porn,superheroines sex,humiliation,superheroines adult movies,fantasy,femdom,facesitting
Duration: 00:25:16 Resolution: 1920×1080 Format: MPEG-4 Size: 3.17 GB
Download or WATCH ONLINE – BeastridersWonderWomanCaptainMarvel.mp4