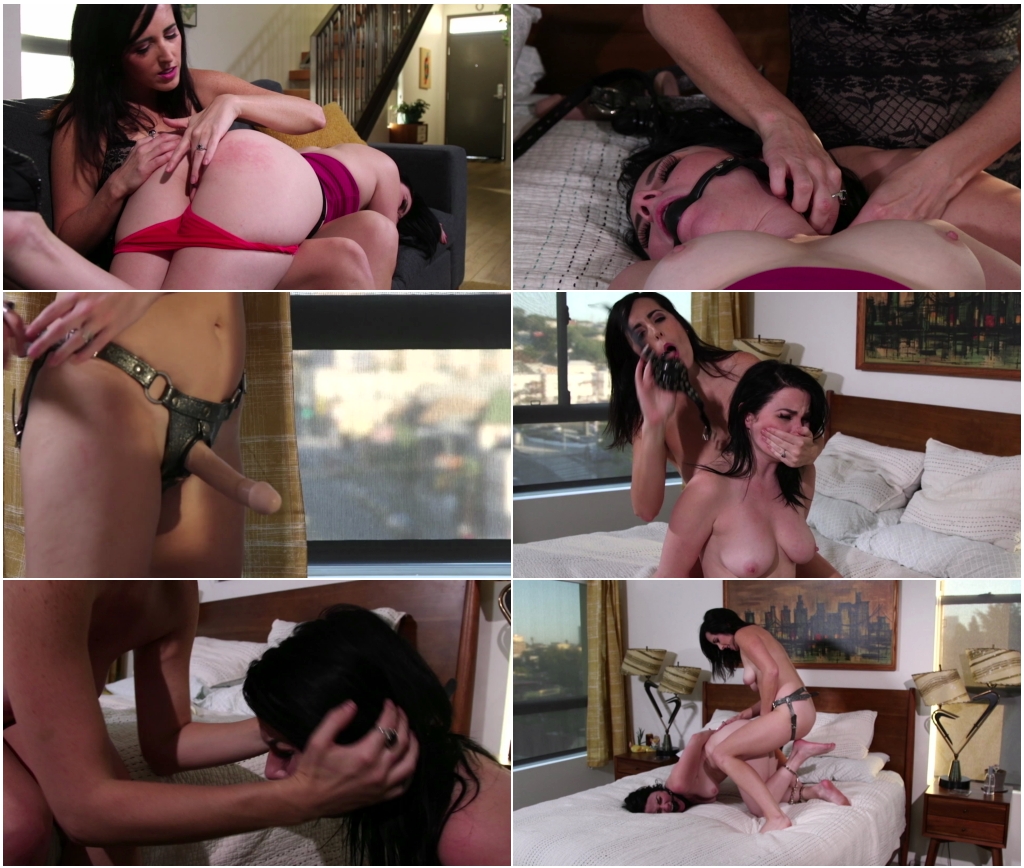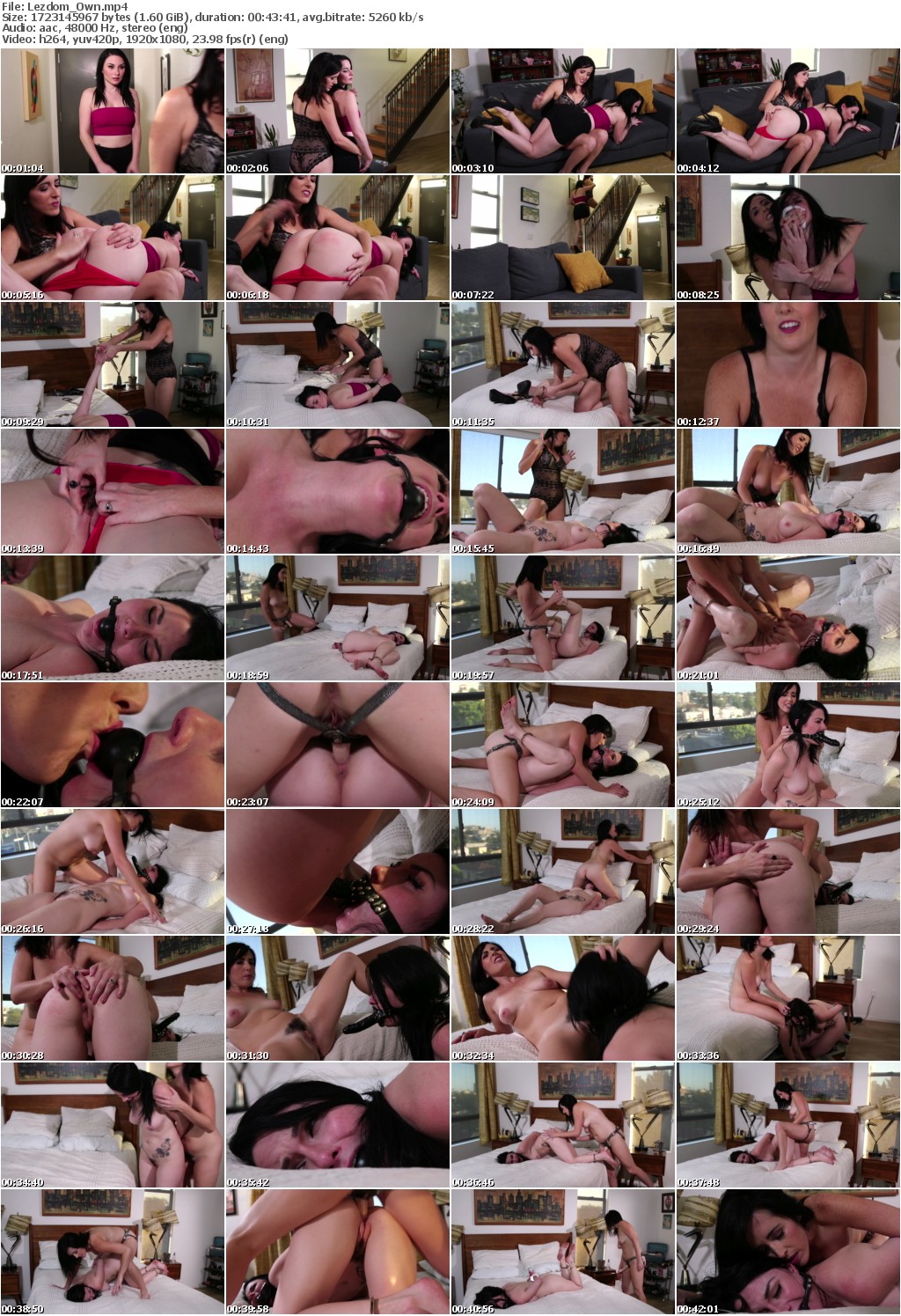 Veruca arrives at Dixies, dressed like a slut as requested by Dixie. She makes sure that Veruca is willing to do anything for the job and is pleased when the girl has not told anyone where she is. Veruca was interviewed by Dixie earlier in the day, for a job that Veruca was not qualified for. Veruca voiced that she would do anything for the job, so Dixie took her up on it and invited her over to her house. Dixie fondles Verucas body as she praises her sexy outfit-she sits down and orders the girl over her lap. Dixie insists when Veruca is hesitant and thinking that they were only fucking. Antyhing, means anything so Veruca climbs over her lap. Dixie spends a few seconds fondling the girls ass through her short skirt, before edging it up and to spank her. Dixie pulls down her panties and fingers her pussy before spanking her butthole and moving back to the cheeks. Dixie orders the girl to stand and to follow her to the bedroom.
Dixie brings the sobbing girl into the bedroom and tells the girl to lift one of the pillows. To Verucas horror she finds a collection of cuffs, strap-ons and dildo-gags. As she recoils in shock, Dixie grabs her and covers her mouth with a cloth. With little struggle, Veruca is out and Dixie plays with her limp limbs as she undresses her and gets her cuffed and ballgagged. She kisses all over her body, sucking on her tits and moving to her pussy, waiting for her little sex toy to wake up.
When Veruca comes to, she is momentarily disorientated at being bound and gagged naked on a strange bed and starts to scream into her gag when she sees Dixie sitting on the bed. The woman quickly puts her hand over her mouth to keep her quiet and reminds her that she said anything. Dixie starts to undress in front of her captive and tells the girl why she was keen for her not to tell anyone she was coming her tonight-she wanted a sex slave and the girl had effectively herself. Dixie steps into her strap-on and starts to fuck the girl aggressively in the missionary position. She forces kisses her against her gag and bites her nipples as she pounds her cock deep into her pussy.
Its not all about her little sex slave though, mama has to cum. Dixie removes the strap on and grabs the dildo gag. She ungags Veruca and shoves the penis gag into her mouth. Dixie looks Veruca in the eyes as she sucks on the black cock, lubing it up for her already wet pussy. Dixie forces Veruca to lay on the bed and positions herself over ithe dick and begins to face fuck Veruca and the gag. Dixie rides the dick until she cums. Breathlessly she tells the girl what a great sex-slave she will be.
Dixie pulls Veruca over her lap for another bout of spanking and fingering. She tells Veruca, who whimpers through the penis gag, that her asshole is next to be fucked. When finished Dixie makes the girl kneel between her legs and fuck her again with the dildo gag just for fun. When she's orgasmed again, Dixie puts Veuca on the bed in doggy, with her ass up in the air and presented to her. Dixie puts her strap-on back on and then gives Verucas butthole a little licking and some lube to wetten her up a little. Dixie shoves her cock inside Verucas pink butthole. Dixie pounds her ass, clawing at her tits too, all the while telling the girl how much fun she is going to have with her and how much fun her lady friends will enjoy paying to use her whenever they want. Veruca cums and Dixie brings out the rag again, putting her new play toy down for a nap. Dixie scoops her limp body off the bed to take her to sound proof chamber to start Verucas life of sexual servitude.
Category: LESBIAN DOMINATION
Related Categories: STRAP-ON, HANDCUFF AND SHACKLE FETISH, SPANKING, ANAL, BONDAGE Keywords: otk spanking, lesbian, face fucking, groping, penis gag, lesbian, damsel in distress, dildo fucking, ballgagged, kissing, forced orgasms, sleepy, butthole spanking, asshole fetish, veruca james
tags:lezdom,lesbian domination , pussy slap,strapon,humiliation,bondage,submission,spanking,asshole spanking,
Info :
Size: 1.60 GiB
Duration: 00:43:41
Resolution : h264, yuv420p, 1920×1080, 23.98 fps(r) (eng)
Format: MP4
Download – Lezdom_Own.part1.rar
Download – Lezdom_Own.part2.rar
Download – Lezdom_Own.part3.rar