0mega W0man & G@mma Girl Enslaved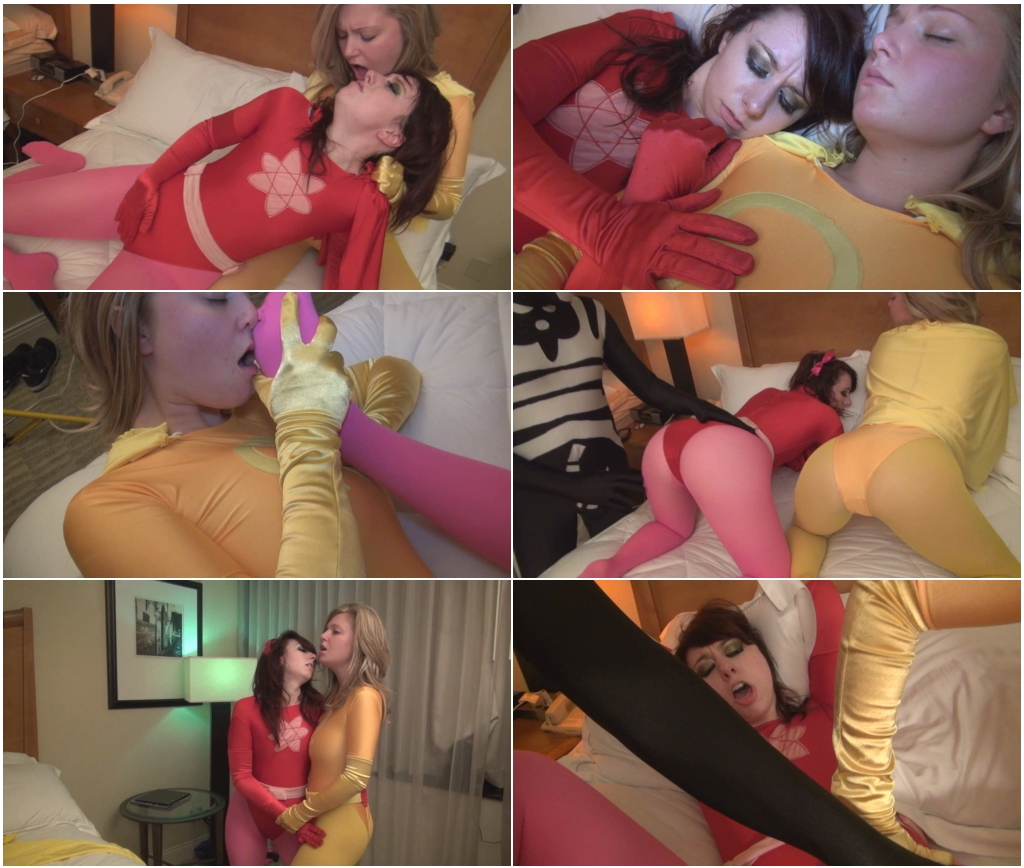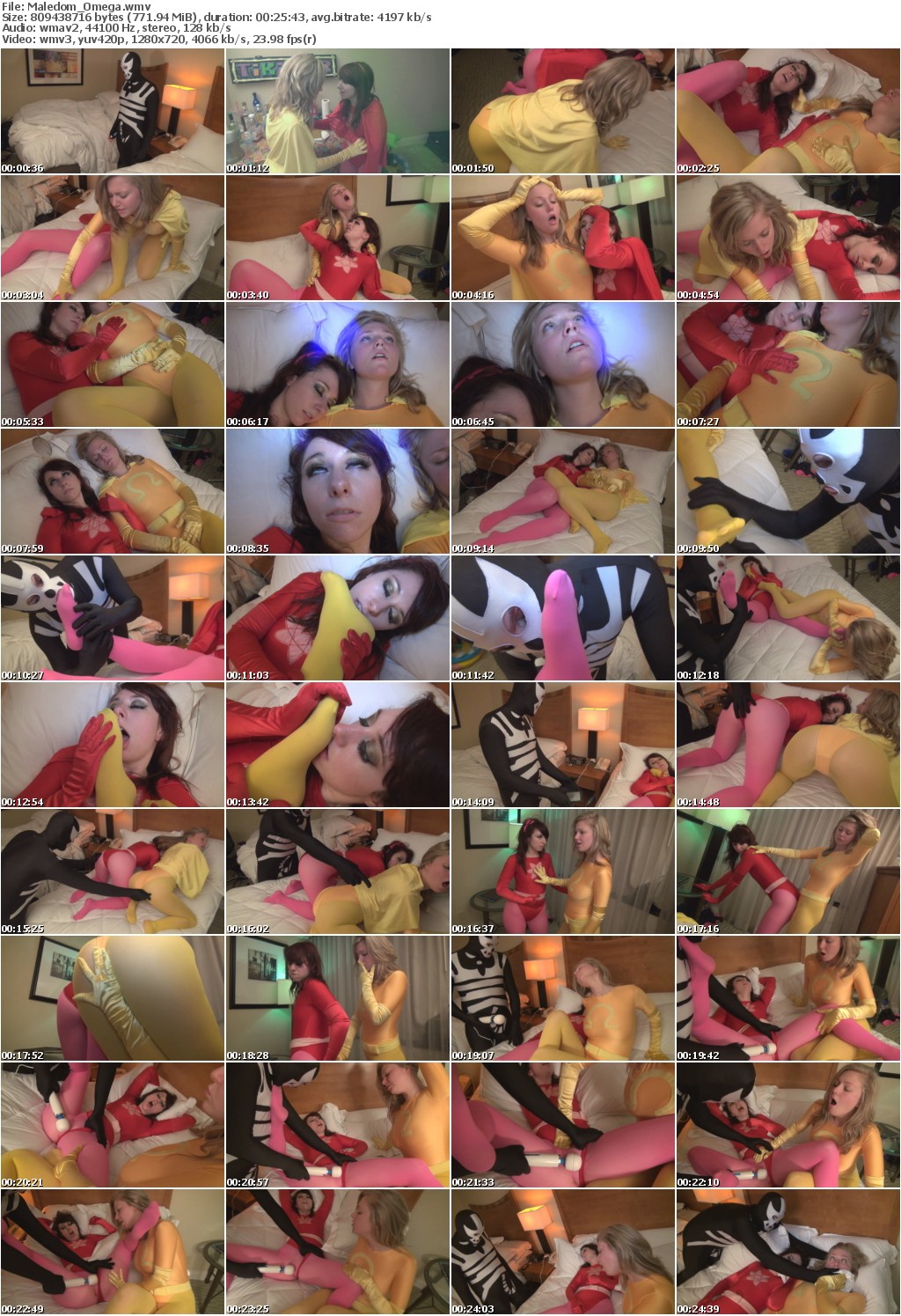 King Scorpion is cleaning up after his Tiki Bar themed villain's ball at FetishCon, when he decides to order up a nightcap… He alerts Omega Woman & Gamma Girl to his location and offers up his unconditional surrender. But he has a surprise in store for the dynamic duo!
Omega Woman & Gamma Girl soon arrive and before they can take Scorpion into custody… he blasts the heroines with a dose of OrgasmaGas…catching them off guard! The two woozy superheroines try to fight off the effects, but the spray is doing the trick. Omega Woman & Gamma Girl can't seem to take their hands off of their own bodies. They begin fondling themselves and each other to Scorpion's great amusement. He orders them to get on the bed,,,and they reluctantly comply, unable to contain themselves and their new found carnal desires. They rub their pussies through their shiny leotards and tights. They curse Scorpion for causing them to lose their stoic resolve as they paw at each other's bodies. Omega Woman begs her sexy sidekick to contain herself as she lies acoss her mentor's body, begging her to touch her. After several mini orgasms, the two collapse in a foggy haze. King Scorpion assures them the fun is only beginning!
Omega Woman awakes first, lying next to Gamma Girl curled tightly against her, only to find Scorpion waving his entrancement medallion before her wide eyes as he begins his induction. Omega Woman is powerless to resist the spell he casts over her and soon falls under his control. He moves over to Gamma Girl and has another lengthy induction spell with her, and she too is soon enslaved. he orders the duo to sit up…they both comply with a "Yes, Master", and he is pleased. He orders Omega Woman & Gamma Girl to worship each other's pretty feet. the heroic duo has no choice but to follow his evil commands.
They kiss and rub each other's feet as he joins in, taking great joy in lavishing his attention on Gamma Girl's sweet feet and pantyhose clad legs. King Scorpion then turns on the radio and commands the helpless heroines to dance. They immediately begin gyrating seductively for him…thrusting their perky butts in the air. Scorpion delights in groping & spanking their perfect asses. He orders them into the corner and to remove each other's capes so he can have a better view of their dirty dancing. They grind their asses against each other as they kiss and fondle each other. Omega Woman rubs her wet pussy against her sidekick's thigh as Gamma Girl squeezes her tits.
King Scorpion turns off the music and orders them back into bed. He orders Omega Woman to stretch out Gamma Girl's leg and hold it in place as he readies his trusty vibra-wand. He holds Gamma's other leg and she is spread eagle with her spandex covered pussy now vulnerable for attack.
He grinds the vibrator against her clit and the already excited sidekick immediately begins gyrating her hips upwards to meet the buzzing wand. Omega Woman is also aroused by what she is witnessing…her partner being violated so inappropriately by Scorpion. Gamma Girl is no match for the purring vibrations on her wet pussy and has multiple screaming orgasms leaving both heroines completely spent.
Scorpion is satisfied with his new slave's performance and rewards them by sending them both off to dreamland…as he decides to take his party elsewhere.
You won't want to miss what evil fate awaits Gamma Girl next… Cumming Soon!
Tags:Maledom,Male Domination,superheroine,superheroines,Humiliation,Mixed Wrestling,Submission,froced orgasm,hypnosis,super hero, super heroines,foot worship,hitachi
Info :
Size: 771.94 MiB
Duration: 00:25:43
Resolution : wmv3, yuv420p, 1280×720, 4066 kb/s, 23.98 fps(r)
Format: WMV
Download – Maledom_Omega.part1.rar
Download – Maledom_Omega.part2.rar