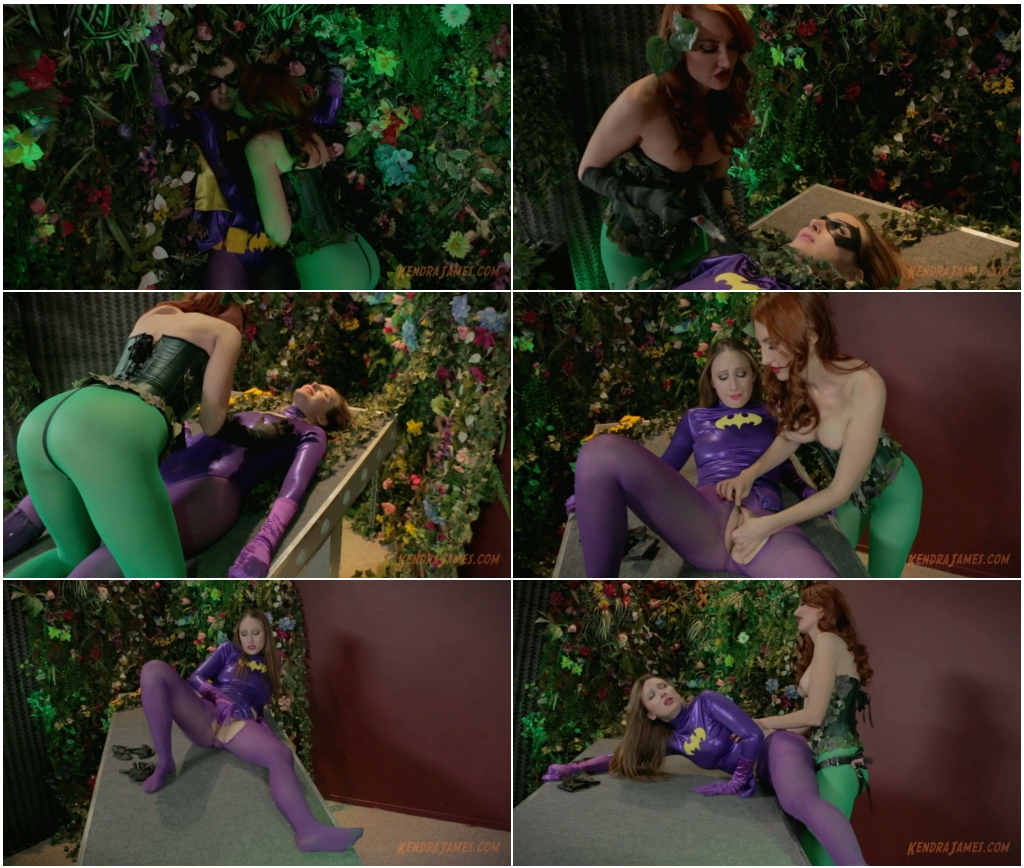 The meddlesome bat brat is at it again and this time she's found Poison Ivy's lair! As she creeps around the plant fortress devising a plan to bring the fiery botanist to Arkham, the villainess herself comes sauntering in. The naive heroine immediately attacks, underestimating her foe by throwing a punch. This does little to Poison Ivy who just laughs at the innocent Batgirl, daring her to try again. This time the little bat brat throws a gas grenade at her, alas it only causes a momentary sneezing fit and Poison Ivy soon gains control and slams Batgirl against her vicious wall of vines. The living leaves sliver and curl their thorny branches around the heroine's arms, holding her in place so the mad scientist herself can breathe a psychotropic dust into the Bat's face before covering her nose and mouth with an aphrodisiac sedative. The purple bat awakens to find herself restrained on a table by Ivy's evil constricting vines. The growing branches only tighten as she struggles making it impossible for her to escape. The devious green menace toys with the young girl, caressing her legs and teasing the virginal perky tits. This will be the perfect subject to test out the new seduction serum on, a concoction of plant based neuro aphrodisiac toxins designed to turn any unwilling prey into a mind controlled, love sick nymphomaniac. Ivy pulls out her syringe and injects the seduction serum into the scared detectives neck. Almost immediately the naive redhead falls under the spell of the organic solution and becomes love sick horny, practically begging Poison Ivy to fuck her.
The unscrupulous villain can barely contain her excitement at the site of the once head strong vigilante begging like a love sick puppy, but before she goes any further she wants to know the identity of her new sex slave. Ivy slowly removes batgirl's mask revealing her secret identity. You can imagine her surprise when she sees none other than Barbra Gordon, the police commissioners daughter! Now she knows she is going to take advantage of the budding juvenile. The vile villainous starts by ripping off the girls purple tights exposing her dripping young pussy. Ivy slowly inserts one finger into Batgirl's tight vagina only to be met with an eager sexual moan. She continues to probe Barbara's tight cunt causing more and more of the girls sweet pussy juice to flow. Ivy gets closer to smell the warm liquid dripping out. She herself becomes aroused and licks some the virgins youthful juices up.
Batgirl has only dreamed of these feelings and finds it harder to believe what is happening to her. None of her training could have prepared her for this. She grips Ivy's fiery red hair and pushes her face harder against between her legs in hopes this will make the probing tongue of her new mistress go even deeper into her tingling cunt. Ivy continues to suck and lick at her young slave's clit and lips until the mind controlled girl screams out in an explosive orgasm. Satisfied by the results and possibly feeling the effects of her own serum, Ivy leaves the breathless heroine just for a moment. While she is gone the young bat is so full of sexual feelings she begins to fondle herself, dipping her finger deeper and deeper into her already slippery pussy. Ivy returns to find the eager girl two fingers deep in herself. The psychotic environmentalist is in love with the idea of the entire city unable to pollute and ruin the beautiful world because they are too busy fucking themselves. Batgirl sees her new mistress has returned brandishing a toy. Her goddess has put on the largest cock her young eyes have ever seen. Before she knows what she is doing she plunges the penis into her eager mouth slurping and sucking at its massive girth. Unbeknownst to her she is sealing her own fate because this cock is covered in Ivy's serum. With every mouthful she falls deeper and deeper under the poisonous weeds control. Ivy brings the naive hero up, lays her back on the table and spreads batgirl's legs exposing the dripping pussy lips before thrusting her giant cock into batgirl's batcave. The helpless heroine arches her back as she receives Ivy's hard dick wanting more and more. Ivy pumps on the girl sliding in and out injecting her with more of the mesmerizing serum. A fluter of fear builds inside of the moaning girl as she begins to feel a sensation she has never felt before, crying out in orgasmic pleasure. Ivy removes her penis because she knows now the damage is done and she will soon be the queen of the new green Kingdom that once was Gotham. All she needs now is to use Batgirl to bring her more of the cities heroes so they too can be put under her spell. This should be simple now that the brainwashed vigilante will do whatever she is told just for the chance to experience the deep massaging feeling in her pussy of Poison Ivy's cock!
superheroine, super villain, girl-girl, costumes, cosplay, role play, spandex, tights, boots, pussy licking, lesbian sex, lesbian domination, strapon sex, hardcore, dildo sucking, cock sucking, mesmerize, mind control, Kendra James, lezdom,superheroines,Crystal Clark, fighting, sleepy rag, sleepy fetish, hand over mouth, knock out, cat fighting, female fighting, doggy style, parody, peril, helpless, humiliation, wedgies
Info :
Size: 998.11 MiB
Duration: 00:34:54
Resolution : wmv3, yuv420p, 1280×720, 3792 kb/s, 23.98 fps(r)
Format: WMV
Download file – Lezdom_IvyKingdom.part1.rar
Download file – Lezdom_IvyKingdom.part2.rar
Download file – Lezdom_IvyKingdom.part3.rar